Tackling the China Hutch, Tea Shelf and Kitchen Garbage
It has been a long time since I have tackled any projects around the house. Gosh, it has been too long. These projects keep piling up too so now I have more than ever to tackle. In light of this ever-growing list, I will attempt to tackle three things today.
One...my new china hutch. Let me tell you...if you have never heard of
freecycle
then you definately need to check it out. I got this beautiful china hutch for free. Absolutely free! Well, now it needs to be cleaned up (just has a bit of dust all over it, nothing major) and dishes put in it. I have a rather large box of dishes (and teacups) that have not been unpacked since we moved here almost a year ago. (October 6 will be our one year anniversary in our new house and will make this the second longest we have ever lived in any one house since we have been married - 9 years this month)
So its about time this thing got cleaned and loaded with dishes.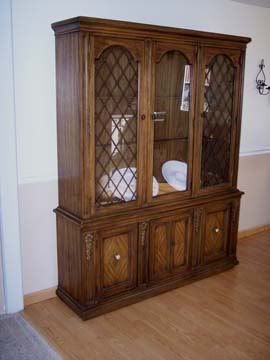 Two -
the tea shelf
that you all might not remember I even own. Miss A (the pastor's wife) gave me this tea shelf many months ago and it has been standing on my kitchen floor ever since the day I tackled the paint job. (looks like that would have been back in March...sheesh! I am a procrastinator, aren't I?) Today, I want to hang it on the wall and while I am unpacking the dishes to put in the china hutch, I will also unpack the teacups and put them on this cute little shelf.
Three - the icky smelling garbage can that sits in our kitchen. You all know how it goes. Something gets tossed in but part of it doesn't quite make it or it splashes out and no one bothers to wipe it off so it just sits there until the garbage can is so gross that you can't bear to even touch the thing. Well, it has gotten so bad that everytime we walk into the house we exclaim, "What's that SMELL?" like we don't have a clue. Not after today. It will get cleaned off and smelling good. (I hope)
The outside isn't so bad. Its the inside that is horrible. Especially on the bottom of the lid. YUCK!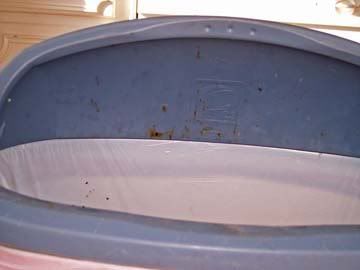 So, I am off to finish ironing clothes and then I will get to tackling. Hope to be back soon with loads of after pictures. (and another post about our fabulous weekend camping...because I know you all are waiting anxiously to see how much fun we had!!!)
Okay. I did it. I got it all done in one day! Wooo Hooo!! It has been a long day, to say the least, but I am so glad I got these things accomplished. First I cleaned the garbage can. It was pretty icky inside. I used good ole baking soda. (love cleaning with that stuff. Easy on the hands, doesn't give me a headache and boy, can it put on a shine) Anyways, here are the after shots of the garbage can.
And the inside. (where you can see the biggest difference...and smell it too!)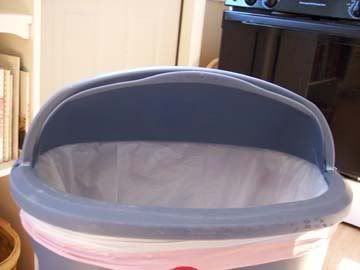 I then took to washing the china hutch out. Chloe helped me, of course.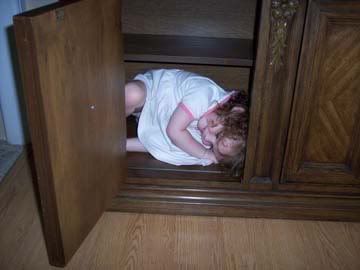 "Yup! All clean Mama!" I used murphey oil soap to clean the hutch and vinegar and windex for the windows. I methodically cleaned between each one of those trellis things. Once finished, I opened up the doors to clean the glass from the inside and it was then that I realized the glass could quite easily be removed for cleaning. I didn't have to do it bit by bit for 15 minutes. What a concept! (those furniture people sure know what they are doing sometimes.)
Then I took a long break and updated my website. Not on the list but it was something that I needed to tackle today. Now I just need to get my newsletter typed up for my subscribers and I am good to go.
When Chloe woke up from her nap this afternoon I got back to tackling. It was time to unpack the big box. Big boxes can make big messes.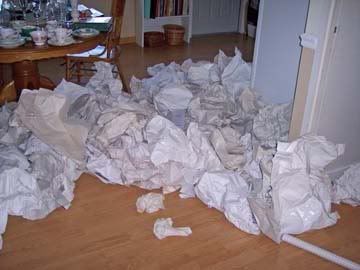 And then Chloe made sure the box was completely empty.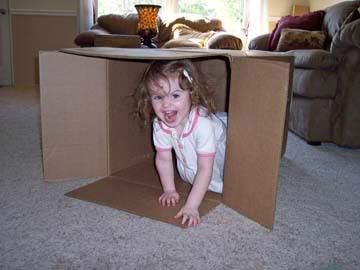 "Yup! Good to go Mama!"
All the dishes were then arranged into the china hutch and that tackle was done!
Ahhhh...what beauty! So then it was time for the tea shelf. The tea shelf gave me some trouble. I wasn't quite sure how to hang it. Taking the advice of Miss A, I got some wall anchors to attach to the wall. Well, I don't think these are the right things. I drilled holes into the wall and hammered in the anchors but then I saw that I was supposed to screw in the screws to the wall. How was I supposed to hang the shelf??? I ended up leaving the screws out from the wall a tab bit to hold up the shelf. Only problem is now I am nervous to put anything on it for fear it will fall down. I thought I could put a few teacups that I didn't really care about on the shelf but when I looked over each one, I couldn't find any that didn't evoke some sort of nostalgic feeling or memory or that I just really really love. So...here the is the shelf without teacups.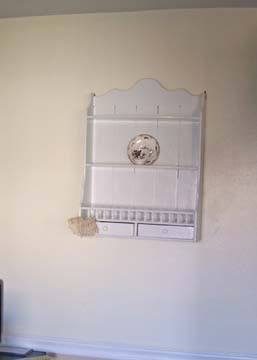 Okay. There is one. I chose this one because it only had a saucer with it and all my other ones have saucers and dessert plates. So, I am done for the day. DONE. I don't want to do anything else. Of course, I have loads to do, but I don't WANT to do that. I better get going though. Got to clean up from dinner, get hubby out the door to school and then get this kid to bed. Then I can work on a new post about our camping trip. I bet you all have been waiting for that all day! Well, I just got the pictures edited so now its only a matter to typing. I promise you, I will do it before I go to bed. Then I may write another chapter of Deuteronomy tonight. I am on chapter 27. Only 8 more chapters to go and then I am done. I think I have decided to write Obadiah next. Only one chapter and then the whole book is complete. I will save Jude for another time though. Gotta use those small books strategically, you know. Maybe I will write it while I am working on Psalms. (which is going to be a long time from now...I have no plans of starting that book anytime soon.)
Have a great evening everyone!