Complete with PG Tips tea and chocolate cake. (what would a party be without those???) I even have some music for this party. (go ahead and listen. Your feet will be tapping while you read the rest of this post)
Celebration
So, now it remains to be told what I am celebrating. Well, it goes something like this...
I'M PUBLISHED!!!!!!
Okay, so its not
that
big of a deal really...but,
oh me oh my
, I am excited. Its a step. Just one step up the ladder of success. (at least I
hope
that's the ladder I am climbing) I submitted a couple of designs last fall to the
2008 Crochet Pattern a Day calendar
and wouldn't you know it? but they accepted them. (I do notice from some of their designs that they accept pretty much
anything
though)
So, what's next? Well, you will have to stay tuned to find out. But I have BIG dreams. BIG ones. Ones that are super big! (hang on...gotta go re-start my song. Okay. My feet are tapping and I can type in time to funky music again)
Anwyas, I haven't posted here in a few days because, quite frankly, I have been pretty busy. You know, its October already. YUP! That means time for a
website update
. Like it? I added some photos to the
testers gallery
. Its not complete yet but hey...better than a page space holder (which apparantly google search engines
don't
like)
I also added some pre-made crocheted items to my Boutiques (because those were just space holders too). Check out my
Le Bebe Nursery
and
Le Femme Courture
for some great gift ideas. (its kind of hard to move the mouse about while listening to this song...the mouse wants to be-bop with my body instead of clicking on the teeny tiny buttons...Oh well...at least I'm grooving)
And this update means I have new patterns. Yay! You all get to see something NEW. (hang on...re-starting song again)
Because I liked my
Summer meadows dress
so much I decided I couldn't stop. So, I made a matching cape and hat. Isn't that hat just the cutest? (I can say that about my own design because this song has me on cloud nine and I can't really be responsible for what I type while in "the groove") I used size 10 thread for the cape and size 30 vintage thread for the flowers. The thread was sent to me as an RAOK from some delightful person over at the
ville
last summer. How sweet is that?
Then I decided I need more free patterns on the site to generate traffic. So, I designed this scrumptious set. (hitting restart again)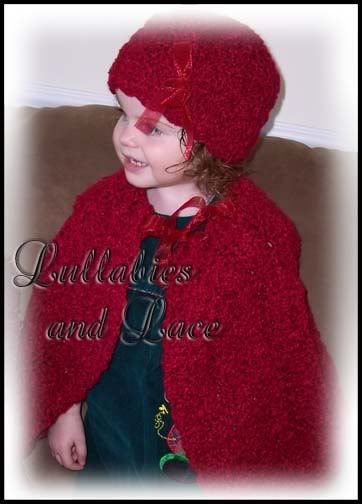 I splurged and bought 3 skeins of
Moda Dea Metro
for this cape. I don't usually buy yarn like this...I much prefer thread or small yarn but as I was petting it in the store, it just sort of "jumped" into my buggy. Oh well. It makes for a warm cape for Chloe. I am calling it Scrumptiously Sweet Cape Ensemble and I have it in baby, toddler and children sizes. You can find it
for free on my site
. Go ahead. Make a couple. You know you want to.
Okay. And what update is complete without a purse?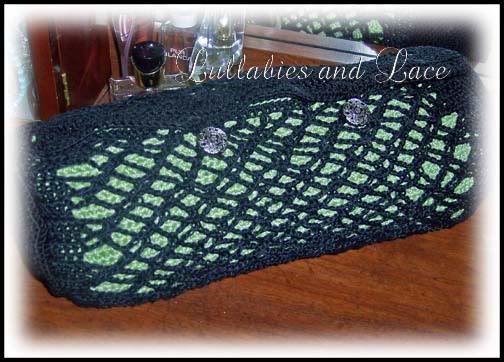 While on the "coordinating" kick this past round, I decided my stole needed a companion. What do I get? This fun little purse. Its different, that's for sure. I call it Elegant Lattice Purse. (because what else could you call it?
Ahhh...there's more but they will have to finish with testing before I can show you. Speaking of testing, I have revamped our testing procedures. Now patterns will be released for testing as I finish them intead of waiting for a "round". (now the song is getting on my nerves so I think I will forgo playing it again...maybe a
different one now
? Oh yah...gotta love the 80's!)
I also ordered some neccesities. First (and most fun) is the
Crochet Stitch Bible
I ordered myself. I can't wait to get that...oh its going to be fun to play. (because you know...girls just wanna have fun, right?) And on a not so fun note, but equally important (if not
more
importan) I also ordered some business cards for myself. I'll have to show you those when they come in because I am too lazy right now to go convert my image to jpeg from psd...so you will just have to be patient.
Anyways, I am off now to crochet. I am going to relax with my delicious tea and cake, maybe put on some other
funky
music and celebrate my first 3 published patterns.
Have a party, ya'll!!! Find something in your life to be thankful for and just CELEBRATE!!!