Its done. And in perfect time too. I just finished weaving in the last end (and YES! I got ALL of them. I didn't leave any tucked up inside the armpits or anything) and am ready to show it to you.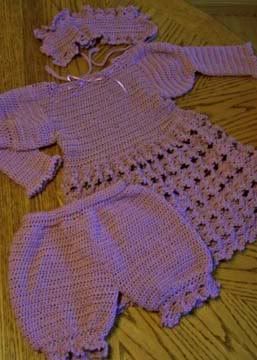 Ta-Da!!!!!!
Told you I could do it. I actually cheated a bit though. I finished the dress and the headband today but I swiped the bloomers from the 3m set I made last month for sale on my site. Once this pattern got into testing, we realized there was a problem with the sizing of the bloomers. Lo and behold, when I tried this "3m size" on Chloe today, they fit her perfectly. Needless to say, I didn't feel the need to crochet MORE bloomers for her. And a darned good thing too because I used every last scrap of lt. mulberry Lustersheen I had in my stash. Well, all but save about 200 feet. I don't know what I am going to do with 200 ft of it, but oh well. I will figure something out.
I modified the dress to include long sleeves. I am going to include this modification in the pattern as well. People might like the option for short or long sleeves. Don't worry dear testers. It was a very easy modification and would only involve frogging the very last row of the sleeve to add more length in if you felt the need to do so.
Anyways, just wanted to show you the dress. We are off now to make some cornbread for the banquet tonight and then shower and get dressed. I hope to get some pictures of this lovely little ensemble on Chloe tonight...preferably
before
she gets turkey gravy dribbled down the front. It really is much more adorable ON. Have a wonderful evening everyone.