So...where have I been?
Better yet...Where have I NOT been?
I can't believe it has been so long since I have updated this blog. Life got in my way. Then it got to the point where it was overwhemling even to
think
about blogging. So much has happened that its hard to know where to begin. So, today I will just begin with something small. Little tidbits of things and hopefully over the next few days, I will be able to update you all of the things going on around this place.
First, before I begin, I just want to say thank you to all of you who have expressed concern for me. I appreciate all your prayers and notes and thoughts. I really do. Isn't this internet amazing? I have friends who I have never even met who care about my well-being. If I never see you all on earth, please know that we will be having a HUGE party in heaven and you all are invited. I can't wait to meet you all there!!!
Anyways, I am okay. Just thought you might want to know that. I am alive and well and living life. I am taking things one day at a time. One moment at a time. I am slowing down and trying to enjoy each moment as it passes. Quite a difficult thing for me to do, but I am learning how. God is good and He loves me unconditionally and I am learning how to rest in that Love. I am learning how to accept myself the way God views me and not the way I view myself. (there is a BIG difference there)
As many of you might recall, I had some company for a couple of weeks. Yup. My parents were in town. (which partly had to do with my extended absense from blogging) We had a lovely time together and got to do some pretty cool things. Check this out...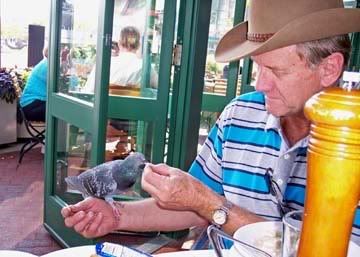 We had lunch at a restaurant on the Harbour and while eating, some birds came up close to our table. Well, grandpa started feeding them so Chloe could giggle and laugh at the birds flocking around us. One of the birds jumped up onto my father's arm (as you see in the picture above) and ate from his hands. Pretty cool, eh?
I love pictures of Chloe and I together. I am usually the one taking the pictures so its nice to have someone else take them.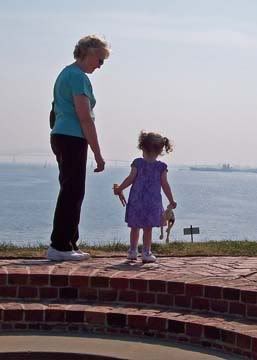 Chloe and my mother. I absolutely adore this picture. Isn't it the sweetest? My mother is an artist so I am thinking of asking her to paint this picture for me for my birthday. (unless I find a cuter one before then)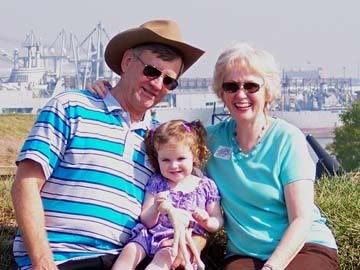 Chloe with her Grandpa and Grandma. She even learned how to say thier names while they were here. Grandma was "Mah" and Grandpa was "Dalah".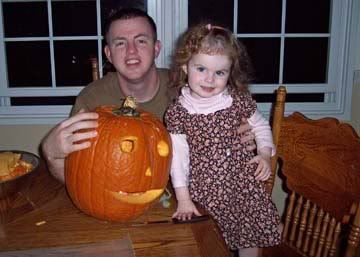 And just another random picture from my arsenol of photos from the past month. We don't really believe in celebrating Halloween (at least I don't...James doesn't mind) so I tried to come up with some ideas of things we could do instead of "halloween". I called them our "fall festivities" and we did them on Halloween night. (James still took Chloe to a couple of neighbours houses to gather some much needed candy. Oh well.) Anyways, James and Chloe carved the above pumpkin while I made popcorn balls. We were going to make caramel apples as well but I didn't have any sweetened condensed milk so we may do that closer to Thanksgiving. I don't know.
Chloe sure had fun carving the pumpkin though.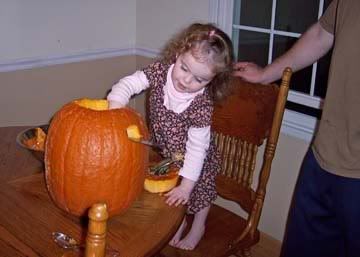 And here's me making the popcorn balls.
I think next year I will put a little more thought into our "festivities" instead of waiting until two hours before the doorbell rings with trick-or-treaters...
I hope to have another little update later today with some crafty-like things in it. I might even tell you about the Ladies retreat I went on last week. Who knows. Right now I have a toddler climbing on my lap (which is hard to do with a laptop computer sitting on it) and it is becoming quite difficult to type around a head and foot. So, I will sign off for now. Have a great day everyone!