Welp...Thanksgiving is over. Completely over. Know what that means? Yup. Its time to get those cookie sheets and cooling racks out. Those candy thermometers and double broilers. Oh how much I love this time of year. There are 28 days left til Christmas so that means I have 27 days left of baking. Oh the ideas of what I can bake in 27 days. Today I began with a few cookies.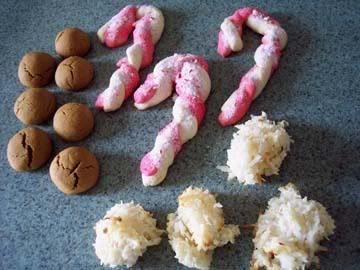 Here you see some Peppernut Cookies, Coconut Macroons and Candy Cane Cookies. Delicious. All of them. (for the must be tested, right?) Let me see...the Peppernut cookies are quite interesting. I love them but they are very similar to gingerbread cookies so there wasn't alot of thrill there. I do love to use Anise seed or oil but I believe the molassas in these cookies overpowered the slight licorice taste of the Anise oil. Oh well. They are delicious anyways. The Candy Cane cookies were a blast to make. In fact, I think we will make another batch or two of them before Christmas. I made a candy cane/sugar sprinkle to sprinkle on top but next time I think I will stir it into the red batter. I think it will give it more flavor. The cookie is very much like a shortbread type cookie. A little dry but would be quite excellent dipped in tea. YUM! And what to say about Macroons? Not much except that they are a staple at Christmastime if not simply for the fact that they are quick and only require 3 ingredients. Make sure you cook them all the way though. My first sheet didn't get cooked all the way and they were a tad bit raw.
So, that is all the baking I did today. On the agenda for tomorrow...Caramel corn, Puppy Chow and maybe some Cranberry Cheese bread. Of course I do need to make some regular bread because we are out of that.
Yesterday for "school" I brought out a bunch of supplies and let Chloe make her very own card for Grandma and Grandpa. I showed her how to use each thing and then let her go at it.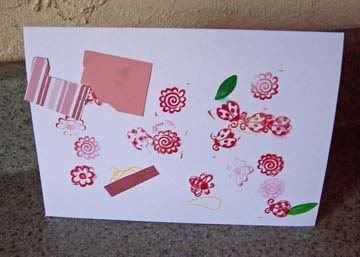 About halfway through she finally got the hang of the whole rubber stamping thing without smearing them across the card. Needless to say, she was quite pleased with her efforts. I showed it to James when he got home. I told him that Chloe made Grandma and Grandpa a Christmas card. You should have seen the look on his face. It was somewhere between utter disdain and disbelief. It took me a minute or two to digest his look and then I repeated what I had said. "This is CHLOE'S first card.
Chloe
made it." Ahhh...he chuckled and said he thought I said I had made it. Funny guy, this one. Funny guy.
So, even though Thanksgiving is technically over in our house, I thought I would show you some Thanksgiving pictures.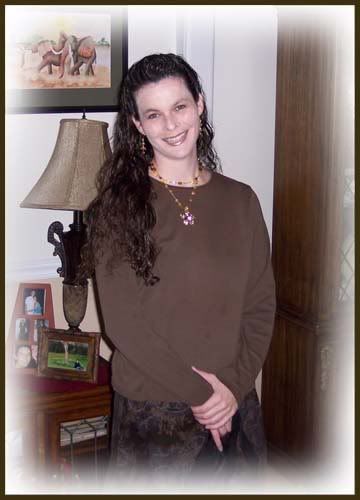 Notice my short hair? No one around here has noticed that there is about 6 inches missing from it. Compliments of my mother while she was here visiting. I know I said I would never let her touch scissors to my hair ever again, but I broke down and let her. I made her promise that she would only trim it...and yet 6 inches disappeared. Oh well. At least it is healthy now. This is the first time since I started the 6th grade that she has touched my hair. It doesn't look half so bad, does it...She did a good job.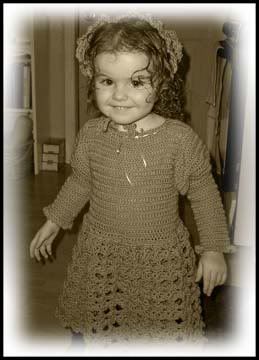 As promised...Chloe's Thanksgiving dress on her. She wore this to the Thanksgiving Praise banquet at church last Tuesday evening. Funny thing was I added the long sleeves to the dress so she could wear it during the winter weather season. Well, Thursday (Thanksgiving day) it was about 70 degrees here. That meant no Thanksgiving dress for Chloe due to the long sleeves. Poor thing would have been sweating up a storm in it. Oh well. She looked cute anyways.
Current dress update: I have no pictures to show yet because I am waiting until the dress is completely done before I show it to you all, but I have the main portion of the dress finished. All I have left is the size 80 thread trim and then sewing on embellishments. I hope to get that done tonight so I can move on to a new project tomorrow. Okay. Not a
new
project. Just a
different
one. Gotta finish Chloe's quilt and maybe a couple of dresses I have cut out for her.
So, now I am off to play a bit with Chloe before its time to fix supper. Chicken Spaghetti tonight. It would seem that the ornaments hanging on the tree make delightful playthings. Santa loves visiting the donkey from the creche that sits below the tree. They walk around the living room and kitchen, crashing into walls and tables. It would seem that one of them broke a glass ball ornament. I will never knwo which one though. They both are not speaking.