Don't you just love to have sweet little nothings whispered gently in your ear? What girl wouldn't, right? I love it when James whispers he loves me in my ear. Or when he says just how stunning I looked earlier in the day in that certain dress. You know what I am talking about....{giggle, giggle}
Well, there are times in our lives when Jesus whispers those sweet nothings in our ears and boy, oh boy...let me tell you...they ain't
nothing,
that's for sure. Those little whispers we hear mean so much when they come from Him, our Creator. I have had some whispers in my ear lately...some of which I will share with you. (some are to remain sweet little nothings between my Savior and I...our little secrets)
It was Friday morning and I had spent some time sitting in my chair in the bedroom reading through some Psalms. If you ever feel yourself a little overwhelmed with life, just read through a couple of Psalms. They will lift up your spirits in no time and remind you that you are not alone. Anyways, back to my Friday morning. I find that when I am sinking into my little, dark place it helps to focus my attention back onto the Lord. Even if all I can do is whisper "Hold me Jesus. Just hold me". Funny thing is...He does. He holds me. I can't explain it. Its just one of those things. I imagine myself lying in His embrace and pretty soon I start to feel better. When I find myself being lifted out of that dark place, I start thanking Him for things He has done for me. Well, Friday morning was no different. I thanked Him for some different things and I finally said, "Thank you for dying on the cross for me" to which I immediately said without realizing I was saying it, "so that I can live for you." It was almost like it wasn't me that said it. My very next thought was deeply profound.
Living for Jesus is not "witnessing" on some street corner in some village somewhere off in the world. In His own way, Jesus was letting me know that He died for me so that I could live...for Him.
Live
. Breathe. Get out of bed. Kiss Chloe. Plant a rose bush. Make pumpkin cookies. Write a letter. Wash underwear. Vacumn a rug. Live...for Him. He wants me to LIVE. Plain and simple. What a beautiful "sweet nothing" He whispered in my ear that day.
Another sweet nothing drifted to my ear just this afternoon. I was sitting on my bed crocheting and thinking about the chapter I had just read. (Romans 1 for those of you interested) Today I picked up our New Living Translation instead of my usual Bible. It helps me to understand different portions of scripture better since it is written how I speak...modern day terminology. But back up a bit. I might need to preface this "sweet nothing" by saying that today was not one of my better days. I have been feeling a bit down today. A bit hard on myself. A bit like a failure. A bit unworthy of love.
Well, it was in the middle of these thoughts that my Savior whispered a sweet nothing in my ear. I heard it loud and clear as if He were sitting next to me.
"Anna. I died for you."
To which I replied,
"I know Lord, and you really shouldn't have. I don't know why you would do something like that for me. I don't know why you would want to spend eternity with someone like me when You could have someone so much better."
Then He said,
"But I DID, Anna. I died for you because that is how much I think of you. You are precious enough to me that I gave up my life just so you could be with me for all of eternity."
God wanted me. He chose me. He thinks I am precious enough to die for. He wants to spend eternity with me and guess what!!! He is building me a mansion so I can live there with Him forever!! All my life I dreamed of being Cinderella...and today I realized that I AM! Eternity is my Happily Ever After. I can hardly wait to get there. And while I wait, He whispers sweet nothings in my ear to remind me of His love.
I have been having some very good moments too, though. Not all my life is dwelt in the pit of despair. I am still busily working on my numerous projects. Wanna see some? I knew you did. I am prepared!
This is an Angel Lace dress I am making for a co-worker of James. (a customer) I have less than two weeks to get it done and already I have put it to the side for another project. Have no fear...have no fear. I can get it done. And I will. Just as soon as I finish this...
Chloe's Thanksgiving dress. I aim to have it done tomorrow so she can wear it to the Thanskgiving Praise banquet up at the church. The dress will be done as soon as I get off this computer, but I still have the bloomers to do for it and the headband. You may recognize this dress. I recently made one in a 3 month size that is currently for sale on my website. I am really loving this pattern. It works up so quickly (I started the dress last night and its an 18m size) and looks like you put a ton more effort into it than you really did. Wonderful, right?
In addition to that, I also started working on a quilt for Chloe. I have cut out a bunch of teeny tiny squares (because since when I have ever done anything on a large scale???) and today began the sewing process. (had to take a break from the crocheting, mind you. Nothing wrong with that...I can
still
get it done in time)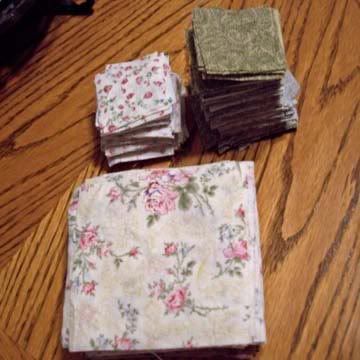 Okay. So why the teeny tiny squares? For one...I am using scraps so teeny tiny is the only way I could do this. For two...it is going to be a nine patch quilt. I figured a nine patch was pretty basic enough that I could get it done relatively quick and onto Chloe's bed within a week. We shall see if I can accomplish that or not but if I work on a few squares a day, I should be able to get it done. Once I got all the squares cut out, I started sewing them into strips, like so...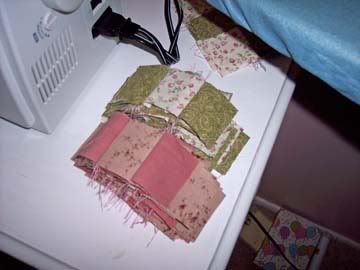 And then once the strips are done, they are pressed (seams open) and then sewn into sqaures.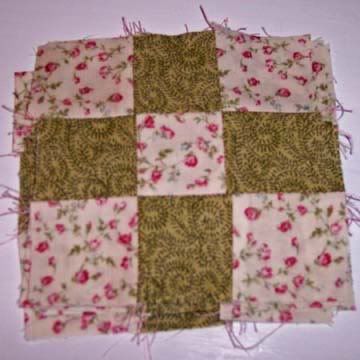 (sorry for the poor coloring of the photos. I took them tonight in the dark so not very good lighting.) And just because you asked...they are 2 inch squares and the final squares are ending up to be 4 1/2 inches. I have enough squares to also make Chloe a matching quilt for her dolls. Our plan is to buy her a doll cradle for Christmas and have it set up under the tree with the quilt in it. I can't wait to see her face when she walks down the stairs and sees it. (we also got her a Mickey Mouse clubhouse so she is getting
two
toy gifts this year...lucky little girl)
Anyways, I better get going if I am going to get this dress done tonight. Have a great night everyone. And don't forget to Be Thankful!!! (for something...everyone can find
something
to be thankful about)