The word "fun" can be classified into two major categories.
Whoa! and Whee!
The first one (Whoa) is used to describe the kind of fun you have where the end result leaves you with a sense of awe. It leaves you speechless, breathless and you can barely utter the words "Whoa! That was
fun
!" Its the sort of fun that takes a little bit of time to build up and it is quite possible one might not even recognize it as fun during the process. Yet at the end, you are amazed at what you have accomplished.
Take crocheting a baby dress in size 10 thread, for instance. (or even a doily for those of you who wouldn't ever attempt a thread dress in a thousand years) While crocheting your particular item of choice (doily or dress) you think to yourself, "Why did I think this would be fun?" but when the project reaches completion...well...all you can do is open your mouth and whisper "Ahhh". Then you KNOW it was fun.
The second kind of fun (Whee) is a much different kind of fun. Whee's attributes are more closely associated with the feeling one gets while swirling about a roller coaster. It only takes a minute of time but the ride is so excruciatingly exhilarating that you find yourself returning 20 more times just to experience it.
It is this second kind of fun I experienced today. I made something quick and easy and fun. (in the Whee sort of way) And now I am having thoughts that I would like to make at least 20 more of them. (not
all
for me...)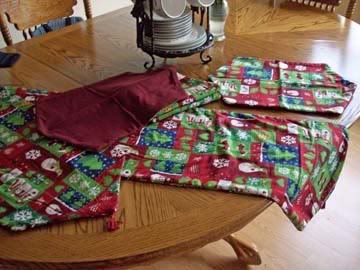 Doesn't that set just look fun? I mentioned that I needed to make this in yesterday's post. I am quite proud of myself since I ended up doing what I intended to do. (quite a difficult accomplishment for me, let me tell you) Anyways, this is for my brother and his wife and it left today in their Christmas package bound for their place in the jungle. (and I DO mean jungle)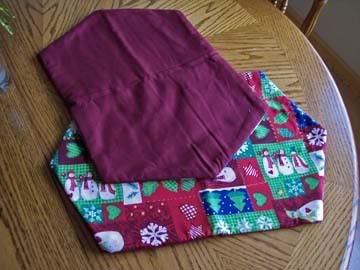 The set includes a table runner and 4 placemats. I used a cute Christmassy fabric for the table runner and the tops of the placemats. Then I backed two of the placemats in red and two in green. (something different) I even attached tassles to the table runner. (I would have attached them to the placemats as well but I didn't have enough and I though 1 lone, tassle-less placemat would look kind of silly surrounded by 3 tassled ones.)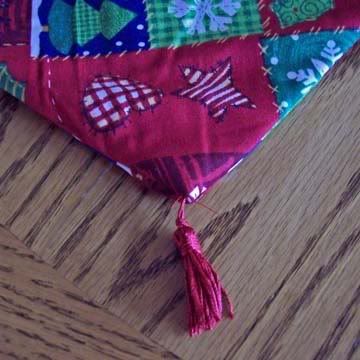 I used
Butterick pattern B5059
.
Speaking of sewing, I told you yesterday that I made a couple of skirts a while back and failed to show them to you. Well, here they are.
You'll never guess what pattern that is. Betcha can't. Betcha'll never guess. Okay. Those of you who know me probably already guessed. Yes. This means that I have FOUR of these skirts. But they sure are cute, aren't they? I experimented a bit and did them in two tone. Nifty, eh? You may even recognize the pink fabric on them. Need a clue?
Here...a clue
.
In addition to that, I completed another sewing project today. I started it for my mother's birthday but ran into snags. I even showed it to her while she was here just so she could help me figure it out. She wasn't able to. So, I didn't get it done in time for her birthday. Luckily, I finished it today so I can at least send it in her Christmas package. (NO. This will not be her Christmas present. What do you think I am? Cruel?)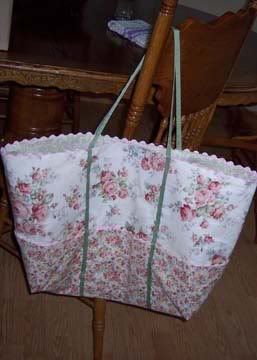 While I would not classify this project as anything closely related to "fun", I can say that I learned some things while sewing it. I couldn't tell you what they were now but I am sure that when the time comes for me to remember them, I will.
I even crocheted a
little coat for a candy cane
yesterday. I doubt it will cold enough for it in the jungle where my brother lives, but I thought it would be better to send the candy canes along prepared for the worst.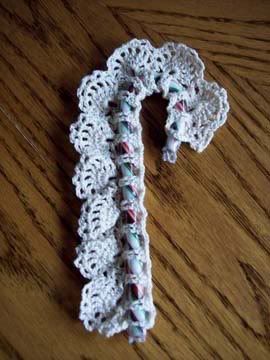 When my parents came for their visit they came loaded with goodies. My mother gave me this apron she found at a yard sale. Isn't is the cutest?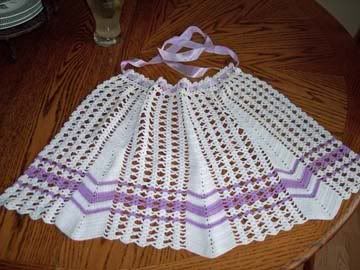 Somehow she also found out that I like vintage sorts of things so she gave me some dishcloths and potholders.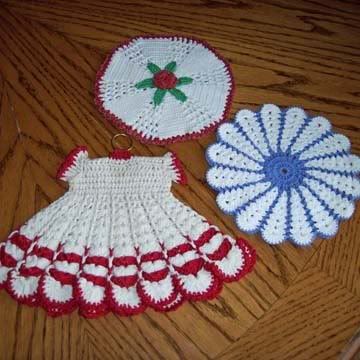 The dress one came from my grandmother Anna. I believe she made it. I could be wrong, but I think she did. I just love it. The other two my mother picked up at yard sales.
Well, its been fun but its Friday night so you all know what that means!!! I better get going and see what James wants to do about dinner. Have a fun weekend. Laugh alot at silly things.