Growing up, I remember our family would recieve a puzzle from a relative and it would then be set up on a card table in the corner of the room to be worked on during the rest of the season. I remember working on these puzzles, quite often. In fact, I believe I was the one who spent the most time putting them together. I loved it. If we happened to not recieve a puzzle for a year, that hindered not the tradition. We simply reached to the uppermost shelf of the closet and dusted off an old puzzle from years past.
This year I found a puzzle at Elijah's barrel (that "free" thrift store of sorts at our church)and decided I would begin this tradition in our house. Of course, I am the only one who will participate until Chloe gets a little older and can work with me. James will ask to put in the last piece. I always hate that, but hey...I love him. Gotta let him do
something
, right?
And this year's puzzle is...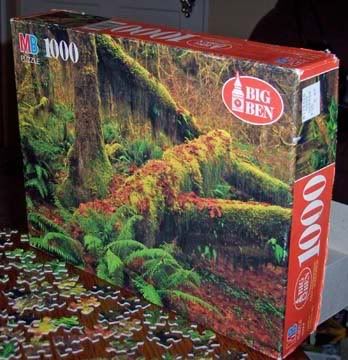 ...which has been started...
My goal is to have this completed by New Years Day. I am beginning to think that is not possible because I have put a few good solid hours into it already and am not much further along than the picture above. Shucks. Nothing like a little challenge for the holiday season, right?
And now, I leave you with a picture of us on Christmas Eve before we attended the candlelight service. I hope you all had a blessed and Merry Christmas.