That's all that needs to be said. I am DONE.
I finished my 5 things. Although the fact of the matter is I have actually finished SIX things. Yup. SIX. Okay. Seven if you count the "new" dishcloth I made last night for my sister. I didn't photograph it because how many dishcloths do you really need to see? Let's just say that its my favorite dishcloth pattern. Nuff said.
So, what were my 4th and 5th projects? Well, I did tell you about the brown knit shirt that is identical to the pink knit shirt I finished yesterday. Umm...yea...forgot to get a photo of it as well. But hey! How many plain knit shirts do you need to see anyways? One, right? Just imagine the pink one I made yesterday in chocolate brown. There you go.
But the item I am really excited about is this....
...but that is not all. Oh no...that is not all. For your viewing pleasure I have another sweet picture of my little darling. (because she looks just so darn cute in this red dress)
And if that weren't enough...the finishing touch...
Yup. The Raggedy Ann pinafore. Now how cute is that? I think this is the cutest thing I have sewn...ever.
Now
the pattern
says "easy" on the front. There is something I don't really understand about these pattern companies. The meaning of the word "easy"
EASY (according to
this source
): not hard or difficult; requiring no great labor or effort
I must tell you that somehow I don't think alot of the pattern companies patterns fit this "easy" category. At least not the patterns I have tried. I think sewing a neckline edge is, in fact, quite difficult. And sleeves. Getting them to match up on such a small scale. Not very easy in my book. And don't get me started on zippers.
Anyways, the dress and pinafore are done so that makes #5 and #6 of my goal done. (seeing as how the goal was only for 5 I would say I am ahead of the game. I am never ahead so I am reveling in my present state right now. (Don't mention Christmas gifts though...please don't.)
I have a couple of pictures of snow to show you.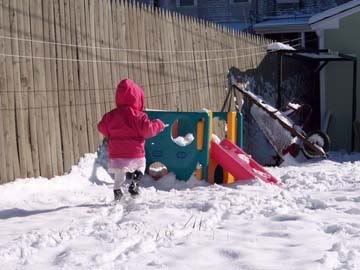 You should have seen the yard. In about 10 minutes, the entire backyard was covered in little Chloe-sized tracks. Literally covered. Granted the yard isn't large, but it was fun to see just how sporadic a toddler really is.
I took a picture of my rosemary because it looked so beautiful underneath its frosty cloak.
That is all for today. I will have more to show you tomorrow. (hopefully) Have a great day.