I still have a LONNNNNGGGG ways to go before I have even half of my WIPS completed, but I am getting there. Trudging along. Making progress. I haven't crocheted since Christmas Eve though. I was working on a dress for Chloe and there was no way it was going to get done in time for Christmas so I stopped stressing about it and let it be. She doesn't care that she didn't have a crocheted dress for Christmas. In fact, she probably didn't even care that her dress she DID wear was sewn for her. Besides...this puzzle is a tad more difficult than I thought it would be.
Anyways, got off on a tangent. Sorry. I was speaking about my WIPS. I managed to get a few things done before Christmas and am quite pleased with the set-up of this new goal of mine. It really motivates me to finish things if I have something new and exciting to look forward to. So, it will take quite a long time to get everything done in my sewing/craft room, but that will come in time. I am thinking New Years Resolution here...got a few days left to think about those.
What have I completed? I just knew you were dying to know. Its one for one...right? So let me show you.
First, a WIP. This is the same pattern as the Raggedy Ann dress, only it is pink. I will most likely be giving this to Chloe for her birthday. Maybe I will add a bit of lace to the bottom or something though. Not sure.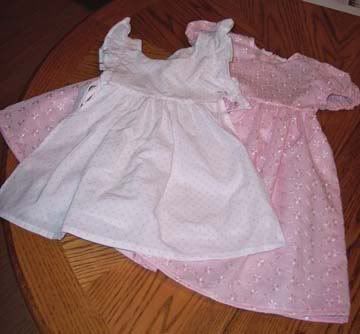 Have I told you before just how much I love this pinafore? Well, I do. I adore it. It has to be one of the cutest dresses I have ever made for Chloe.
Then something NEW!!!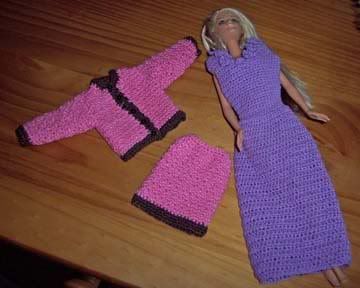 Okay. So there are two things in that picture. No frets though. I completed a WIP in between those two Barbie outfits. (which came from the
Crochet for Barbie book
)
The in-between WIP???
A baby bunting I designed. I am about halfway through typing this baby up and then it will be ready for testing. Its simple and will keep baby warm and cozy. I used just regular ole sport weight yarn for this. Turned out quite nice, but it got a little boring for me and that is how it happened to become a WIP. It didn't take but 15 minutes for me to finish it once I sat down to do it...but that is always the hardest part for me.
Now I have something to show you that I started before my new "goal" challenge thingy.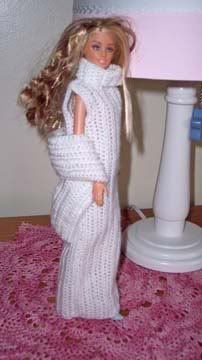 Another Barbie dress. This one was so simple but I had the gauge wrong by a tad so the dress turned out a little longer than it was supposed to. Now...you wanna see something totally teeny? Check this out.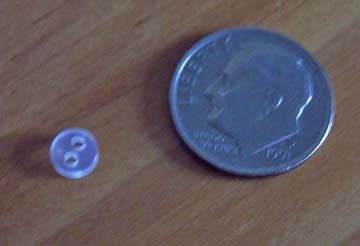 That, my dear readers, is a button and a dime. YUP. Teeny, right? I sewed those buttons on that dress, one by one. Of course, I am nutsy already and love anything tiny, but these little buggers were slightly difficult to hold onto. Love them though. Love them.
Well, I am off to get this kid down for a nap and I am half tempted to take one with her. That would be really REALLY nice. Have a wonderful day!