We had such a lovely Christmas this year that I just have to share some of it with you all.
Christmas Eve we went to the candlelight service up at the church and then we came home and Chloe opened one gift. Can you guess what it was? Yup. Pajamas. We have a little family tradition of opening new pajamas every year on Christmas Eve. James and I didn't exchange pajamas this year but we got some for Chloe. Store bought ones too. Here she is opening her pajamas.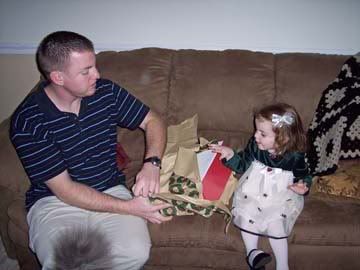 After that, we hung the stockings on the backs of our chairs.
Then it was off to bed. We woke up at about 7 and I think James and I were more excited about opening the gifts than Chloe was. And is it any wonder? We got her a
Mickey Mouse Clubhouse
and just
knew
she would adore it.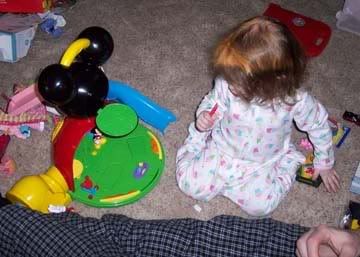 She has played with that thing for hours every day since Christmas. On Christmas, that was the only thing she did all day. It was a hit. We ended up getting her two toys this year instead of one. The second toy was a doll cradle that we had set up under the tree unwrapped. She didn't even notice it until about halfway through the day. I was expecting Chloe to be really into unwrapping her gifts this year but she wasn't. We had to coax her to open each gift...that is until she noticed the HUGE box containing her Clubhouse. Then unwrapping gifts was over.
We took some Christmas traditions we learned while living in England and incorporated them into our Christmas. One of those was mince pies. YUMMY. I love them. Chloe and James weren't too thrilled with them though. I think I was the only one who ate them. I found a little British store in Lancaster, PA while touring there and so I bought the pies. I also picked up some Christmas Crackers. No. Not the kind of crackers you eat. In England, they have these little tubes that when you pull the ends it pops like a firecracker revealing some treats inside.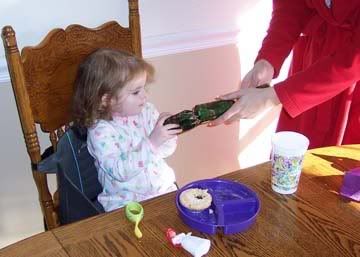 There is always a paper crown inside the cracker. The rule is that you must wear your crown for the whole dinner. Whomever takes their crown off first must do the washing up after dinner.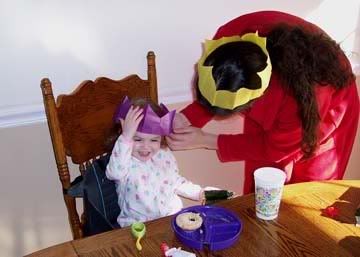 James lost, but do you think he did the washing up? Nope. Guess that only works in England.
Our crackers were cheap so they only had the crown, a joke and a little toy. I got a mini plastic bowling set. Chloe got a little leap frog. It amused her for all of two seconds. (what does a plastic leap frog have in comparision to a Mickey Mouse Clubhouse?)
My joke? Here you are...
Q: What do you have to know to be an auctioneer?
A: Lots
Ha Ha Ha...sort of silly. But I love the Christmas Cracker tradition. I think next year I will splurge and get the more expensive crackers.
And then it was naptime, after which we headed over to the Pastor's house for dinner. We had a fantastic time over there. Dinner was wonderful. Everything in the house said, "Christmas is here! Let's celebrate!" It was wonderful.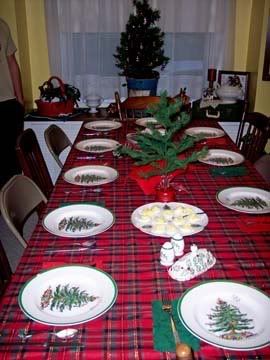 It is times like Christmas that I realize just how blessed we are. James and I move around the world, quite often. (because such is the life of a military family) Each and every place we have lived, God has blessed us with good friends who adopt us into their family for the holidays. You have no idea how much this means to us. To be accepted and included in such private things as a family Christmas. This is the family of God. A place where you are automatically accepted and loved. We are blessed. I think the past 10 years would have been alot more difficult on me if didn't have such wonderful friends at Christmas-time. Thank you Jesus, for your love.