Maybe this little goal of mine wasn't such a bad idea. I finished three things yesterday, with a fourth almost done. I have the feeling I could have set my number a little bit higher than 5, but hey! At least I will have five things done that I wouldn't have had done before, right?
First I want to show you my quilt. Chloe's quilt, actually. It was completed just in the nick of time too. I finished it off yesterday afternoon and yesterday we got snow. Yup. It snowed. We had 70 degree weather for Thanksgiving and two weeks later we get snow. And not just a little snow. I would guesstimate that we received between 4 and 6 inches worth. My world is covered in white. AND...my little girl is covered in this...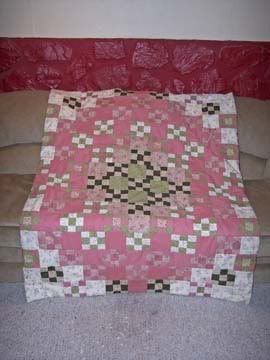 I love it. Its not the best quilt ever...not even the best quilt I have ever made, but its done and it will keep her warm and its not half bad. I learned quite a bit while making this quilt, even if all I learned was how NOT to do things. I am still not sure what went wrong here, but maybe next time I will get it right.
I made little 2 inch squares for the nine patch blocks. I figured that there would be a 1/4" seam allowance on each block so I subtracted 1/2" for each block leaving me with a 4 1/2" block. So I cut the solid blocks 4 1/2". Well, when I went to sew them into strips, lo and behold, the 4 1/2" squares are smaller than the nine patch blocks. I think I know what I did wrong but not well enough to try to explain it to you. Needless to say, I didn't have enough scraps to cut out more blocks at 5" so I left them as is - thinking I could just square them off as I was sewing them. WRONG-O! That doesn't work. As you can see in the quilt above, none of my blocks line up. The points are all off-centered.
But you know what? Its going to keep Chloe warm and that's all that matters. It looks nice regardless of my mathematical blunder. Even James likes it. "Its really beautiful" were some of his words. "I really like it" were some more.
Anyways, that was project #1 for my little goal. Project #2 was this...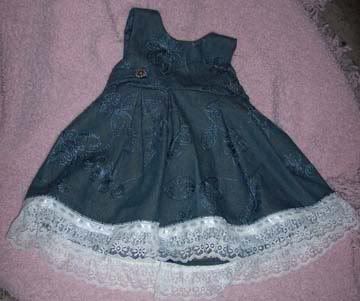 You have seen this jumper before but if you recall, I mentioned that it was too short for Chloe and needed something done to lengthen it. I added the lace trim to the bottom last night. I think it is so adorable like that. Its still a tad bit shorter than I would like and probably won't last til spring, but she will get a month of two of good use out of it. I also added the zipper in last night. It felt so good to get this one done and out of my sewing room.
I couldn't sleep last night and so I decided to get up and tackle another little sewing project. Project #3...
Please don't look to closely. I ran out of empty bobbins so I used a white one I had filled and boy...it sure looks a mess. Then I realized after I had been sewing a bit that the bobbin wasn't threaded correctly and was making a mess on the backside. (which happens to be the right side of the shirt...talk about UGGG.) Other then that...this shirt turned out quite nice, if I do say so myself. I have yet to try it on Chloe...that will come later when she is in a better "modeling" mood. Gotta catch that one right. My next project will be a shirt identical to the one above only in brown. I just have the zipper to put in and the bottom to hem. Then I would like to sew Chloe's Raggedy Ann dress so she can wear it to a party we are going to tomorrow for lunch. (its red...the only red dress she will have, so I figure its close enough to "Christmas colors" to pull it off.
Well, I had better get going. I have a walk to shovel and a basement to clean so I can get started (and finished) on Projects #4 and #5. Have a wonderful day everyone!