...dance in my head.
So, I got tired of wondering what a sugarplum actually was and made some today. Let me tell you...they were not what I was expecting. Not bad, mind you...just not what I thought they would be.
One of my expectations was that a sugarplum would be something terribly sweet and...well...you know...
candy-ey
. The whole kids dreaming of them on Christmas Eve and all kind of puts those "extra sweet" images in my head. But hey! Wanna see a sugarplum? (course you do)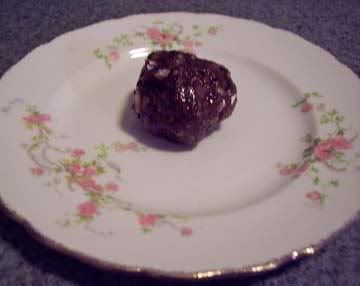 A sugarplum actually has plums in them. Imagine that, right? Actually prunes would be more like it. And they are so simple to make. Puree some prunes, golden raisins and slivered almonds together and wa-la...sugarplums. Oops. Almost forgot the most important part. Brandy. Yup. Sugarplums have brandy.
I ventured out on a limb today and tasted one of these sugarplum I had made. Let me try to describe it to you. Very "plum-ey". Kind of crunchy in places. (probably due to the almonds) Sort of squishy.
Extremely
messy. I didn't realize it until I was making them that you don't actually
cook
sugarplums. It is a simple matter of blending the ingredients together, rolling them into balls and dousing them in superfine sugar. This means that none of the alcohol was cooked out. They were still okay though. I kind of liked them. I probably wouldn't eat a ton of them, nor would they be my first choice from the dessert bar...but they weren't bad. Not bad at all. (at least they had sugar, right? Anything is good if you have plenty of sugar with it.)
I also made some puppy chow today.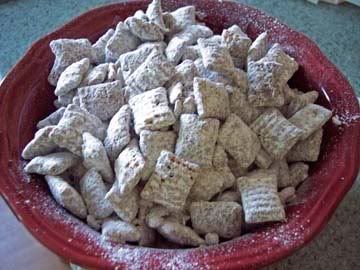 If an instant hit your looking for at your next holiday party you simply MUST make and bring some puppy chow. James devours this stuff. Its simple to make as well. I have never had anyone who didn't rave over this "dog food". Take a bag of chocolate chips and melt them in a saucepan. Once they are melted, add in a cup of peanut butter and mix until it is smooth. Then mix in a box of rice chex cereal until all the pieces are coated. Shake them in a bag with powdered sugar until they are coated and there you have it. Puppy chow. YUM!
So that was it for the Holiday Confections today. I need to make a grocery store run to get more flour and sugar and other confection-like necessities so I can continue to make Christmassy delights. Oh how I love this time of year. Sugar and all!!! I'm thinking toffee and lolipops and divinity and caramel corn and cranberry chews and rocky road and oh boy...the list goes on and on. Just you want and see what I make this year. Its gonna be fun! (not to mention yummy)