I started a new crochet project in light of my recent "
One for One Goal
" but the durned thing was taking too long. I didn't feel like I was getting anywhere (its a new design and quite tedious) so I took a break yesterday and today and did some sewing. These three dresses count as three completed WIPS so I am happy they are now hanging in Chloe's closet and not sitting on the windowsill in my sewing room. Hooray!
This first dress was a booger to make. I learned quite a bit while sewing this one.
First lesson:
A seam ripper is a beginner seamstresses best friend. (it really is)
Second lesson:
Read the pattern VERY carefully and if your brain is in a confuzzled state...STOP! Don't proceed any further. Get some sleep and come back a couple of weeks later. Whatever you do...DO NOT CONTINUE SEWING!
Third lesson:
Basting is put into the instructions for a reason. Sometimes it is good to follow those instructions. It is alot easier to seamrip seams that are basted instead of sewn regular. ALOT easier.
Fourth lesson:
Velvet is very slippery and not the easiest fabric for a beginner seamstress to work with.
Without further ado...I present to you the dress with each seam having been sewn twice. (I literally could have sewn two dresses in the time it took me to sew this thing. Ripping seams out takes a long time.)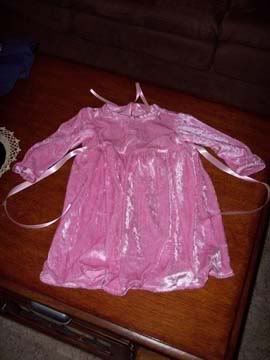 There IS a front and back skirt on this dress. I found out the hard way. (hence the above lessons regarding seamrippers and basting) I also made a modification to the dress. After taking one look at the instructions for making a thread button loop to close the dress, I decided to sew bits of ribbon on to tie the dress shut instead. (whatever works, right?)
I made the same dress in fleece. Much easier to work with than velvet but still not my favorite cloth. It will be a very warm dress. (which is good because its supposed to get below zero this weekend...and that after having 70 degree weather last week. YIKES!)
And the ribbons I was mentioning earlier.
I was able to squeeze in a third dress today as well. The Mickey Mouse dress. Chloe adores Mickey Mouse and so I bought this fabric because I thought she would love it. (she loved it in the store) Well, when I showed it to her today after it was done, she smiled and then immediate said, "Minnie?"
Me: "No...Mickey. This is a Mickey dress."
Chloe: (After getting off her chair and looking around the sewing room for a minute) "Minnie?"
Me: "No Minnie. I made you a
Mickey
dress. Do you like it?"
Chloe: "No...Minnie. MINNIE!!!"
Ahhhh. She now knows the difference and there is no getting around her any more. I can guarantee you though that come tomorrow morning, this dress will be much more appreciated than it was this afternoon. Mickey is...after all...her utmost favorite.
Well, I am off to fix supper. Leftovers tonight. Gotta get rid of all this soup in the fridge. I believe we have three. Bean, chicken noodle (homemade) and chicken and dumplings. I also made some banana bread and cranberry-cheese bread that we will be cutting into for dessert tonight. YUM. Have a wonderful evening everyone.