With my shower completed and a trip to Toy R' Us got thrown into the mix as well, I am now ready and excited for Chloe's upcoming birthday party. I can't wait. But more on that later. Right now I have a few
things
to show you.
The dingy appearance of my current set of dishcloths begged of me to make new ones. So, instead of making my favorite pattern, which I have made a zillion of in the past few months, I took it upon myself to design one. Its a simple one and I figure it would make a great free pattern for my site. I am calling it Frilled Lace. (I couldn't come up with anything better at the moment in which I named it)
And then I went and made two more. (Because I
did
say I needed new ones)
Well, then...Sunday I was feeling pretty good about things. I don't like to work on my business on Sunday (my day of rest) so I got out my thread and started playing with some stitches. I wanted to get a good base stitch for a new dress for Chloe's birthday.
I picked one of those and it will be the base for the dress. You will have to wait to see which one it is. (mwahh ha ha. Eveil, aren't I?) Monday I did something I should have done months ago. Years ago, in fact. (well one and a half years ago, really) You see...I had some fabric lying on my bedroom floor since we moved into this house. In our old house, it used to hang as curtains, but it was just fabric drapped over the curtain rod. I didn't own a working sewing machine back then so that wasn't an option for me. Now that I am the proud owner of a Bernina (the world's best sewing machine) I have no excuse for hanging curtains without being hemmed. So...instead of hemming them like any normal person would do, I left them on my bedroom floor for a year and a half. (lazy, eh?) I must make mention here that I am not a filthy, dirty person. Quite the contrary, in fact. I do like my house clean and picked up. I can't have things lying around. But for some reason, I got over that and was completely willing and able to vacumn around these curtains for a year and a half.
Not any more. Monday I hemmed them and produced this...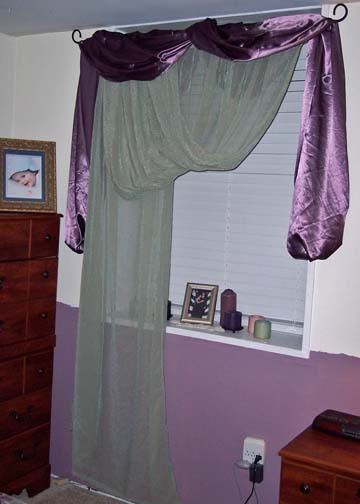 Tuesday the yumminess continued. I see a theme from the past month emerging that I wasn't expecting. FOOD. I seem to have made more food or kitchen related items for this thing thingie than any other thing. And pretty much nothing was on my original list of things to create. Oh well. Food is good, right? Anyways, I made some yummy White Chocolate Macadamia Nut Scones for my Tuesday thing. Oh boy. My mouth salivates just thinking about those scones sitting up on top of my refrigerator. Can I resist the urge to gobble one up right this minute? Tie me down, someone! Quick!
Okay, then. I am off to clean up from supper. Be prepared for some more yumminess in my next post. (because what I made today is extremely yummy) Have a great evening everyone.