This morning was no exception to that rule.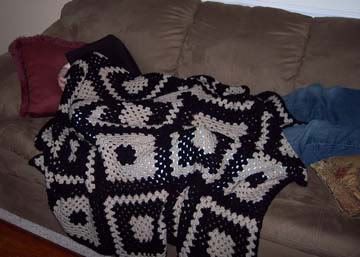 Above you see James sleeping on the couch about 10 minutes after he got out of bed. Chloe is next to him.
We had a late night last night. We didn't get home until after 12:00 midnight and apparently James figured the perfect end to our evening of
Shakespeare
would be a
Cav's game
. Yes, a very fitting conclusion, I must say. Of course, I only stayed up for about 20 minutes of the game and then I went to bed, read a couple of chapters of
Miss Read Village School,
and finally, when I could no longer keep my eyes focused on the page, fell asleep.
My little angel of a girl awoke at 6:23 am, a whole 67 minutes before the scheduled wake up time, climbed into bed with us and there concluded our abbreviated slumber. Needless to say that coffee suddenly became crucially important this morning. In my groggy state, I brewed my pot of coffee and proceeded to "doctoring" it up. I went to the cupboard and alas! No sugar!! (remember yesterday and my ordeal with the sugarless scones? Yup...still no sugar) Well, that's okay because I can always use brown sugar. I've done it before and it wasn't so bad that time. Upon opening the cupboard a second time I realized that I used the last of the brown sugar yesterday in those Cowboy Candy Bars. Oh crumbs! I GOTTA HAVE SOME COFFEE...and I do mean NOW!!!
I did what any caffine-deprived mama would do.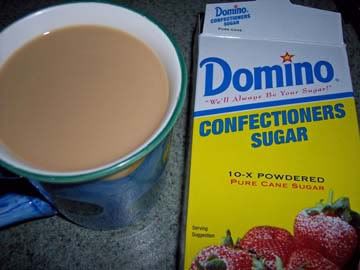 I used confectioner's sugar.
Hey! It wasn't so bad. In fact, I am gearing up for a second cup. So, now we are on our way out the door to watch maple sap be turned into sugar. FUN! I will be sure to take plenty of pictures to share our adventure with all of you. Ya think I'll be able to buy some
real
maple syrup?