Blech! Anna's do NOT like Rye Bread!
I have been reading
The House at Pooh Corner
to Chloe every day. I love this style of writing. I find myself laughing so hard I can't continue reading and then Chloe starts giving me weird looks because she has no clue what the issue is. Mama's are just nuts. That's all.
Anyways, Tigger is introduced in this book and upon introduction Pooh tries to help Tigger find something he likes to eat because Tigger is hungry. Pooh offers Tigger some of his yummy honey and Tigger replies, "Honey is what Tigger's like best" and proceeds to eat it. After a few sticky bites Tigger proclaims, "Tiggers do NOT like honey!" This continues with each and everything Pooh finds for Tigger to eat. From Piglets haycorns to Rabbits carrots. Tigger says such and such is what "Tiggers like best" but upon eating it he always states "Tiggers do NOT like" such and such.
This is exactly how I feel at the moment. I was so excited to make my Rye bread the other day. It was something new and I just knew it was something that "Anna's like best" being homemade bread and all. But when we sat down to supper yesterday and I took one bite of it I said, "Blech! Anna's do NOT like Rye Bread." Not even with butter. The only way I could get it down was to smother it in mashed potatoes and gravy. SMOTHERED, I tell you. I didn't waste what I put on my plate though...I do not wish to waste food. I am just so very thankful that James actually likes this bread. I don't know how or why, but he does. So...guess who is going to get some in his lunch every day? You got it.
On another topic (and more related to the title of this post) we started school today. I know, I know...we were going to start last week but we had a surprise visitor so I put school on hold for a week. Not that big of a deal seeing as how Chloe is only 2. (soon to be 3)
So, today was our first day of school. Real school. Sort of. I am using this
Preparatory
curriculum. Our first day didn't go quite as well as I had expected it would. It would seem Chloe would much rather run around the room like a crazy cat (complete with meowing and all) then sit down and color a picture. She cried when I brought out the crayons and set them before her. I didn't want to push her so I didn't force the issue. I did tell her that she needed to stay at the table though and she complied willingly. I guess that was a good thing and comes from the fact that we have been having "school" for about a year now where we sit at the table and do different things. (like color or playdoh or something) Now its different though because we have things we are "supposed" to do based upon a theme.
I don't think Chloe will cause to much fuss in the future. I honestly believe this will just take some getting used to on her part and once she understands it a bit better, I think she will enjoy it immensely. We have both been fighting colds this weekend so that could contribute to her sour mood this morning as well. I am not going to give up this easily. I will press on for at least another week or two before I decide whether she is not ready for this or not. I will keep you updated.
I thought I would show you our poster we started today. Each day of school we will add something new to the poster. (which you can see from the squares)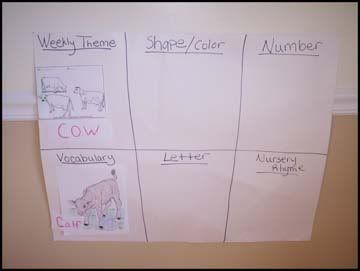 By the end of "school" Chloe was getting more into it. She loved learning her vocabulary word "calf" which means baby cow. I asked her later as we stuck the picture of the calf on the poster what a calf was and she pronounced "bay-bee caoo". Today we introduced the weekly theme of Cows and I attempted to get her to color the picture (notice the green on the side??? That's all she did other than color one of the cow's eyes brown) Then we read a poem about cows, read two books about cows and sang Old MacDonald had a farm with cows. Then we crawled around the living room and pretended to be cows. This is where it got a little weird for poor Chloe. She didn't quite take to the idea that we were supposed to be cows. I think she wanted to be a cowgirl because she kept climbing on my back to ride me around the room. When I bent my head down to eat grass, she laid on the floor beside and me and gave me a half grin that said "What on earth are you doing mother?" I even tried to "milk" her and drink the milk but she wasn't having any of that. She ran away, laughing, and I knew at that moment that Chloe was not going to be a cow today. Ahhh well. Maybe tomorrow.
I am trying to figure out a place we could go on a field trip this week that would involve cows. I think its important for children to learn "hands on" when it comes to certain things. Only problem is...I don't know where to find cows in a city that would welcome us. Any ideas?
Well, I am off now to do some work around the house. I also have an issue with my Lady Guinevere sweater pattern that needs fixed so I will attempt to work on that today as well. And then maybe...just maybe I will get to work on the Winter of Wonderland Ensemble a bit today. Have a lovely day everyone! God bless you.