I'm having my cake and eating it too. Well, not for long though. You see, because I used my powdered sugar for coffee this week there wasn't any left for icing. So the cake I made on Tuesday sat underneath a kitchen towel until yesterday. Not good for a cake. Not good at all.
BUT...I
did
ice it and I learned some things in the process. That I did. (Make sure you have powdered sugar in the cupboard before you begin the cake)
First, I prepared the counter to make the icing. And, as always, I had my little helper with me to sample each step of the way and ensure that the icing tasted satisfactory)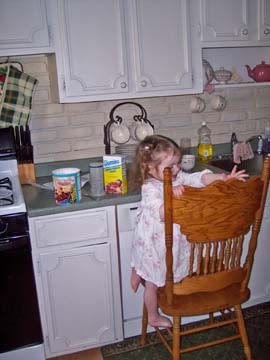 Second, I set the cake on the table with my "model" next to it.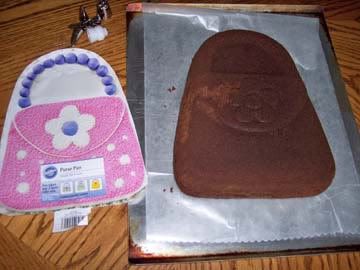 I made a chocolate cake but instead of vanilla extract I used a teaspoon of cloves. Talk about yummy. Ummmm. I love spices! Notice my cake didn't make it out of the pan in one piece? See that rugged little bit there? That plays an important role in this story later on. (many of you already know what happens, but let's not get into that now. We'll talk about that later)
Now onto the actual icing part. This was actually pretty hard. Alot harder than it looks. I had to ice the sides of my cake and smooth it out but for some reason mine wouldn't smooth out. I guess it would be helpful to purchase that
Wilton's spatula
the book said I should have. I thought I could just use what I had but unfortunately, it didn't work.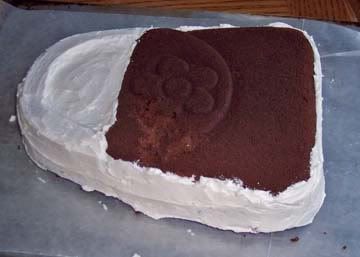 I did my best though and that's all that matters. Now the decorations. Shells. These were not fun and it took some practice to get them even halfway decent.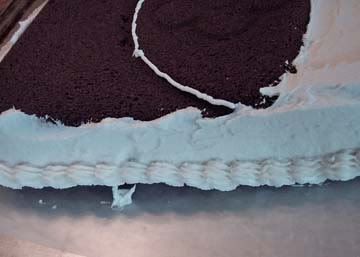 And then the fun part. The stars on top. I practiced those a couple of times on the wax paper and then felt confident enough to cover the cake with them.
Pretty good for my second ever attempt at decorating. This was my first time ever using proper instructions. The last time I was just going by my sister's instructions and it was about an hour before Chloe's first birthday, so needless to say the cake looked pretty awful. Let me see if I can find a picture of it to show you.
And the new one...again.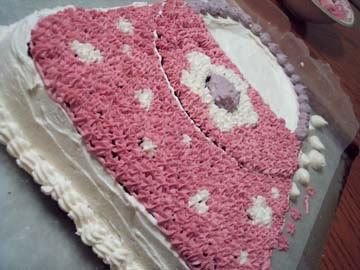 My stars got better. Only thing was, I didn't read the instructions thoroughly enough. I was supposed to turn the bag slightly with each star so the points would be inset in the previous star, hence the chocolate cake peeking through the stars on the cake. Oh well. I learned and I will do better next time. I think I will practice at least one more time before Chloe's birthday cake. Maybe even just on wax paper to get the techinque down.
The issue with the rugged bit perturbed me. You see, it was like icing a mountain ridge and boy was that hard. Do I turn the bag at an angle to ice it? My stars turned out all bumpy and uneven because of it. I will have to figure something out for getting the cake out of the pan better. Maybe I will splurge and get that
Wilton grease stuff
. They said its the best...maybe it really is. And maybe thier colors are better too. I didn't like the colors my dye produced and the book says that
Wilton colors
come out beautiful and bright. Golly...this could quickly become an expensive passtime.
Well, I am off to do who knows what. Have a great day.