I am behind in posting my Thing-A-Day things. I have been creating things just not posting them. We had some unexpected company come this week (thank you for the wonderful visit
Amy
) but more on that later in this post. First I would like to show you Things 2 and Things 3. (there are two of each...because I couldn't stop myself at just one each day)
Things 2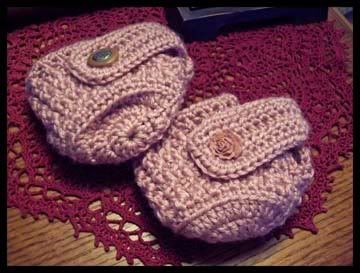 Yup. More mug cozies for
the Boutique
. These are a dusty rose color. Same rose button as before on one of them, but a vintage button a friend gave me last year on the other one. I love these mug cozies. So quick and cute.
Things 3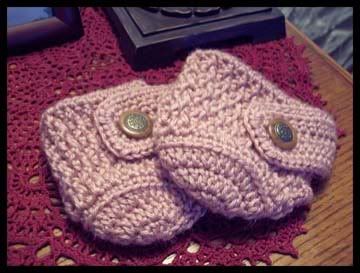 So, that brings me up to Monday. Well,
Amy
was here Monday and we had a delightful visit. I took her to Jo-Ann Fabric and Craft stores and I think she about fainted at the size of it. (as I did when I first entered this particular store...its like a Jo-Ann warehouse...biggest one I have ever encountered in my life) Anyways, we decided to something entirely "girly" so we bought about $40 worth of beads and charms to make stitch markers. So, I present to you...
Things 4
I wish I could take some better photographs this evening but alas we have dark clouds out and the lighting in my house isn't the best at nightime. The colors of these beads is gorgeous and the stitch markers came out charming. They were a breeze to make as well. I believe it took me about an hour to make all of these. We were watching Anne of Green Gables while making them too.
Amy
has never seen Anne or even read the books. I couldn't believe it when I heard that and as soon as we even discussed the topic of her coming for a visit I
knew
we would watch those movies.
Now I present...
Things 5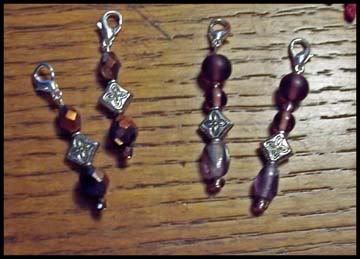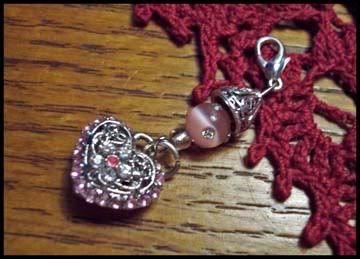 That last stitch marker was a special gift from my
dear friend Amy
. She bought the pink heart charm for me so I can always remember her visit. Such a lovely stitch marker. I will never forget the lovely time we had Amy.
And now...to share some pictures of
Amy's
visit. Chloe was a ham the whole time. (what's new?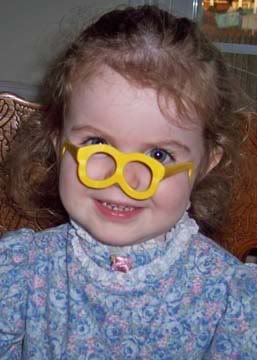 Here she is wearing her "glasses" she stole from Mr. Potato Man. This picture was taken about 2 hours after she donned the glasses. Yup. That's right. She wore them around for about 2 hours before I got around to snapping the picture. She really was quite cute.
Chloe and her new little friend had a delightful visit. She cried and cried when they had to leave yesterday. Its rare that she gets to hang out with a little girl her age and they sure did love each other.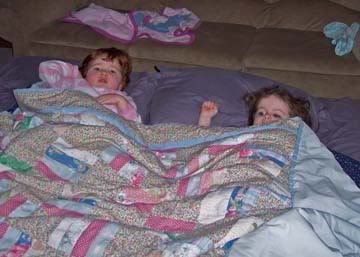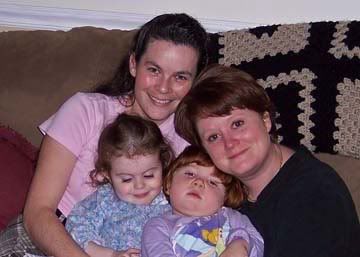 I had a delightful visit with
my friend Amy
and am now making plans to join her this summer in Prince Edward Island. Ohhh...I can hardly wait. I MUST see the Green Gables house and find some Raspberry Cordial. I also hope to save up some money and buy ALL of LM Montgomery's books. Maybe not from PEI though...they are probably quite expensive there. (touristy prices and all)
My
sweet friend Amy
didn't stop at just coming to visit. Oh no. She went and ordered me an early birthday present for me. (my birthday isn't until April so this was quite unexpected) She ordered me the most beautiful hair sticks from none other than
Blue Moon Artistry
. (
the owner
also happens to be a dear friend of mine) Well, the package arrived today.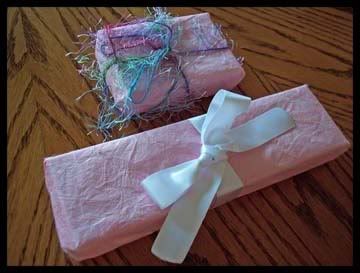 Doesn't it look lovely in pink? (who knew it was my favorite color, right?) But it gets better.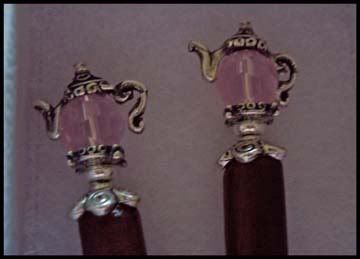 Pink teapots. Whoa Baby! Like I said...they couldn't suit me better. Then, dear Michele went completely out of her way and made me some matching earrings.


Oh...I am delighted with them. Thank you
Amy
and
Michele
for being so kind and generous and such delightful friends. I know you both are kindred spirits. I love you both.
Now I am off to figure out what I want to make today for Thing #6. I am thinking some baby bloomer might be good tonight. I do have a headache though so that might hinder my ability to crochet quickly enough to get them done. Maybe a dishcloth then? We will have to see what speaks to me when I enter the craft room.