Today, Chloe and I had our very first garden tea party outdoors. We have had some lovely weather lately and it seemed a pity to waste such weather cooped up indoors. I just love to hear the birds chirping and dream of springtime when I will plant flowers and garden to my hearts content. But more on this later. Let me start at the beginning of our lovely day.
Our dear friend Miss K took us shopping today. First we hit the Coffee Shop where I bought myself some much needed PG Tips. I believe all thats left in my box is about 5 bags and that just will not do, so I bought another box of it. Can you believe that they carried a box of PG Tips tea that contains 160 bags? I didn't buy that one, although, needless to say, I was very tempted. Then the sales lady informed me that they also sell a box that contained 250 bags. And for catering purposes, they also sell them by 1,100 bags. Can you imagine? I would never have to buy tea again. (but I don't imagine it would keep fresh for how long it would take me to drink 1,100 bags of tea) I settled on the 80 bag box. Plenty to last me for a while. I also picked up some new tea I have never tried before. It looked yummy and its from England so you can't beat that. (I also found that little tea strainer while out today.)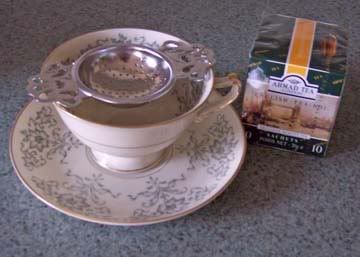 Then we ventured to the Amish Market where we had a lovely little noon-day dinner. I ate the roast beef smothered in gravy with homemade macaroni and cheese and applesauce. It was quite delicious. Homemade bread pudding covered with caramel sauce and whipped cream was served for dessert and I was in heaven. I have GOT to find an amish cookbook. (maybe on my next trip to Lancaster)
We found a Whole Foods market which sells all organic food and I found a lovely tea there that I tried this afternoon for our tea party. Zhena's Gypsy Tea "Gypsy King Chai". Delicious is all I have to say. Delicious.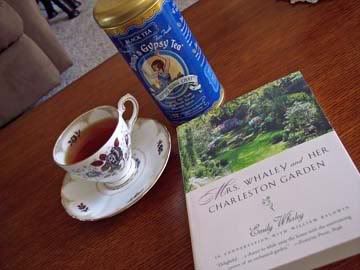 We browsed through Barnes and Noble for a bit and I picked up a couple of new books. (including the one pictured above) I have the feeling its going to be a delightful read. Just the name alone tells me that much. Here is a little quote from the book that tickled me while reading during my own "garden tea party".
"To go all out, though, to simply walk into a nursery and say give me this and that, you need an ample supply of money. Gardening in this vernacular is not inexpensive. Though there are other ways to finance your gardening, one successful way is to choose carefully whom you marry. A good and generous man is needed, one who knows how to make money and enjoys sharing it, one who himself is not interested in the actual pursuit of gardening but likes to be proud of the premises."
~Mrs. Emily Whaley~
I have the feeling that this book will be clever and witty, yet charming and helpful. I also picked up another book while I was out. (because you all know my affinity towards books)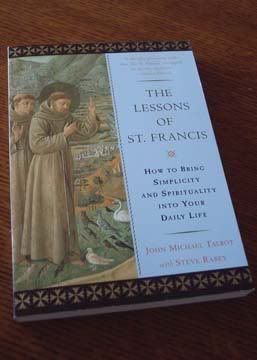 This one looks like a wonderfully helpful book and I cannot wait to read it. The caption alone is what caught my eye.
How to Bring Simplicity and Spirituality into Your Daily Life
. I've browsed through it already and have found many delightful quotes that I will have to share with you another day.
But now...about that Pink Footed Garden Tea Party. Since we had such a pleasurable morning, I thought the day could greatly be enhanced with a tea party. And what better way to celebrate the first garden tea party of the year than to wear pink socks?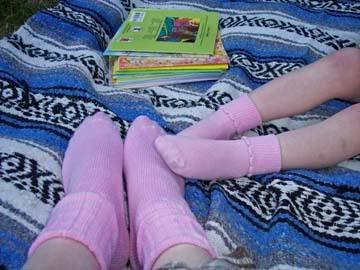 Yes, all first garden tea parties should be attended in pink socks. (it was a mite too chilly for barefeet) Chloe drank her milk from a teacup while I enjoyed some of my new Gypsy King Chai tea and read a couple of chapters in my new Garden book. Ahhh...what a peaceful afternoon. Too bad moments like these cannot last forever.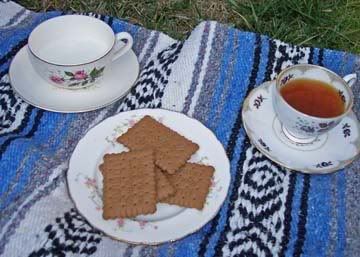 Well, now...I am off to crochet something for my Thing #7 of that Thing-A-Day challenge. I made some bloomers yesterday but ran out of yarn so they didn't get completed. I think I will make another pair of bloomers today. This time I will make sure I have enough yarn. Maybe tonight I will post pictures of Things #6 and #7. We will see. Have a delightful afternoon and evening everyone! God bless you all!