No baker can call themselves a baker until they have made a pretzel. Unfortunately, until yesterday, I was in that category of unbakerness. Now, I can proudly call myself a baker, thanks to my lovely
Bread Cookbook
given me by an old secret pal. I don't own a bread machine, nor will I ever. I don't believe in them. But, I have been making bread since I was a child and there are just some things that you cannot change. Hence, I can interpret a bread machine recipe and come out with a regular loaf of bread, fashioned in the old-fashioned manner.
Flipping through this treasure-trove of recipes (many of which I have been making quite regularly lately) I ran across a couple of recipes for pretzels and I thought to myself, "why not?". Really...why not? So, I did it.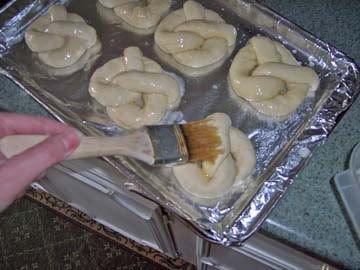 I shaped the dough into pretzels and coated them with some lovely, buttery goodness. Don't they look splendid? Half the batch became sesame seed covered pretzels, which at the time of typing this post, have disappeared...all six of them...in less than 24 hours, no doubt.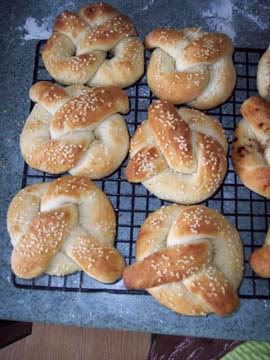 And you all know I just couldn't leave the other half alone, didn't ya? Nope. If it is good with sesame seeds on it then it must be better with sugar, right? (nod your heads...because it really is) I sprinkled some granulated sugar and cinnamon on top. All I have to say is YUM! (half of these are gone too)
This was so much fun. Next time I think I am going to try the German pretzels. That one looks interesting. It seems that you boil the pretzels before baking them. Should be fun. I am curious to try out more of these recipes. This book is chaulk full of good recipes and aside from the Rye Bread, they all have been delicious. Today, the plan is to frost a cake I made on Tuesday, but alas, it was library day and a book I ordered came in today...so I don't know if I can get the icing done or not. I have already read the first 6 chapters this afternoon. Great book.
Created to be His Helpmeet
by Debi Pearl. I am not finished with it yet, but I can honestly say that aside from any
LM Montgomery
book published this is the best book I have ever read. (and, mind you, I have read quite a few books)
Well, I am off to do who-knows-what because all I wanna do is read this book but I know I shouldn't because I need to let what I have already read sink in. Just to fill up my time, I wrapped Chloe's birthday gifts already. (can you tell I am excited about it??? Two weeks and two days left) Now...gotta go do something. Guess I might as well ice that cake before it gets to old and dried out to eat. Have a glorious day and don't forget to thank Jesus for something today.