Thing #6 picture has been added to the Thing-A-Day post. I don't feel it neccessary to go clear back in time and show you what it was I crocheted way back on Day 6. Partly because I didn't get the bloomers finished so I am unsure if they really count as a whole thing and partly because I am lazy. I kind of figure all those days that I made multiple items (3 dishcloths in one day) justifies one day of not finishing, right?
Anyways, Thing #10 was a disaster. I've contemplated not even showing you this. It even crossed my mind to make something else today and pretend that it was for yesterday. I can't do that though. Somehow I feel the need to be honest in this "thing-a-day" thingie. I am NOT proud to show you my calligraphy practice.
Thing #10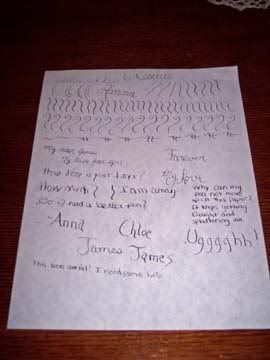 I realized after I got started that my pen stated on the package that it was for sketching and drawing. I am beginning to wonder if maybe that means its not meant for writing? I used parchment paper and the paper claims to be smooth and easy to write upon. Hmmm...I guess I will going for a new calligraphy pen. I hope ink doesn't matter though. It didn't say anything on it about being for drawing. I think I will also get a calligraphy book. I don't think drawing lines and swirls is going to get me very far in learning calligraphy. I did have fun though. That is until the pen started "sticking" in places and then splotting ink all over the paper.
Now we move onto Thing 11. Thing 11 is my favorite thing so far. It is gorgeous. It is lovely. It is SUGARY. (which is the best sort of thing you can have.) Yup! Thing #11 is food.
Thing #11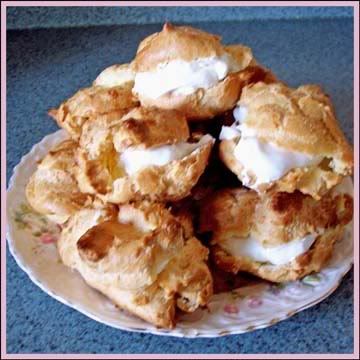 Cream Puffs.
Need I say more? Now cream puffs don't have to be "sugary" mind you, but you
know
if they are in my house there
will be
sugar in them. These were actually very simple to make up. Melt boiling water and butter together, stir in flour till it forms a ball, beat in four eggs and drop onto cookie sheets. Bake. Then cool. Cut the tops off and dab some filling in them. This is where I added my sugar. You can put pudding in here but I decided not to since James doesn't like pudding. I figured he would eat cream puffs if they were filled with whipped cream. So, I added sugar to my whipping cream and the result was perfection.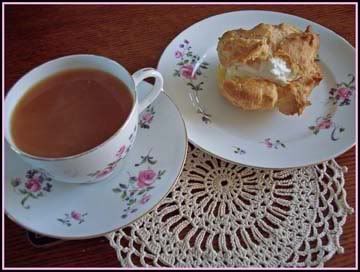 I made myself a cup of some Gyspy Love tea Kisha sent me and ate my cream puff while editing the photos for this post. YUM! (Thank you for the lovely tea Kisha) It is my firm belief that cream puffs are best accentuated by pink therefore I used my pink rose china for tea today.
Now its time for me to think about dinner. Leftover Corned Beef and Rye bread. The rye bread will be for James (seeing as how Annas don't like rye bread and all) Chloe and I will have baked sweet potatoes instead. (because James doesn't like potatoes) Add some salad and some corn and wa-la...dinner in an instant. I just love quick dinners. Leftovers are the perfect quick dinner. Can you guess what's for dessert?