Well, it certainly has been a week and I am glad we have made it to the end. Somehow, my brain got left somewhere between Tuesday evening and Wednesday mid-morning so I am not functioning fully today. Add to that a semi-late evening last night (it
was
Valentine's Day, ya'll) and you have a fairly scatterbrained lady on your hands. I don't think you should even be reading this post. I fear what you are getting yourselves into.
I am sitting here with a cuppa
Ahmad English Tea NO.1
and after taking a sip of this piping hot tea (which is delicious, I might add and you MUST go check out
their website
for some stunning countryside pictures - refresh the first page a couple of times and the pictures will rotate) the notion overtook me to describe a bit about our week in my post today.
The Things Thingie Update
- I crocheted a simple little teacup cover for Thing 13 the other day. I needed a break from that Winter Wonderland Ensemble pattern which I had spent a good couple of hours typing up so what better way to spend my breaktime than designing something dainty and pink?
Thing 13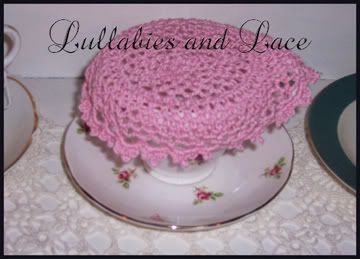 Okay. That picture turned out a little blurry so I must retake it and come up with something better. But it really is sweet.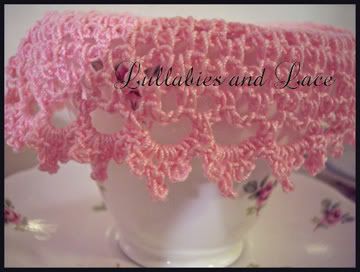 You see...during our
garden tea party
the other day, I realized that once the weather gets warmer, it might behove me to place a cover on my teacup to ward off any creatures of the flying sort who might land in my tea. So anyways, I have a couple more ideas I would like to work out as well. Maybe something sort of flowery for the center and then something a little more intricate and lacy? We'll have to see.
Yesterday was the 14th which means I was supposed to create my 14th item for the Thing-A-Day Challenge. Well, I am sorry to say that Thing 14 did not see the light of day. Oh, I attempted it. I really did. I bought the chocolate and raspberries, I covered the styrofoam balls with plastic wrap, I melted the chocolate (which is where the issues started for me...it didn't want to melt appropriately), I spooned the melted chocolate into a cake decorating bag and tried to squeeze it out onto the styrofoam balls in a delicate filigree type manner. It didn't work. The chocolate squeezed out in clumps. I gave up. No Thing 14. (Oh well..It was Valentines Day, afterall. They can't expect me to
actually
create a whole new thing on a Holiday do they?)
School Update
- I mentioned to you on Monday the weird looks from Chloe when I started her on our new school curriculum? (I advise you mothers out there not to try to "milk" your toddler on the first day of school when you are pretending to be cows in your living room. You WILL get some weird looks. Chloe actually turned and walked away from me as if to let me know she had enough of my shenanigans.) Well, I didn't think she comprehended much of what we did on our first day. But I have to say...that little girl is one smart cookie. We learned a new vocabulary word on Monday (Calf - baby cow) and for the rest of the week she has been saying "bay-bee caou" all day long. Its her new favorite phrase. This has convinced me that she
is
learning
something
. It might not be what I thought it was going to be, but it is something.
This week we learned about cows and calves, we learned the shape of a square, we learned the letter A and traced it in a pan of rice with our fingers, we learned the number 1 and drew one square on our poster and placed one sticker inside our square. We also learned how to sign "I Will Sing of the Mercies of the Lord Forever". Once she gets better at it, we may videotape her doing this. We began learning a Bible verse too. Genesis 1:1. "In the beginning God created the heavens and the earth." Chloe also learned to sign the word "cow" which she is very proud to show anyone who asks.
Fridays we are supposed to work on a fine motor skill. (the whole
playing cow in the living room
routine was our gross motor skill) So, for our first fine motor skill we were to make a cow out of square shapes. Here is Chloe's interpretation of a cow. (and yes...I did have a picture of a cow in front of her)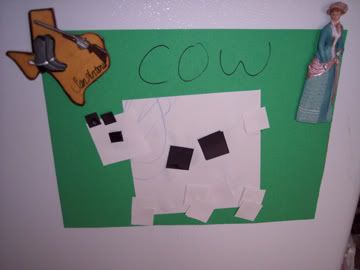 She seemed to think that all the squares needed to be piled up on top of each other. I tried to direct her where to place her squares without hindering her "creativity". Ummm...maybe we need to work on this a little bit. (Don't they call this sort of thing "abstract art"? I do believe there is money to be made in this sort of art. Maybe I've got something with this...)
Book Update
- I started and finished reading
Miss Julia's School of Beauty
this week by Ann B Ross. It was truly a delightful read. Miss Julia is certainly an entertaining lady, full of southern charm and hospitality.
Now I am reading
Miss Reed ~ Village School.
This is an older series that my mother read when she was a girl. They are re-printing them and I must say I am hooked. The setting is a little village in England complete with thatched roofs and stone gardens. I will let you know how I like this book when I get done.
I am also halfway done with my St Francis book. The chapters on Simplicty and Solitude really have me thinking about my own life. Here is a quote to ponder upon.
"Although North Americans make up only a small percentage of the world's population, they consume a large amount of the world's limited resources. Ours is a world in which few possess much, while many don't have enough to meet even their most basic needs. This chasm of disparity calls out for a compassionate response, and part of that response can be found in simple living."
~ John Michael Talbot
In light of this, I am contemplating so many things in my life that I feel are necessities and yet are merely luxeries. Can I live without some of these? Thus allowing me to spend my money more wisely in furthering God's Kingdom? So, I decided that I am going to try to form one new habit a week in order to bring more simplicity into my life. My habit for this week has been to wash my dishes by hand instead of using the diswasher. That thing uses up so much electricity and water its not funny. Plus, I have found this week that it is pretty nice to always have clean dishes when I need them. I don't have to wonder where they are only to realize they are sitting dirty in the dishwasher. It doesn't even add that much time to the dishwashing process.
A few other things I am contemplating doing without are...
electric tea kettle
- I can just as easily heat tea up on the stovetop
microwave
- I reheat most of my food on the stovetop now or in the oven. We also prefer popcorn cooked on the stove as opposed to the microwave
coffee maker
- this will be quite a while before it leaves my kitchen. For one...I don't know how to make coffee any other way. For two...its programmable. A very hard luxery to give up, I must say.
Clothes Dryer - once James fixes our clothes line outside, I will re-start the habit of hanging our clothes out to dry.
Do you have any ideas of how to simplify our hectic lifestyles?
I am off now to work on a headpiece for the Winter Wonderland Ensemble. It is started and I do believe I can possibly finish it today if I could ever stop typing and get to it. Maybe it will be my Thing 15. Who knows. I do need to make some bread this afternoon. That could be Thing 15 too. Have a wonderful day everyone! Don't forget to hug someone you love today.