My masterpiece is done. Its finally done. This is the most gorgeous thing that I have
ever
made. EVER. It really is. I can't get over this one. Its my favorite design. Ohhhh...I'm drooling just thinking about this dress.
Let me explain something. About 2 and a half years ago, I got the notion to begin designing my own patterns. I wanted to design thread baby dresses. That's what tickled my fancy, so to speak. I had a few ideas for dresses rolling around in my head as I was contemplating starting on this designing journey...this dress being one of them. I also had a whole slew of names and collections picked out before I even began one stitch. I even had the name of this ensemble in my head before I named my business...
Lullabies and Lace
. Yup...before I even had this blog. (I used to have a Yahoo blog before this blogger one)
So...wanna see this masterpiece? I know you do. Here you go...
Winter Wonderland Ensemble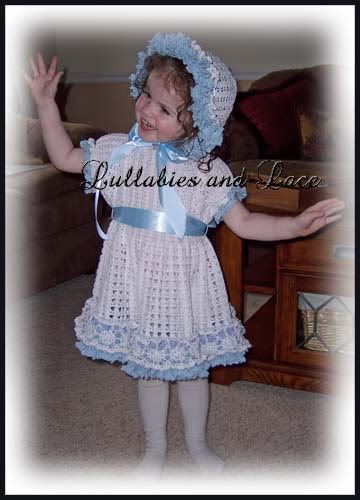 Chloe was such a doll baby today. She was so compliant with the picture taking session that she even posed for me multiple times. I would show her to do something and she would do it. I got so many good pictures of her in this dress that it was difficult for me to narrow it down to a few for the website.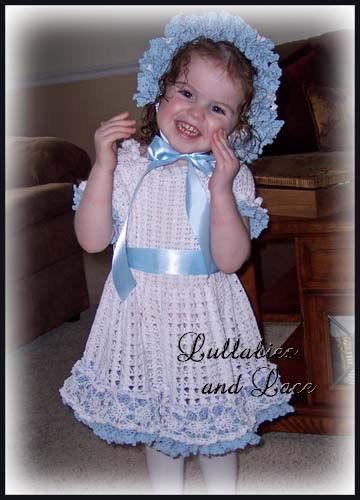 I made a mock petticoat for this dress. That was part of the whole design that was rolling around in my head. The pattern will have two options...one for a mock petticoat that starts just above the snowflakes and the other for the full petticoat. This pattern is a little daunting so I doubt many will opt for the full petticoat once they get to that point.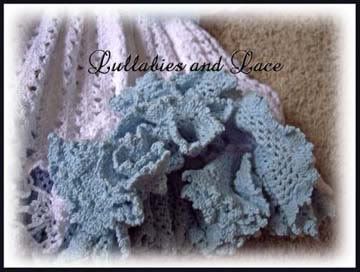 This dress certainly has a TON of ruffles. It is pure girl. I love it. The bonnet is quite unique, I think. Its actually a half bonnet. There is no back. I was going for something a little more like a headband but that covered more of the head. I like the end results. It looks a little Victorian to me, don't you think???
So this pattern will be going into testing in the next day or two and it should be ready for sale by fall. That is the plan anways...get it out there in time for next winter. (seeing as how its called "Winter Wonderland" and all) Now I am going to take a little break from dresses for a day or two to recuperate and then I had better begin Chloe's birthday dress. I aim to get it done in time for her birthday. (this was supposed to be her Christmas dress...opps) Have a wonderful evening everyone.