Better late than never, right? I have pictures of our Maple Sugar expedition last Saturday. We had so much fun learning about maple syrup and how its made. Let me tell you, I learned a thing or two. Here. Let me show you.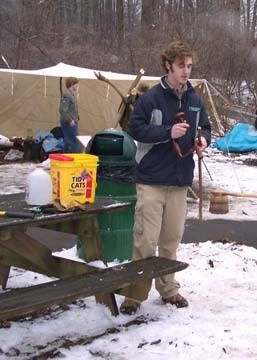 First you have to cut a piece of wood and bore out the middle to make the tap (or spout) which will later be tapped into the tree. This was our guide who walked us through how maple is collected. I found it humorous when he stated that the hole on the end of the "spout" must be wittled down to something like 7/16 of an inch. He explained that the government has standardized the size of the hole you can bore into a tree to collect sap. Hmmmm...the government standardizes everything they can nowadays, don't they?
Anyways...moving on.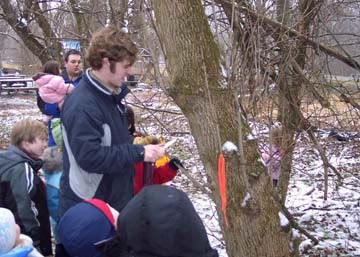 You need to bore a hole in the tree. Our guide used the old fashioned method of a hand drill to bore into the tree. he recommended using an electric drill though for modern day use. Anyways. He then inserted the spout and wa-la...
Nothing happened. It has frozen the night before so the tree he bored into wasn't producing maple sap. Oh well. We learned, right?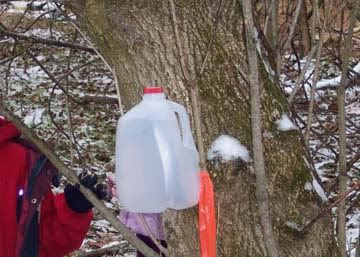 A plastic milk jug is used to collect the sap.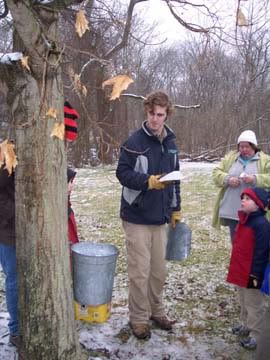 Or, if you wanna go high tech, you can used a galvanized bucket. Even better were the big multi-gallon sized garbage cans with plastic tubes running from the trees. The gravity pulled the sap down into the garbage can. Interesting.
What I found most fascinating was that the sap that runs from the tree is over 80% water. Yup. I didn't know that. I am used to pine sap which is very thick and sticky. Not so with maple sap. It looked like water and when you tasted it, there was only a slight hint of maple flavoring.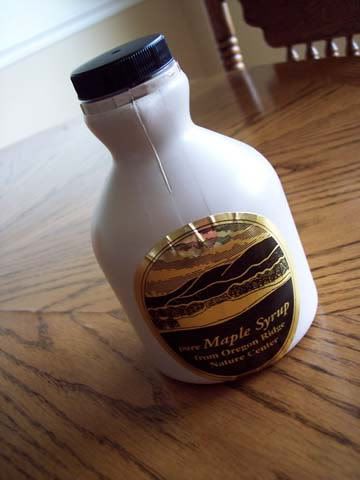 So, of course, I had to get me some of this real, honest to goodness maple syrup. YUM! We had pancakes Sunday for breakfast. YUM!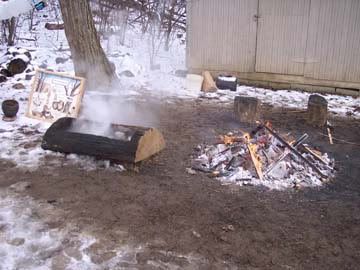 They had a Native American station set up to show us how they used to "sugar off" thier maple syrup. We missed the explanation of how it worked though. Drats!
Here are some other things from our maple sugaring trip that had nothing to do with maple sugar.
Black vultures live in this area and they love to live in old, abandoned houses. Well, the orginal houses from the old mining days were in such a state of disrepair that the government ordered them torn down. That meant no more homes for these black vultures. The nature center is in the process of building them a tree house. A brand-spanking new abandoned tree house. (they might even throw in a dead animal or something to attract the vultures)
Inside the nature center we got to see some birds, turtles and snakes and such. Our favorite was the possom a young boy brought out. He was tame and we got to pet him. His tail was sort of scaly and looked like a rat tail, only larger and much stronger. It sort of felt like a snake once I was dared into touching it. (by my loving hubby, no doubt)
Well, I am off to shower and then eat some pretzels. I will have to show those to you after I get back from my sorjourn. Have a wonderful afternoon.