Chloe figured out that Daddy and Mama actually possess individual names and now initiates conversations by addressing us with our given names, Games and Anya. (translated - James and Anna)
Example:
Chloe:
"Games!"
Long pause
Chloe:
"GAMES!"
Another long pause.
Chloe:
"GAMES!!!!"
Daddy turns and looks at Chloe.
Chloe:
(giggling) "Games?"
Daddy:
"My name is Daddy."
Chloe giggles again and runs into the other room. This same senario plays out for "Anya" as well. What a smart cookie this kid is.
So, the week finally came to an end and what a week it was. Needless to say, I am quite pleased that it is, indeed, over. Let me start at the beginning.
~~ Sunday ~~
Spring Fever hit full force and we ventured to Home Depot and bought about a trillion packets of seeds and supplies. (okay...slight exaggeration...we bought a handful. The fever has completely taken over my brain so I might be given to some exaggerations now and again.)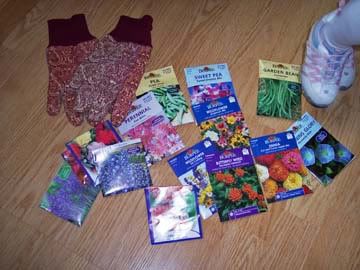 I planted them in this nifty little greenhouse thingie. Can you tell I am a little anxious for spring to get here already?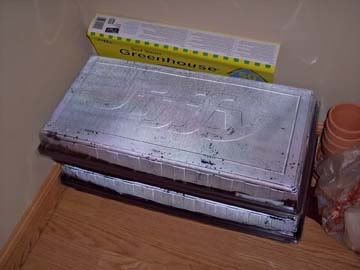 I checked out a book from the library called
Crops in Pots
. I plan on doing quite a bit of pots of crops and you will more than likely hear more about this endeavor later. (I do highly recommend this book though.
~~ Monday ~~
Mondays are extremely busy days for me. Laundry, cleaning, baking bread and many other "chores" that I do.
I let Chloe play outside on Monday because it was such a nice day. She found a new little chair for herself. I call it her
papasan chair
.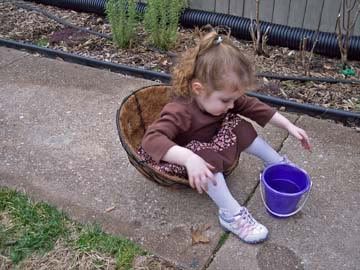 Chloe now drinks tea. I give it to her in a little cracked teacup of mine and she throroughly enjoys this novelty. Of course, her tea looks and tastes more like milk than tea, really...
~~ Tuesday ~~
With my spring fever still in full rage, I headed out to Joann's and bought some lovely new fabric for some summer dresses. I let Chloe pick out her own 3 colors.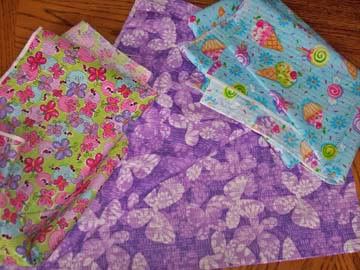 I splurged on myself and bought some lovely silk rayon to make
this dress
for me.
Excitement abounded on Tuesday. It was
after
Tuesday that the week flew downhill at top speed.
~~ Wednesday ~~
In much anticipation and my bones dancing with excitement, I sewed "THE DRESS". Uggg!
Its Disgusting!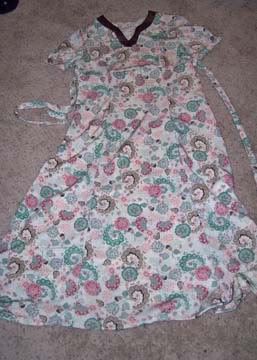 I halfway redeemed the dress by wearing a cute little sweater over the top of it. If I hadn't, I would have looked like an large pregnant mama in a mumu. Terrible, I tell you. Utterly retched. It looks nothing like that cute and stylish ensemble in the picture on the pattern. NOTHING! I have the fabric for another dress, but uggg...I think I will pick a different pattern. (might I add that James commented on how nice it looked...until I took the sweater off, at which point he laughed right out and then turned his head in shame. I will NOT be wearing this dress in public...or around James, for that matter)
In an attempt to redeem the day, I baked some zucchini bread. Let me tell you that possess a talent akin to the Midas Touch...only what I touch blows up instead of turning into gold. At least this was the case for Wednesday. My zucchini bread blew up all over the entire oven. And when I say "entire" I do mean
entire
. (I haven't cleaned it up yet because my heart died with that blowup on Wednesday and I just can't bring myself to deal the catastrophe yet) I knew Thursday would be better so I went to bed.
~~ Thursday ~~
Errand day. I despise errand day. This week was no different. Driving in the city scares me to death and this city is the worst one I have ever seen. These drivers are crazy. Literally crazy. And they can't even blame it on a cell phone because the most craziest of them all aren't using them.
Anyways, Thursday was slighty better than Wednesday because I bought some fun supplies for Chloe's birthday party. Its gonna be a Mickey Mouse party! Woo Hoo.
My baby's having a birthday! My baby's having a birthday!
(can you tell this Mama's proud of her baby?) Well, sadly this excitement was short lived. I found the supplies I bought cheaper at Walmart than the two stores I drove across town to buy them at. And since I hate driving so much, I will not be returning the more expensive items and use them instead. (I am kicking my own rear end here while I pout)
BUT.................
I redeemed Thursday by making two dresses for Chloe. She's thrilled. I made her "buggy dwess" and her "aahsc cweem dwess".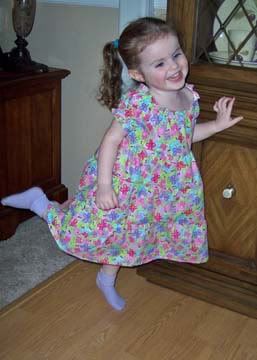 Notice the ladybugs on the dress? Hence the name "buggy dwess" christened by Chloe. Her "aahsc cweem dwess" might end up being her birthday party dress. Just look at how cute this one is.
This kid has great taste in colors. Its bright and very "spring-ey". Perfect. Chloe is really getting into this modeling thing.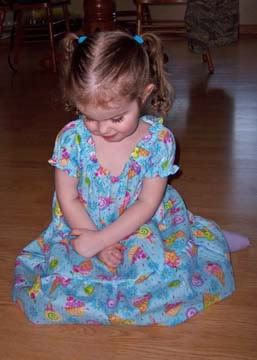 Of course, she added a silly element to the photo shoot and while placing her hands neatly in her lap, pulled down as hard as she could to pull the dress down in the front. She thought this was hilarious and would laugh everytime the camera shutter clicked. (because it was at that moment that she would pull it down...funny kid, this one)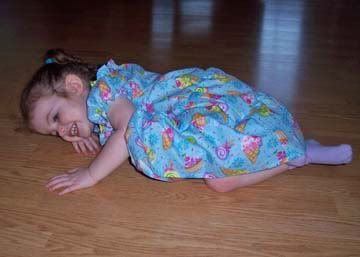 When the "posing" reached new heights, I knew it was time to quit. Anyways...cute fabric, eh?
I used the undestroyed portion of the zucchini bread left from Wednesday's explosion and made some delicious Fresh Crab and Zucchini sandwiches from my
Tea-Time at the Inn
cookbook. Yum.
~~ Friday ~~
Today dawned bright and early for me. I won't get into any details, but large, noisy raincoats at 5:00 in the morning, entering and exiting the bedroom multiple times played a large part in the early start to my day.
My girlfriend took me to the China company again (have I told you how much I love this place?) and I bought a few pieces of china. I got two unique teacups, a creamer pitcher and a soup ladle for $6. Can't beat that. Then we went for coffee and hit an antique store where I picked up a couple of books for Chloe's library.
The Complete Adventures of Peter Rabbit
,
Crackle Creek
and God Made Kittens. Finding good books always redeems a bad week. Always.
After coming home, I decided to practice Chloe's birthday cake. I inverted the baking pan and decorated it in white icing just to practice those tricky stars. (why can't I get them right? Anyone???)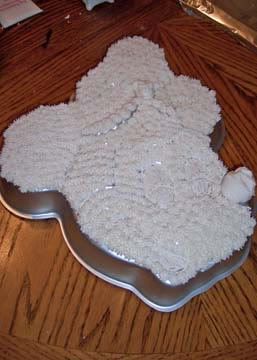 I am getting better though. I grasped the concept a bit better and even twisted the tube of icing slightly with each new star so they were inset into each other.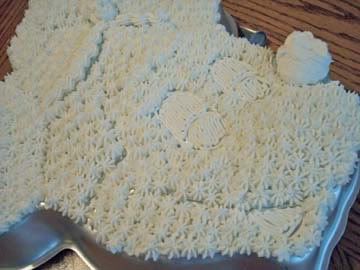 I am frusterated about one thing though. I can still see through the stars to the tin (or cake) below. Is this normal? Do I have to ice the cake flat first before I put on the stars? And if so, do I have to ice it in whatever colors the stars are that are going to be on top? (that could become alot of different icing) Or is the problem all in my stars?
Anyways, the day is done and I am about to go relax with the family. Barbequed Chicken Pizza for dinner and maybe watching Midnight Run after the kid goes to bed. I love that movie. James makes it hilarious. He can quote it like nothing I've ever seen. So, they are waiting for me. Have a delightful weekend everyone. I hope you didn't miss me too bad this week. Good Evening.