We will start our tale with a little song from Mary Poppins, the movie, to get us in the proper, kite-flying mood.
It must be national kite month or something because we are finding kite festivals all over town. Especially this past weekend. We decided to head out to
Gunston Hall
and fly ourselves a kite. Having recently finished reading
Mary Poppins
and feeling in that Mary Poppins sort of mood, the notion struck that we needed to teach Chloe the delicate art of kite flying.
We started with a $1 kite from Walmart and headed over to
Gunston Hall
for their
Kite Festival
. As we arrived we saw a large procession of fire trucks. Not so much a procession, really, as they were stationary...more of a line, I suppose. Chloe wanted to sit in the truck like all the other kiddies so we stood in line and waited.
And waited...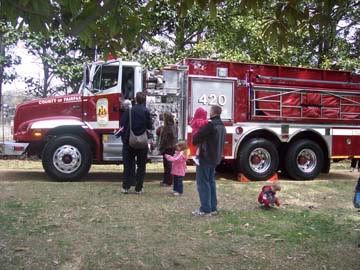 And finally got to the truck. The firemen lifted Chloe to the seat and she grinned.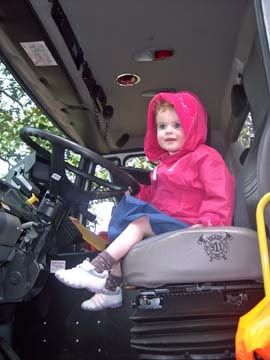 I think the fire truck was the highlight of her day. Although...she was pretty excited when we took the kite to the field and began the pre-flight preparations.
Chloe chased the tails of the kite around before we got the chance to get our kite airborne. She must have thought it was a game of some sort, because Daddy would yank the kite gently away from her and she would giggle profusely and run even faster to catch it the next time.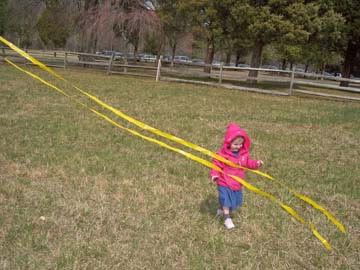 We finally got it airborne and handed the string to Chloe for her first ever fite-flying experience.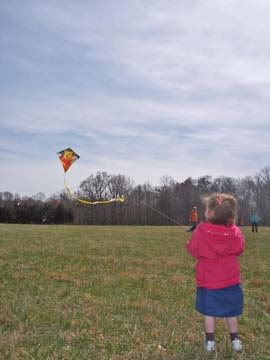 There wasn't enough breeze to keep the kite in the air for long. We ran around the field trying to keep it up. It was a great workout! For us! Chloe seemed more interested in crashing through the crinkly leaves on the ground than flying the kite. It was more fun to watch Daddy and Mommy run around.
The whole day was filled with fun things. A bubble machine automatically blew bubbles continuously, allowing the kids to run around and catch them to their hearts content. We saw old-fashioned basket weaving,a puppet show using wooden pieces instead of our traditional puppets, 18th century dancing complete with musical instruments and Chloe even got to go to "school" and write with a quill.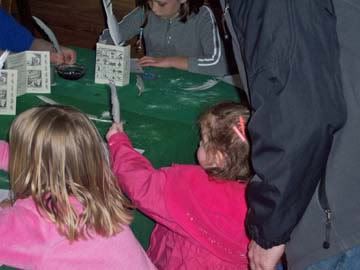 We had a delightful day, all in all.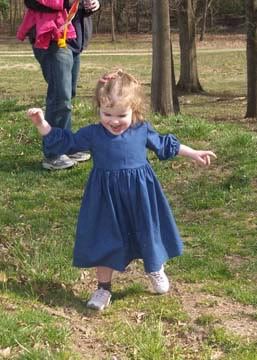 Now I must be off to clean up this house and get cracking on some projects around here. Being sick last week really put me behind. Didn't get a lick of sewing done, although I did finish a lovely doily for Chloe's Hope Chest which I will have to show you one of these days. So I best be getting off this computer here and get started on my work.
P.S. In case anyone would like to mourn with us, our little fishy Sprinkles died Friday. Its kind of funny. For about 2 months I didn't feed these fish (Sprinkles and "Q") because I didn't want them any more. Do you think they died? Nope. Well, when I began reading about St. Francis, I felt convicted about my murderous intent towards these creatures crafted by God and I started feeding them again and taking care of their aquarium. Now, once I start taking care of them...one dies. Go figure. Anyways, we must now go find some mates for "Q" since he is a school sort of fish and I am sure he is feeling pretty lonely right about now.
Have a wonderful day everyone.