WHEW! *swiping sweat off brow* What a weekend!
As many of you have probably already figured out by now, I like to keep busy. I don't think a day goes by in my life where I am not busy with something. Mopping the floor, dusting the ceiling fan, organizing the garden hoses...
So this weekend we decided to install a new closet door on our closet in the basement which previously stood doorless. First we took out the old tracks that in some distant past held doors we never heard tell of. This track was covered by the most disgusting red carpet you have ever seen. After a bit of hard labor we accomplished it.
And the carpetless plank.
Pulling up this carpet let out a most awful stench which I am hoping will dissipate by Saturday. (because Saturday is the PARTY!!! Woooo Hoooo!) And Wa-la!!! After about 3 hours we finally got the doors in and I must say that the basement looks transformed.
Notice those pretty colors on the walls? Those colors were not always there. I did it. Yup! Me, myself and I. You have NO idea how difficult it is to paint an entire basement covered in fake rocks. It must be done by hand. Needless to say, my carpal tunnel has flared up due to this monumental task I have undertaken. BUT, it looks heaps better, don't you think? Here's the old colors.
Try to imagine how dark the basement would be in those dark colors. Not a bright, cheery sort of lair, if you ask me. Much better now though. Yes. Much better. I am still working away at it though. The task is far from over. I am in the middle of painting the trim white around the closet doors and the windows. Oh yes. That's right. Dear and handy-ful James installed new trim around those lovely windows I put in last summer. It looks better too.
Without trim...
And with trim...
Take no notice of the blue painter's tape around the window. That will be gone once I finish painting the trim. One more coat oughta do it. Now...after this project, I think I may tackle the wall coming down into the basement.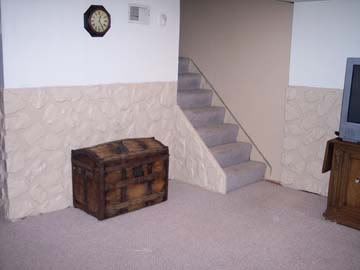 That wall presents a diaster. You see, the wall which you cannot see in the picture bears the bruises of careless movers. It would seem that the corner down the stairs is slightly smaller than most of the furniture in the basement, so the movers whacked away at the wall with the furniture just to get it down there. (or up here, since the wall was like that
before
we moved in) I must borrow a book from the library that teaches how to repair drywall. I aim to repair this wall myself. (an idea I caught onto in the book
"Created to be His HelpMeet".)
So, little by little, the house repairs are getting done. I must go now to shower before James gets home. I hope you all have a wonderful day. And those of you with buckets of snow...go enjoy a snowball fight for me. (because I am a little antsy to throw a snowball at James and instigate a little fight, but we have no snow. Schucks)