3 Things NOT to do when you are insanely busy:
1) Get Sick
2) Forget to eat lunch
3) Sleep
1 Thing
TO
do when you are insanely busy:
1) PARTY!!!!!!!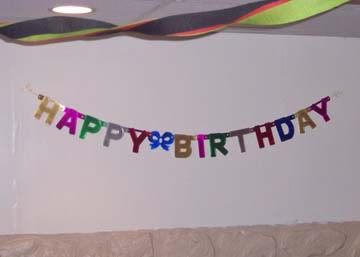 So, what does a stay at home mother do to become "insanely busy", you ask? Ohhh...plenty. Lots of things really. Let's see here...she can have her own crochet business and always look for ways to do more with it. (which I happen to do) She can cook every meal from scratch. (because that's the only way this mama knows how to do it...or actually...the only way this mama
likes
to do it. No "processed" food for me) She can also write multiple posts on her blog, day after day. (although that has been lacking here lately. Sorry.) She can also volunteer to design a website for her church. (because us crazy people are always looking for more to do, right?) And while designing said website she can start reading an entire book on CSS because an insanely busy, stay-at-home mother must always be learning something entirely new whereby she officially earns her "insane" classification. Thats right. This mama is learning CSS. Yay! (or Bother! Whichever way you chose to look at it)
So, how does an insanely busy mother cope? She throws a party. And not just any party, mind you. A huge, THIRD birthday party for the little love of her life. She applies herself to learn the art of cake decorating so she can make the perfect Mickey Mouse birthday cake.
The three weeks of hard work paid off, don't you think? Its time to assemble "The Gift".
And decorate the newly re-painted basement.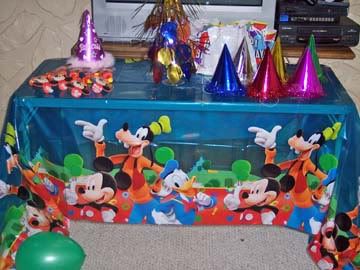 So that when Chloe came down the stairs in the morning, she saw this...
You should have seen her face. She was completely and thoroughly excited. I guess the jumping on the bed for 20 minutes with Mama before bedtime the night before helped in that excitement department. (Have I mentioned this Mama loves parties???) Oh...and here's a picture of her face.
Excited???
You may be wondering as to the cardboard box "decor" you see in the photos. Unfortunately, I forgot to photograph the "main attraction" of the party, the Mickey Mouse Clubhouse. Yup. We built a huge Mickey Mouse Clubhouse out of cardboard boxes that filled about 1/3 of our basement. The kids loved it.
But anways, back to the storyline. After a few moments of awe (and breathless wonderment) Chloe spotted "The Gift".
Thats all it took. She couldn't stay away from it the rest of the day. (except during her party, of course. This kid loves people)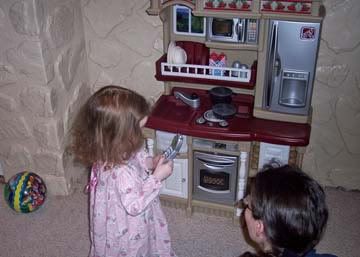 And then it was time to don our party hats and PARTY!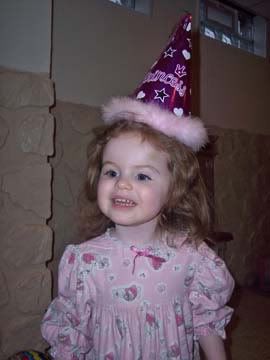 Receiving the cake with candles. (notice the birthday dress? I didn't finish her crocheted dress in time, and I might not even be able to get it done in time for Easter either. But at least she had a special dress)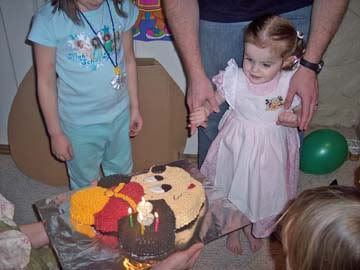 Opening gifts was a blast this year. It was Chloe's first time really getting into it. Each and every gift she opened recieved an "Oh! Look!" before she even got the tissue out the bag or the wrapping off the box. It was so funny. When asked what it was she would reply, "I don't know" in the most excited voice you can imagine.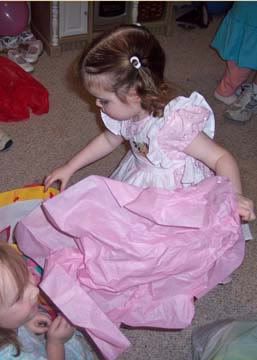 Then she would hold the gift out from her and let everyone state what it was before she dropped it on the floor and proceeded to the next gift.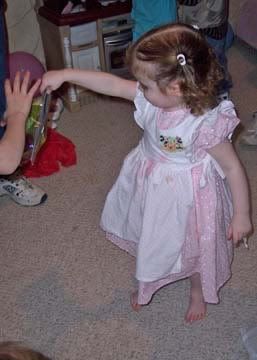 The "Big Hit" toy was this microphone thing. She wouldn't put it down the rest of the party.
She even held it against her mouth while opening the rest of her gifts. The most memorable gift opening of the day was the puzzle. We had her open a few gifts in the morning after she saw her kitchen. One of them happened to be a puzzle. She tore off the wrapping and said her customary, "Oh! Look!" and when asked what it was she stated in a confused sort of voice, "An Ariel Box". It was, in fact, an Ariel puzzle and once we explained that to her she grinned and laughed.
Now just because the party is over doesn't mean the party is over. We had some friends stay for supper that night. Tacos, chicken and dumplings, macaroni and cheese, and cornbread. Oh, and don't forget the cake and homemade ice cream. So, the kids went downstairs after supper and trashed the rest of the basement filled with boxes, balloons, confetti (because this particular Mama thinks confetti makes for a perfect party) and wrapping paper. The adults stayed upstairs and played Balderdash. It was only after everyone left that we realized Chloe had yet to open the rest of her gifts from us. Silly us. So at 10:00 at night, we sat on our bed and opened presents.
We don't want Chloe to forget people and since we live so far from family we use pictures. James held up a picture of Grandpa and Grandma while she opened her gift from them.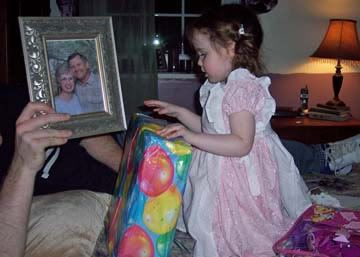 And that littler bugger is so smart. As soon as I grabbed the picture and asked her if she remembered who it was, she stated quite simply, "gwanna an gwanna". (which means...you guessed it...grandpa and grandma) She hasn't seen them since their visit last October. What a memory this kid has. In fact, up in our bedroom closet where we stored her unused pinata from last year's birthday party (which got used this year) sits her Easter basket from last year filled with her plastic eggs. She points it out to me at least once a month saying, "Eggs, Mama! Eggs!" Oh boy...its gonna be a fun Easter!
So, now...this insanely busy Mama has begun plotting out
next
year's party. And do you know what's she thinking??? Dress up! And the cake? Have you seen the
2008 Wilton Yearbook
? Take a look at that cover. Did I mention I am insane? I am trying to figure out how to incorporate a castle cake into a dress-up party. Hmmm...gotta give it some though. Oh well. I got a year to come up with it. *wink*
So now this insanely busy Mama needs a second cup of coffee and to GET TO WORK! (maybe she needs to get out of her pajamas first)