I love New York. I would never want to live there (unless it was just for a year or something...that might be sort of fun) but I love visiting the city. Manhatten is very expensive but loads of fun. Whenever we go (well, the two times we have gone) we always see something new. That's part of the fun of New York City. Last time we went (6 years ago) we saw all the traditional things. Statue of Liberty. Empire State Building. Ground Zero. (we went four months after the attacks so that was still a very big thing while we were there) This trip I opted to see some things we didn't see last time. High on my list was Tiffany's but we didn't make it this time. So much to do and so little time. But let me tell you what we did see.
Our first day of sightseeing we headed to Times Square.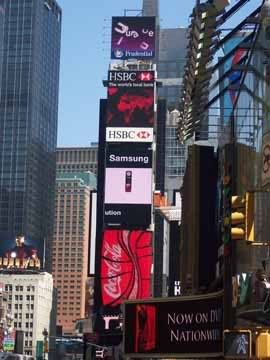 If you go to New York and you wanna shop, go to Times Square. We simply HAD to see the Toys R Us store while we were there. No interest 6 years ago but now with a 3 year old, this became a must see.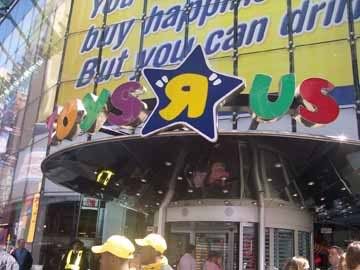 Upon entering this giant kingdom of kidhood, you see a gigantic ferris wheel...
...that you have GOT to ride. Yes. Check it out. Each car is different and Chloe immediately spotted the "Buzz Movie" car.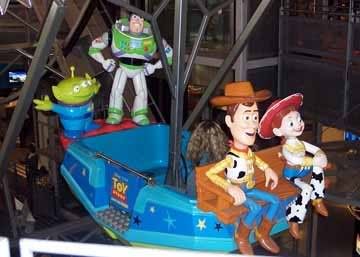 Down the elevator we ride into the basement to purchase tickets and wait to see which car we get. Some of the cars Chloe didn't recognize but we lucked out and got Mr. Potato Man. FUN!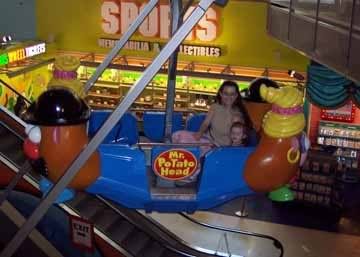 Then it was time to browse this awesome store of childhood splendor. We saw giant dinosaurs. (which scared Chloe to death)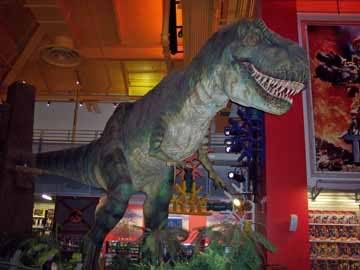 I took one picture of this thing and when we got home I found something like 20 on the camera. I guess James really liked this thing since he snuck back sometime during our adventure and took loads of pictures of it. (most of which got deleted while I was browsing through the pictures...why we need 20 pictures of a giant dinosaur, I do not know) Anyways. Chloe adored the lifesize Barbie house. (could be because it was filled to the brim with Barbie stuff)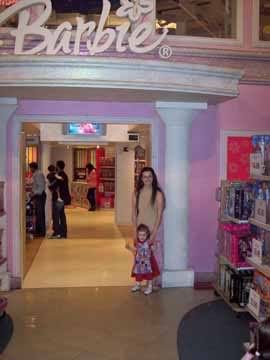 After visiting "Candy Land" complete with statues of gingerbread kids, Lord Licorice, Mr. Mint and all, we headed to M&M's World. If you like M&M's than this is the store for you.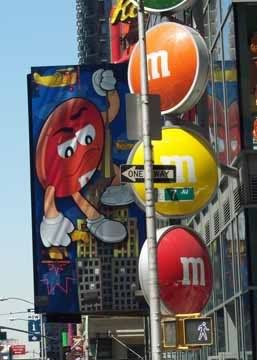 Three levels of chocolaty goodness. One wall completely devoted to M&M's in every color imaginable. I picked up some Central Park Green, Bright Pink, Bright Purple, Torquoise and a Yankee Mix. (navy blue, grey and white) What an awesome store. A little over priced though. $10.95 for one pound of M&M's. But hey. Where else are you going to find pink M&M's, right?
After lunch we walked to the American Girl Store which was loaded with American Girl dolls. Oh, I was in heaven. I think this would be the perfect place to take Chloe for her fifth birthday party. I think we will let her choose one girlfriend to take with her and we can buy her first doll. I have a little under two years to save up for this doll. (because they are something like $80...a little pricey) I used to love reading these books as a girl though and I was tickled to see a whole store devoted to them. What fun.
After that, we walked up the street to St. Patrick's cathedral. The pope was coming to the cathedral the next day so we were glad we didn't try to go there then. Got it out of the way the day before.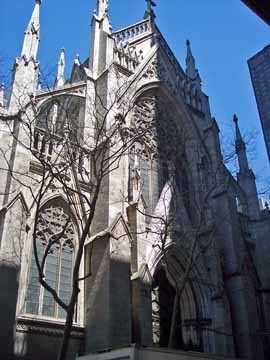 Beautiful. Absolultely beautiful. I can't wait to get to heaven and see God's personal archetecture. Its going to be so much more amazing than this piddly little building.
After trucking around the city on our feet all day, we headed uptown to the Upper East Side for a little tea at Alice's Tea Cup. A cute, whimsical little tearoom, perfect for kids. Chloe even got her own set of fairy wings to wear while we dined.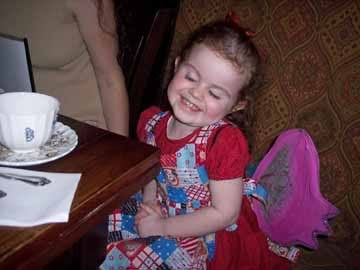 Traveling around the city on the subway was much easier for me this time. (aside from the fact that we had to hand-carry the stroller up and down stairs the whole time and subways aren't very "stroller-friendly") I felt much more comfortable this trip than on my previous trip.
I forgot to show you a picture of the inside of Yankee stadium in yesterday's post. I can't believe I did that.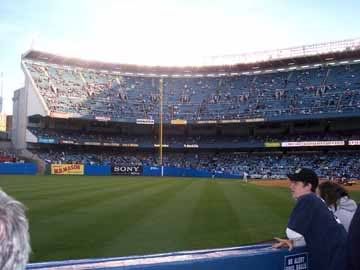 Such a gorgeous place. Its seems a shame that they have to tear it down. Such a sad shame. Its the house that Babe built, after all. How can they tear it down?
On one of our drives around the city, we happened to see a video board that James brother installed. Check this out. The middle screen is the video that plays commercials and such. At night the outer squares light up and puts on a show of sorts. (we didn't get to see it at night though)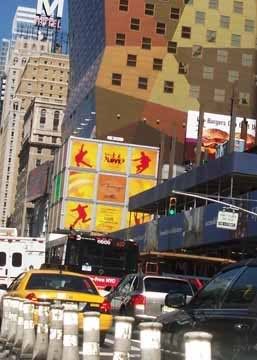 We had a fabulous time in the city. I have more to tell you all but I will wait for another day and another post. I must go now to wash the drywall dust from my hair from yesterday's home improvement project so I can sprinkle more in today. We decided to drywall in our basement closet and install shelves. We have no storage in this house so I am pretty excited to finish out this closet. (remember that we
put doors on the closet
before Chloe's birthday?) I will tell you more about this project another time though. I really must be going before James starts to wonder what I am doing. Have a wonderful day everyone!