Please scroll down 3-4 posts to enter my 400th Post Blog Giveaway
There's nothing in the world like finding a treasure. We start when we are but 2 years old. Little things become our treasures. Favorite blankets. Stuffed animals. Rocks. You name it...it was probably a treasure at some point in your life. I remember when a small frying pan was a treasure of mine. I was a senior in high school and my parents bought me a frying pan for Christmas. You know, those little ones that you can fry about one egg in? I guess they were preparing me for my first apartment. I laughed at the frying pan gift, but let me tell you...when I moved into that first apartment the frying pan became a treasure. It was my only frying pan for about a year. (until I got married and could afford a bigger frying pan)
Finding treasures can even be a little bit of a challenge. Like a scavanger hunt. Who doesn't love a good scavanger hunt. I love them. There is one thing in particular I love to scavange for. Books. I adore books. I even collect them. (fancy that) Whenever I find a Grace Livingston Hill book I don't already own, I do a little boogy dance. (if you can picture me doing a boogy dance then you have quite the imagination...I don't do it in public. I wait until I get home and am in my bedroom with my books spread out over the bed. Then I do my boogy dance)
Yesterday I needed to run to the store to pick up a few things and I headed over to the used bookstore while I was out. I haven't been there in a few months and I got the tickle to visit. Well, lo and behold, I found a treasure.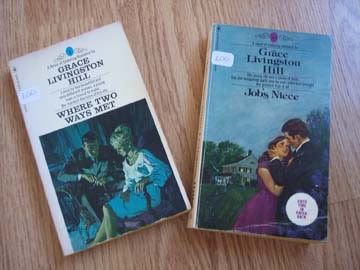 Not one...but TWO Grace Livingston Hill books I don't already own. How cool is that??? I decided I better start a list of books I don't own of hers so I went to the website and copied the list into a word document and marked the books I own. It surprised me just how many books I DON'T own of hers. There are 100 books on this list and I own probably 25-30 of them. I got my work cut out for me and I better get to scavanging if I aim to find the rest of this list.
I didn't stop there. Who can enter a book store and only buy two books? (not me) So I picked out some others to add to our bookshelf. (some are to read to Chloe)
YOu see there are three books by Beverly Lewis there. I almost have that whole series now. (Abrahms Daughters series) I am missing
book #5 The Revelation
. My Prarie Legacy series by Janette Oak is now complete too. Yay! I have a soft spot for Janette Oak. While she may not be the most poignant author out there, she was the very first "adult" book I read at the age of 9 or somewhere around there. I couldn't get enough of her Love Comes Softly Series. From there I graduated to Grace Livingston Hill at about age 12.
So, anyways...you can see I picked up a couple of books for Chloe too. The Wind in the Willows, Mrs. Piggle-Wiggle's Magic (my 5th grade teacher used to read to use out of this book every afternoon. I thought it would be fun to see if I remember any of it) and the Children's Story Garden. The last book was published in 1924 and contains numerous short stories that are not only interesting to read but they also protray morals and ethics. I guess back in those days, there weren't very many children stories that could spark the imagination but were also "religious". I am interested to read these. I will have to keep you posted about this book.
Now. These aren't the only treasures I have found recently. Last Saturday, my girlfriend took me to a lovely coffee shop downtown. A christian owns this coffee shop and roasts his own beans there as well. I was amazed to see that he also had shelf after shelf of books to read while you sip your cuppa. I found a couple of books and then noticed a sign on the wall that said, "All books are for sale." Do you wanna see why I almost did a boogy dance right there in front of my girlfriend? Check this out...
Do you know what that is? Do you see??? That, what you see before you, is a wonderfully delightful book by none other than LM Montgomery herself. I have made it my mission in life to not only collect all of Grace Livingston Hill books but also all of LM Montogomery books as well. Do you know how tickled I was to find this? And it was only $1.25. I am going to share a quote for you from this book to show you just why I love LM Montgomery so very much.
Pat had her egg in the kitchen with plenty of butter gravy, and then there was the final ceremony of putting a saucer of milk for the fairies on the well platform. Judy never omitted it.
"There's no knowing what bad luck we might be having if we forget it. Sure and we know how to trate fairies at Silver Bush."
The fairies came by night and drank it up. This was one of the things Pat was strongly inclined to believe. Hadn't Judy herself seen fairies dancing in a ring one night when she was a girleen in Ould Ireland?
"But Joe says there are no faries in P.E. Island," she said wistfully.
"The things Joe do be saying make me sometimes think the b'y don't be all there," said Judy indignantly. "Wasn't there folks coming out to P.E.I from the Ould Country for a hundred years, me jewel? And don't ye be belaving there'd always be a fairy or two, wid a taste for a bit av adventure, wud stow himself away among their belongings and come too, and thim niver a bit the wiser? And isn't the milk always gone be morning, I'm asking ye?"
Yes it was. You couldn't get away from that.
"You're sure the cats don't drink it, Judy?"
"oh, oh, cats, is it? There don't be much a cat wudn't do if it tuk it into its head, I'm granting ye, but the bouldest that iver lived wudn't be daring to lap up the milk that was left for a fairy. That's the only thing no cat'd ever do...be disrespictful to a fairy-and it'd be well for mortal craturs to folly his example."

Ahhhh...I just love her style.
Here's another one of my favorite LM Montgomery quotes
. And guess what! There is a strong possibility that I might get to go visit this beloved Prince Edward Island (or P.E.I.) this summer. Yup! You read that right. Some girlfriends and I might make the long distance trip and spend a few days on that gorgeous island. Did you all know that this is the
100 year anniversary of the publication of Anne of Green Gables
? What better year to go than this one? And speaking of Anne...I have given it some thought and I feel that this is the year I must complete my
Anne of Green Gables 37 Doily challenge
. I have been putting it off long enough. It would make history I think...maybe not...but what better year to finish that challenge than on the 100 year anniversary of Anne?
Well, now. I am off to shower and head out the door. Can you guess where I am going? There is a used book store that claims they contain "rare" books nestled in amongst antique stores close to my house and so I am heading out there today to scavange for some Grace Livingston Hill and LM Montgomery. I hope you all have a lovely day. Don't forget to read a good book or two. You never know where they will take you. (and P.E.I is not a bad place to imagine yourself)