So this dress took a tad bit longer than 2 hours. I wonder if that's because I made it with knit. I don't like knit. I have come to that conclusion. It slips and slides and won't lie perfectly flat. I like things to lie perfectly flat. Knit also stretches too easily and it tends to go where you didn't place it so you end up with puckers and tucks. Nope. I think I don't like working with knit.
But knit is oh so comfortable. Can I give that up? I doubt it. I finished the dress this morning.
McCalls 9456.
I felt adventurous today and so I took in about 2 inches on either side of the dress so it would fit me better. I still look like a balloon though. But the dress is so comfortable. Its a little low cut for my taste though. I can't bend over without showing everything I've got. What can I do? I wonder if I could wear it backwards....
Yup. That's better. Chloe just had to get in the picture with me. Its great fun posing with Mama. (and you gotta love a tripod) Here is the front of the dress which is now the back of the dress.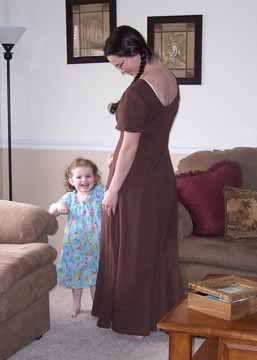 Much better. It works. Only problem is, while cleaning the house and traipsing up and down the stairs all day, the dress tends to fall down the back and choke me in the front.
In other news...I really
did
traips up and down the stairs today. I even pulled boxes out of the storage underneath the basement stairs and sifted through them. I've been invited by my girlfriend "K" to a yard sale at a church she works with. We are going to get a couple of tables and sell stuff. I found plenty of stuff to sell too. I am always amazed at how much I can get rid of. I am the opposite of a pack rat and yet I always find more stuff to get rid of. I hate clutter and I am not one to hang on to things I don't use or want. It also helps that we move every couple of years.
I practiced cake decorating again yesterday. It didn't go so well. I just can't seem to get the consistancy right or something. Everything I make keeps breaking. I am beginning to wonder if Wilton is right and I need to add some piping gel. Anyone know anything about this?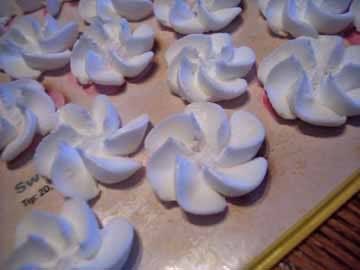 I love those little flowers. They are so simple to make. Only I can't get the middles to do right. Like I said, the icing breaks off and creates a crater in the middle of my flower.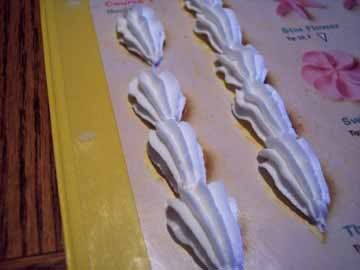 You see how the bottom of the shells breaks off? What is going on???
Anyways, Chloe's friend Daisy is here for a slumber party. Chloe's first slumber party. We are going to eat pizza and watch the Yankee game. (they are at Fenway today...the dreaded Red Sox) The girls will probably watch a movie on the computer while we watch the game. Or they can play or do whatever. I don't care. It keeps Chloe out of my hair for a while. (he he he) Have a wonderful Friday night everyone.