A couple of weeks later...
The Yankee game was awesome. We couldn't have asked for a better game. Of course, getting sick after our week in New York was NOT awesome and hindered me from posting about our trip until now. Well, almost. Plotting out a bathroom remodel also took a bit of time as well. But, I have a few moments this morning so I will attempt to get this post made while drinking my cup of coffee. Then I must really get going and "tackle" something today. (its been a while for a Tackle it Tuesday)
We arrived in New York City and checked into our hotel room with plenty of time to relax and settle in before heading uptown on the subway to Yankee stadium. Because this was my second time in the City, I felt a bit more comfortable on the subway than I did 6 years ago. I entered those turnstyles like anyone who's lived in the city their whole life. Okay...so that's a slight exaggeration seeing as how we were manuvering a stroller up and down stairs and all. They sure don't make that subway place very "wheelchair" or "stroller" friendly.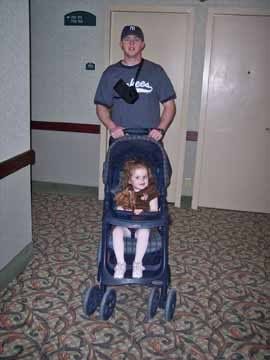 But we made it to the stadium with time to spare for a hot dog before entering. I forgot to get a picture of the outside of the stadium but I did manage to get a picture of the new stadium across the street.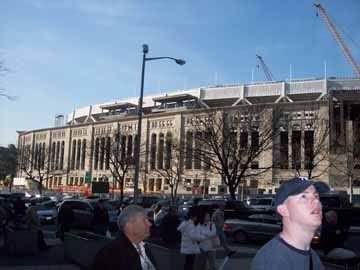 And, of course, James with his hot dog. (or sausage dog)
Okay. You notice in this picture that James not only has a Yankee t-shirt but also a Yankee cap? These are only part of his Yankee wardrobe. Thie guys has so many t-shirts to choose from and at least 3 (yes...THREE) ballcaps in his closet. So, after seeing everyone wearing their Yankee Pride, I felt a little out of place...almost like I was a Red Sox fan or something. (horrors) So, James immediately bought me a Yankee ballcap (brown and pink since that suits me better than the traditional blue and white) and a Derek Jeter t-shirt (which is, of course, pink). Ahhh...once I donned these, I could smile and walk into that stadium with pride. I became the true Yankee fan.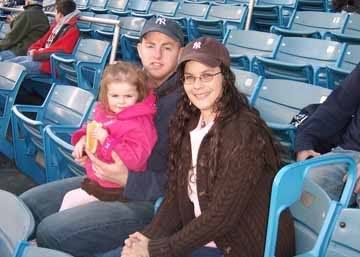 Chloe wanted to try "Mama's hat" too.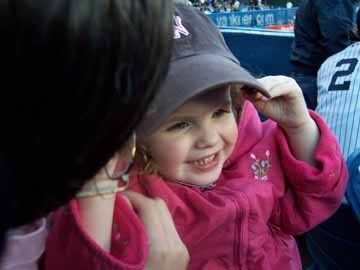 We made it into the stadium in time to see the Boston Red Sox batting practice. If only we had skipped the hot dogs before the game we might have caught some of the Yankee batting practice. Oh well. Can't see everything, right? First person we saw was Jason Varitek. Okay. So, I shouldn't have snapped this picture, but hey! How often do you get to see these people and you know what??? He's famous. So what that he's a Red Sox. I didn't know if I would get anyone else on camera, so I took the picture.
I thought it might be good to get a picture of the scoreboard to prove that we were actually at the Yankee/Red Sox game. (for those future generations who might doubt)
I got so into the game though, that I failed to snap a picture of the scoreboard during the last inning. That would have been cool, but more on that later. We got to see Ching-Ming Wang coming from the bullpen before the game began with his catcher Chad Moeller. I was disappointed to see that it was not Jorge Posada walking with him. (my favorite catcher) But later on, I would become a small fan of Chad Moeller, with his three hit game.
Jeter played awesome. Oh...it was so much fun to watch my favorite baseball player in action. Ahhhh...I only wish I could have seen him up close.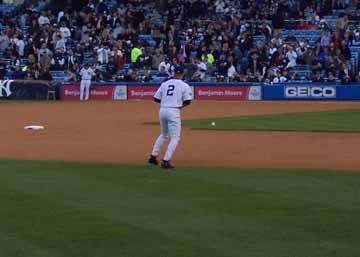 He saved the game for us. Bases were loaded. Red Sox were ahead. Only one out left. Jeter at the plate. I was rooting for a grand slam. (boy was I yelling for it) I didn't get my grand slam from my favorite player, but I did get a double with a couple of RBI's. Wooo Hooo. That's my boy!!
And guess what! I got my hot dog.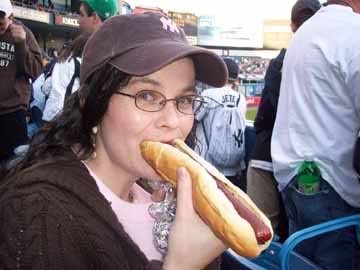 It was the worst hot dog in hot dog history. Literally. I have never eaten anything worse. I highly doubt I will ever crave a hot dog during a televised Yankee game ever again. (even during the playoffs or world series - it was that bad) But, at least I tasted one, and yes, I ate the whole thing. Nasty bread and all. I couldn't very well throw away an $8 hot dog, now could I?
So, the Yankees hit many balls. The Red Sox hit a ton. We had tense moments with thoughts of losing. The we had thrilling moments when we came back and scored runs. Every single starter for the Yankees had a hit. Jeter played beautifully. The fans were crazy. We won 15-9. (yes...it was a real slug-fest) And best of all, I saw it all. Ahhhh....what a beautiful birthday present. So, now I am asking for James to take me again next year. (ha ha ha) I told him that since next year is the opening season in their new stadium that we need to be there. It will be a monumental moment in history, right? (of course, that's what I told him this year with this being the last year in the House that Babe built) Who knows. It could happen. I won't be getting a hot dog though. I will stick with peanuts and cracker jacks.