A few weeks ago my girlfriend "K" invited me to teach crocheting at a Pastor's Wives confention this weekend. Last night to be precise. I immediately informed her that I would have to speak to my husband about it. I had just finished reading the book
"Created to be His Helpmeet"
by Debi Pearl (most wonderful book ever written and a MUST READ for
every
female on the planet) and I thought it would be best to ask my husband if he wanted me to do this or not, secretly hoping that he would say, "No. I don't want you to do that." Because, quite frankly, the idea scared the wits out of me. (not that I had any wits to begin with, but if I did have wits they would have been scared out of me at that very moment)
Guess what James said! Not was I what hoping he would say. "I think you should do this Anna." Uggg...why did I ask?
So, I have been sweating about this for a few weeks now. I actually tried my best not to think about it at all. I just pretended life was normal, which it wasn't...but I tried. I spent the past week working my fingers to the bone getting ready for this expo. Not only was I to teach crocheting, but I could advertise my business and even sell something if someone asked.
What can I sell? Aprons. I thought aprons might be a nice little something to sell. I made four this week. Two Ladies sizes and two toddler sizes.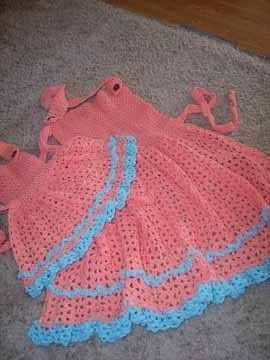 I made these using Sugar and Cream cotton. I have about decided that maybe I should start making these aprons with some acrylic. The cotton gets so expensive and is quite heavy. Acrylic would make the apron much lighter in weight. Does anyone have any preferences to their kitchen aprons? What do you think should be used. Acrylic or cotton?
Next...the blue and brown aprons.
These aprons are so delightful that I made them in the funnest colors I could find. Wouldn't any mother and daughter look priceless baking chocolate chip cookies in the kitchen with this set on?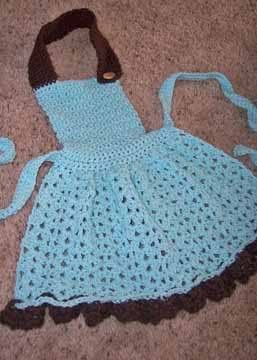 They didn't sell last night. I have two options now. I am going to add them to my website Boutique and also to my Etsy shop. My girlfriend and I might rent some booths at local craft fairs this year which means I need to start building up inventory. These aprons are part of that inventory, unless they sell on the website first. Then I will just have more money to make more aprons for the inventory.
These aprons would make a perfectly lovely mother's day gift for someone with a little girl.
But back to the Expo. I scrapbooked some pictures of my designs complete with prices and sizes listed. Want to know the amazing thing? I made the entire scrapbook yesterday afternoon. Its simple and yet everyone who looked at it last night loved it. (either that or they loved Chloe.)
I won't show you every page I made because they are all pretty much the same, but here are a couple.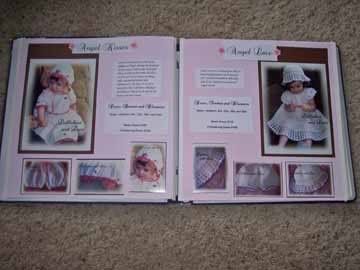 The layout for all the pages are the same as this. Half the pages used this background paper, the other half used a different pink paper. But one page used something completely different from all the rest. I even added some cute flower stickers to this one. (the flowers on the page above were used on all the pages)
I will eventually need to figure out how to get the color options for each ensemble into the book. Not quite sure yet how I want to do that. I am also trying to figure out the order form thing. If I have a different order form for each dress I can simply add the color options for that dress on the order form. But that means having a ton of different order forms and it seems like a lot of extra work. I would like to have just one order form for everything. But then, what about the color options. Where do I put those? Ahhh....those business questions. I am not really in the right frame of mind today to think about them. The answers I would come up with wouldn't be beneficial.
Well, the night finally arrived. I drove myself across town (a long ways, mind you...very brave of me, very brave) and found the hotel on my own. (well...with the help of my trusty GPS. Can't go anywhere without that thing) I set everything up and then sat and waited for over an hour before the actual "expo" began. Why they had me arrive 1 1/2 hours early, I don't know. But I was glad for that time so I could calm my nerves with 3 cups of coffee and some crochet.
Four ladies actually learned to crochet. Three of them finished a whole coaster to take home. The fourth lady got most of hers done. I was impressed. Very impressed. Either all four ladies were quick learners or else I am getting better in my teaching ablilty. I am inclined to believe the latter. I have found in my brief teaching crochet career that I need to break the steps down into itty bitty little baby steps. I can't just say, "Make a slip knot" and then do it. I must break that down.
Because I have been crocheting since I was 8 years old, things just seem automatic for me. This has been my problem with teaching people in the past. I just assume they know. They don't. Its my job to teach them. I am learning to move slower and take it step by teensy step. It works well. I even taught two left-handed people to crochet. That, in and of itself, is quite a feat. They both sat down and said they wanted to learn and had tried before but no one could teach them or had no patience with them. The trick I have learned is that the left-handed person must sit opposite of you and face you. Then they mirror what I am doing that way. They actually crochet "backwards" from the way a right-handed crocheter works. When I insert my hook from the front to back through a stitch, they insert it from back to front. They work clockwise around the circle while I work counter-clockwise. Once I grasped these concepts, teaching a left-handed person to crochet became much easier. I was pleased that they learned and I think they were very pleased that someone could actually teach them.
All in all, it was a wonderful night. I got over myself (which I have to tell myself to do sometimes when my shyness takes over) and smiled at everyone and tried my best to be chatty with the ladies. God was glorfied. I prayed and prayed that He would work through me to bless these Pastor's wives and I pray now that He did so. I hope they go home feeling a tad bit more confidant in life because they picked up this little skill. Its amazing what a little thing like this could do for someone's self esteem.
Well, it seems that in the 20 minutes it took me to type this blog post, a miniature hurricane raced through the living room and kitchen and upstairs nursery so that now, nothing was where it was when I sat down. Amazing how quick these mini hurricanes destroy a perfectly clean house. I am off now to pick up the house, finish some laundry and read more of Milly-Molly-Mandy to Chloe. (whether she wants to hear it or not. I like this book so well that I want to keep reading it) We also are going to have our first lawn-mowing of the season today. Maybe even get some plants I started from seed into some planters outside. Have a great weekend everyone. And remember to smile at someone today. (even if its to yourself in the bathroom mirror. Everyone needs a smile)