Too much, too much, too much. Its all too much. Ahhhh!!! Why I do this to myself, I will never know. I think I have learned my lesson though. The yarn stash is almost completely gone from my sewing room. (Praise the Lord!!!) I am working on the thread stash. That takes a bit longer. (as you can well imagine) This week I contemplated what I wanted to accomplish and it hit me. Sewing projects. I have so much fabric that I purchased for various projects last fall and I never got around to sewing them. Do you think that stopped me from purchasing
more
fabric for
more
projects? Not a lick.
I might have reason to use the sewing/craft room for something other than sewing/crafting (no...not pregnant) when James gets back from his deployment this fall and so my new goal is to have all my stashes of whatnot dwindled down to appropriate sizes. There just isn't enough room in the basement (which is our family room) for everything in that sewing room. So, that means I need to light a fire underneath me and get a move on.
Well, the first project I did was sew a shirt for myself. I have found it extremely hard to find a pattern that fits, that's not extremely cantankerous to make and that looks good on me. I found one.
Butterick 4685
.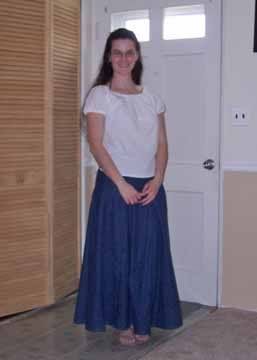 And I made my
favorite skirt
too. (see above) I love it even more in this longer length. I adore this pattern. And I love a long skirt. I wore it yesterday for James and asked if he liked it. Here is what he said.
"Its nice for around the house."
Huh? He just doesn't see things the way I do. I would wear this skirt every where. Its so cute. Well, like my mother said, I can wear it all summer long to my hearts content and it can get all worn out by the time he gets back so he doesn't have to see me in it too much. (gotta love a mother's perspective, right? LOL) I wonder if I can get away wearing it to the Yankee game next week? I have enough fabric to make Chloe something too. I would love to find a skirt pattern for her as well, but that means running to the store and they don't have patterns on sale right now. Hmmm...I do have a dress pattern I could make for her. Would that be cheesy? Us showing up to the Yankee game in matching outfits?
But I am extremely thankful to have finally found a shirt that I can wear, that looks good on me, that's modest and that is relatively cheap to make. Not a lot of bells and whistles or extra sewing. I need to buy some fabric in other colors and make more. (after I get this stash dwindled down first)
This morning I just finished a second dress. This one took a bit more time than I am used to sewing on one thing. But the end results are totally worth it. TOTALLY.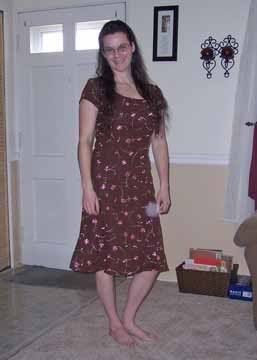 This is the single, most nicest, mostest beautifulest thing I have made for myself. I am quite pleased. It fits me quite well. (a HUGE problem I have been having lately in sewing patterns for myself) Its modest. (although the neckline could be a tad bit higher and I wouldn't mind) The fabric suits me perfectly AND looks swell on me. I am so proud of this dress that I can wear it to church even. Its perfect enough and nice enough for a church dress. Oh...I am so pleased. I think I will make more of this one too. The cool thing is, its lined. That means I can make it in a heavier fabric for winter. The other cool thing is that it comes with a jacket, either long or short. So it would work well for winter. But this dress, as is, will work for spring, summer and autumn too. Add a jacket and I have a year round dress. Like I said...totally worth it. I used
Simplicity 4014
.
Well, now...I am off to cut out and sew a "2 Hour Dress". I wonder if it really only takes 2 hours. Hmmm... It is
McCall's 9456
.