Alas, I failed to find any Grace Livingston Hill books or LM Montgomery books at the book store this morning. *sigh*. I found out from the owner that he doesn't actually sell paperback books. He doesn't even really sell anything but classic fiction. So, I struck gold in that department.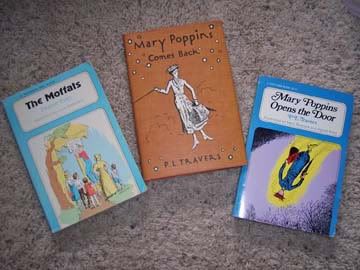 Okay...so two of those are paperbacks, but hey! They are classics, right? Anyways, we recently read Mary Poppins and I found it to be so delightful that I now would like to own all of them. I found book number 2 and 4. I figure I have some time to hunt for book number 3 as I didn't find it today. He had a couple of copies of book number 1 but, as I said, we just finished it recently so I didn't feel I should purchase it so soon. Its not like I am going to be reading it again anytime in the near future...not with all the books in my closet I have yet to read.
I seem to recall reading The Moffats as a girl. The name rings a bell upstairs. I thought it would be fun to read to Chloe somtime. We just finished reading Charlotte's Web the other night and have begun Mary Poppins Comes Back. We rented it from the library which is how we have already begun before we bought it at the bookstore. I even found a couple of books for myself. Yay!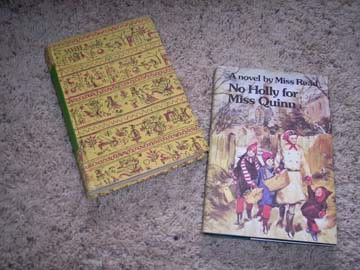 Old Fashioned Girl by Louisa May Alcott and No Holly for Miss Quinn by Miss Reed. I finished reading Village School by Miss Reed and found it charming. I think I better get to reading if I want to finish all these books before...umm...before what, I don't know. Maybe before I find more books I have to own? Before my next trip to the bookstore??? I'm not 100% sure before what, so I shouldn't have even written that sentence.
Anyways, we drove all the way to this fantastic used bookstore that claims to sell rare books (although everything I went looking for was not there...aside from Mary Poppins) and when we arrived there was a sign in the window that said "Come In. We're Open." Now this particular bookstore is owned by a little, old gentleman so he tends to run off for lunch or somewhere to buy more books or whatnot. So, before I parked the car down the street, I looked to make sure his sign said OPEN. It did! WOOO HOOOO. I parked the car, walked up the street, crossed the busy street with toddler on my hip and climbed the stairs to the front door. Sign still said OPEN but when I turned the doorknob it wouldn't turn. LOCKED! That's when I noticed a small, handwritten note on the door (not visible from the street) that said "be back in 15 minutes. Schucks!. This was the third time this month I have made the trip to this store and found it closed during business hours. This was the first time that it was closed while the OPEN sign was showing though.
Well, I did what any quick-thinking mother would do and walked down the street to my favorite antique store (because they sell used books too) and I found them. Two wonderful little books.
I have to tell you...I have read the first 3 chapters of Milly-Molly-Mandy Stories and it is the cutest little book. Chloe doesn't pick up on most things I read about, but she loves this book already. Its quite challenging to read it aloud though as everytime Milly-Molly-Mandy is mentioned, her whole name is spelled out completely so I must read the full name. It appears at least once every sentence, if not more. It makes for a fun read though. It will become one of our favorites, I am sure.
So, I am off now to do something. What, I am not sure. I might read a book. I might crochet a bit. I might even order some pictures to make a scrapbook for tomorrow night. I probably should do the later. The least of desireables from that list. I won't be doing any cleaning though. I would much rather curl up and read Old Fashioned Girl and sip a cup of Earl Grey. I do have an apron that needs to be finished by tomorrow too. And also a teapot cozy for my giveaway tomorrow night. Hmmm...so much to do and here I am, typing away needlessly. Good day all. Have a wonderful Thursday afternoon.