THE STORY OF THE THING
Yesterday, at about 1:43 pm, boredom struck. Well, it actually struck around 10:54 am, but I finally had enough at 1:43 pm. I pulled out the gift my mother sent me from the top shelf of my closet. I could no longer wait for Chloe to wake up from her nap or James to get home from work so I opened the gift by myself. As I opened it, I saw something black inside. It had no packaging and no paperwork of any kind. It was just this big black thing all scrunched up in wrapping paper. (scrunched might not be the best word here. My mother wrapped "The Thing" very well.)
I puzzled over "The Thing" for a few minutes, trying to figure out what it was. I didn't want to get it wrong because I just
knew
I was
supposed
to
know
what it was.
Golly, this was hard. Let me describe "The Thing" to you. It was a big, rectangle box-like shape. It was made from black fabric like a tote bag would be made from. (a sturdy tote bag) It was safe to assume it could very well be a tote bag of some sort. Okay, then. I found a handle on one side. Yes, definately a tote bag. A box-ey tote bag.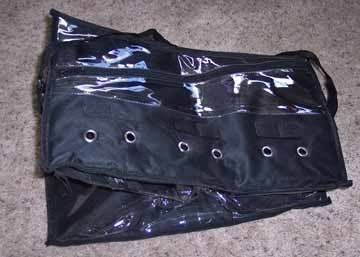 One side contained a bunch of gromet holes and a clear plastic pouch with zipper. Each side had a compartment of some sort. Some clear plastic. Others normal. I couldn't figure it out. It was definately a tote of some sort.
At this moment, my girlfriend "K" rang up and asked me how my birthday was going.
"Cunfusing," I answered.
"Why?" she responded.
"Because my mother sent me a gift and I don't know what it is."
"Describe it to me," she said.
Hmmmm...that would prove more difficult than she realized. I laughed a couple of scared little chuckles and then proceeded with my best attempt at a phone description of the contraption sitting on the bed in front of me. We both came to the conclusion that it was a tote. I then asked...
"What do I say when I call my mother to say thank you?"
"Hmmm...I don't know," "K" replied.
"I can't very well say, 'Thank you for the Thing, Mom. What is is?' can I".
"No, that wouldn't be very good," "K" replied.
We ended the converstation and then came the moment when I knew I had to call my mother and say thank you for "The Thing".
I ended up saying this...
"Thank you for my birthday gift Mama."
"Your welcome."
*nervous chuckle*
"What is it?"
"A knitting tote."
"Ahhhhh!!! I figured as much."
She laughed and then said she figured I wouldn't know what it was. Aren't mothers great? This one cracks me up. I love her.
THE END
So, I had a lovely birthday weekend. Saturday morning I sold some items in a yard sale, the proceeds of which will fund my multiple trips this summer. July with the family (with a short venture to
Leavenworth
- not the prison, the Belgium Alps town located in Washington State) August to Prince Edward Island to spend a week at a cottage with some girlfriends, September to the Midwest (or Mideast) to spend some time with my dear friend
Melanie
. "K" and I also have many smaller trips planned in between these larger trips. North Carolina, Deleware and of course a couple of visits up to Lancaster will be thrown in here and there. Anyways, the yard sale money will surely help out on those trips. That's for sure.
After the yard sale, I came home to clean the house all afternoon, make homemade Mint Chocolate Chip Ice Cream and bake my cake.
I am still having a little trouble with consistancy but it was much better this time and actually looks pretty good. I picked some flowers from my garden and set the cake on the table next to them.
Chloe insisted on sitting with me to open my gift from "K".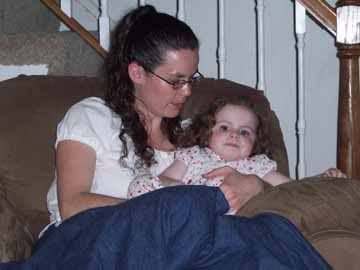 What a sweet and thoughtful friend. Can you believe that she bought me cake decorating supplies? A few different tips, a tip-cleaning brush (was wishing for one of those), a flower spindle thing (to make roses and such on) and a cake leveler. What a dear. (and a snot, because I told her not to bring me a gift) Pam did the same thing though. I told her not to bring me a gift and she brought me a Begonia and a King Size bar of chocolate. Ahhh...I can't refuse flowers and chocolate. I am truly blessed in my friends and I am so thankful we have good friends who will share our birthdays and holidays with us while we are so far away from family. God is good!
Now "K's" husband "K" (weird, huh?) gave me a pretty special gift too. They were the ones I went to the yard sale with in the morning. You also have to understand that they are the youth pastor and wife at our church. Now that you have this in your imagination, you can better understand the gift that "K husband" gave me. Binoculars. Complete with the price tag left from their yard sale. ($1) Chloe loved them.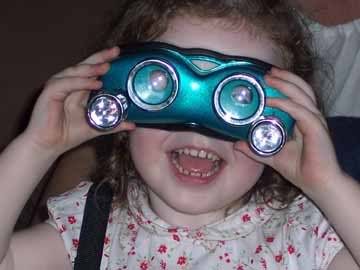 What a great friend. He wanted to do something truly special for me. It worked. Chloe played with them for an hour the next day. *grin*
Chloe still has her fascination with being "in" things. Boxes, bags...anything she can climb in.
The life of the party, really. She makes me laugh like nothing else. I love this kid. Yesterday was my "real" birthday and as I mentioned before, I spent more than half the day wandering around my house bored. In the evening, James informed me that our car would have to return to the shop today because they tightened the belt to tight when they serviced the car last week. That means I had to do my shopping for our New York trip last night. Ugggg. I hate shopping at night. Especially on my birthday. But, to make the trip worthwhile, I stopped by Joanns and bought some patterns for $.99 each and some Red Tag fabric that was half off the clearance price. I got enough fabric to make two dresses for myself, two dresses for Chloe two summer pajamas for Chloe for $17. What a bargain.
Chloe claimed that it was "wet side" (which means raining outside) and took her umbrella with us. (just so you know...it was clear, blue skies yesterday)
We've had a little issue come up with our Yankee tickets that has left me a little stressed and worried. Not only did we get tickets that were for the wrong section than was advertised, but James didn't realize when he bought them that WC meant wheelchair. He called Yankee stadium and they informed us that we would be turned away at the gate if we showed up with these tickets. Uggg. Talk about stress. So, James called up stubhub and was on the phone with them for over an hour yesterday. There is nothing they can do about the "WC" thing because they did say "WC" and they can't help it that we didn't know what that meant. But, we got lucky with the seller sending us tickets for the wrong section. Granted, they were the same price and pretty much the same location. Section 114 instead of 116. Because of this little error, we were able to find a loophole to get different tickets that are not WC. Only problem is, the tickets they are going to get for us can sell at anytime. They were "supposed" to call us back yesterday at some point to confirm they were purchasing the tickets while we are on the phone with them, but they never did. James called this morning and had to give them the whole sphiel all over again. Now, we still have to wait for a phone call which we have not recieved yet. In the meantime, these tickets can sell to someone else. BUT...they have promised us tickets that are comprable or BETTER than the tickets we have at no extra charge to us. James is thinking that since this game is almost sold out, we might end up getting some awesome tickets. I am just hoping we
get
tickets.
Anyways, I am trying to keep calm about all this and I am in the midst of packing to keep my mind from worrying. I leave you with a bit of Mambo Magic. I love this song (sort of long though) and although most of these players are either retired or no longer with the Yankees, I love them all. I sort of miss this team.
I am off to have some lunch and pack for the trip to YANKEE STADIUM!!! Wooo Hooo. Go Yankees!!!!