I am happy to report that I made my goal today for the girly afghan WIP. Yes, sirree bob! I finished that panel I showed you and also completed a second panel. Woo Hoo. This Summertime Goal thing is really starting to roll. I think I can get this afghan done with one more WIP Wednesday. (next week)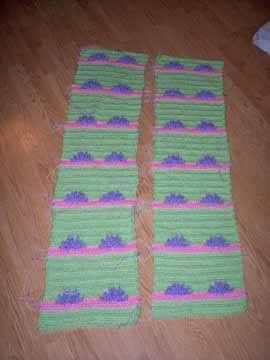 Of course, you do see all those ends hanging off, don't you? And you all remember me and weaving in ends? Well, let's just say that might be the only thing that would come between me and a completed project next Wednesday. Okay...after second thought, those ends are pretty faint in that picture seeing as how its night out and I can't take a decent picture in the dark to save my life, but anyhoo...they are there. The ends are, I mean. Tons of them. Uggg...the only downside to crocheting if you ask me.
So, I am off to bed now. Gotta get my beauty sleep, for tomorrow is...you guessed it...errand day. I have many places to go tomorrow with Jo~Ann's being one of my stops and I WILL make it out of there with NO fabric. I have made a deal with myself. I am ONLY getting what is on my list and NOTHING MORE!
12" zipper
white ribbon
brown ribbon
lime green TLC Baby yarn (because I won't have enough to finish the afghan pictured above next Wednesday)
Cake caddy (with my handy dandy 40% off coupon)
That's it. That's my list. I wrote it here as a method of accountability. I will not walk out of that store with more than is on that list. Okay?
Good night all. I'll talk at you tomorrow. (after I finish sewing those nightgowns, maybe)