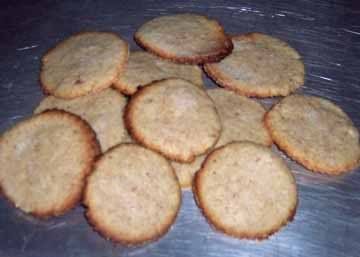 There's nothing quite like the smell of baking in a house. I believe its what truly makes a house smell like a home. Not fragrant candles or potpourri but cookies or bread or pies baking in the oven. That's what does it for me. I know there are some out there who don't bake but they buy candles that produce the smell of baking for them. I feel this is cheating and I can instantly smell the difference.
Now, there are parts of the process of baking that Chloe enjoys more than others. She loves dumping the cups and teaspoons of ingredients into the bowl. She also loves sifting the ingredients together with my sifter. She does
not
like to be near the mixer and when I produce it from hiding she immediately climbs off her chair and stands on the living room couch where she informs anyone listening in the loudest voice she possesses that its "too loud in here".
I tried a new recipe today and Chloe agreed that these were the cookies to be made. Cardamom Cookies. I have this spice in my cupboard I bought for some recipe I made once and I haven't used it since. Well, it needs to be used. I can't leave the poor thing sitting in the back row up there, surrounded with other spices and herbs that get used more often...it just wouldn't be fair. So we made these Cardamom cookies. Chloe thouroughly enjoyed pressing the cookies flat with a drinking cup. She carefully and methodically centered the cup over each ball of dough (which she did NOT help to roll because it made her "hands icky") and gingerly pressed it down onto the cookie.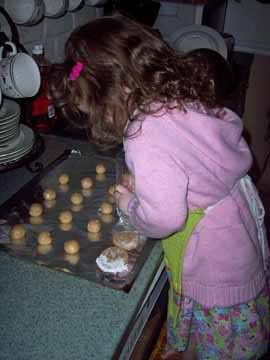 She also enjoyed sprinkling sugar onto the cookies.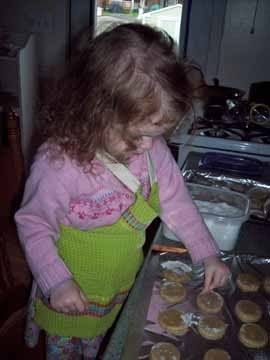 It took her about 7 minutes to precisely sprinkle sugar on two cookies.
For tea this evening, we sat on our couch and I drank some lovely
Paris tea
from
Harney and Sons
and Chloe drank her apple juice "tea". Teatime changed yesterday for us. We are now required to wear hats from Chloe's dress up chest and also a pair of "pretty" shoes. She wears her princess shoes and then she grabs whatever shoes from my closet she thinks best for me to wear. (today it was my brown sandels) We had such a lovely time. I am so thankful God has given me such a wonderful little girl to enjoy life with. I am daily amazed at God's goodness to me when I don't deserve such a delightful blessing.
I am off now to crochet a bit on Chloe's newest dress. I have high hopes of finishing it this week. HIGH hopes! Good evening everyone. Go kiss someone you love for no reason.