My newest design is almost complete. Hooray!! Did I mention that this was supposed to be Chloe's Easter dress? I missed that one by a few weeks, didn't I. Opps. Oh well. Better late than never, right? So, its not quite done yet, but enough so I could show you a preview.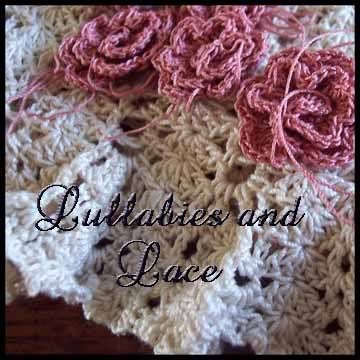 Those flowers are my own design. I finally got it right, after hours of contemplating the best way to go about designing a flower. I didn't want to do an Irish Rose, but that was sort of the look I wanted. Anyways, I can't go much further into describing this flower without giving the pattern away so I must stop for now. As you can see, I still have a bunch of ends to weave in. The roses are not attached either. Gotta do that today. I also have plans to design a leaf to go with these flowers. I also have plans to design a hat (bucket style maybe?) and some socks to go with this ensemble.
And the name for this ensemble??? Gretel's Petals. Or maybe Gretel's Petal Garden? I don't know. Its going to be part of my Nursery Rhyme collection and while I know that Hansel and Gretel are FairyTales and not Nursery Rhymes, they are close enough to not matter. Right? (say yes, please) So, I am off now to have school with Chloe. We are learning about the letter "D" today! (we've skipped school since the week before Chloe's birthday so its time to start back up again...slackers that we are) Have a wonderful day everyone. Maybe I will have a leaf to show you all later on. No promises though. No promises.