Its that time of year again. Time for dirt to live underneath the fingernails. Time for warm, fresh air from dawn to dusk (and beyond). If only I had tons of money...I would have the garden of my dreams. For now, I will settle for my little piece of nature.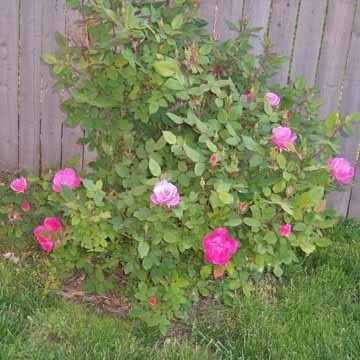 The shrub rose is becoming one of my favorites. Its not only a rose, but the roses bloom in profusion. If you want impact, use a shrub rose.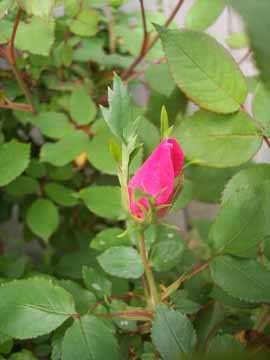 I decided to go with an English Cottage Garden this year. I have a few of my herbs left from last year and, of course, my roses. I just needed to add to them a bit. The reasoning behind this is that an English Cottage Garden is eclectic. Sort of the way I do things anyways. A bit of this, a bit of that...got some room here so add another plant. See? Makes sense, right? I don't plan things in the garden. I am not very good like that. Gardening, for me, means just inserting plants I like into open spaces and watching them grow. No rhyme or reason. I like color. I like variety. So the English Cottage Garden seems a perfect fit. (not to mention that all the traditional English Cottage garden flowers are my favorites...hollyhocks, delphiniums, lavender, phlox, foxgloves, daisies, roses and so on and so forth)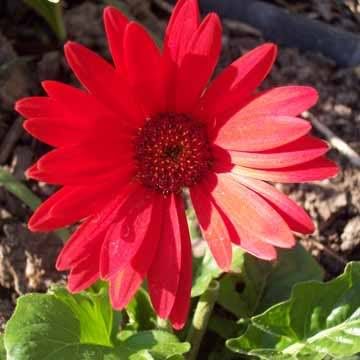 My clematis looks fantastic, doesn't it? Do you all remember last year? I almost killed the poor thing. I planted it in the back of my garden where it got little to no sunshine and when I realized it didn't like it there, the poor thing was nothing but twigs. I moved her to a new location with the fear that she was already gone forever. Lo and behold, this spring she came back and has now begun climbing up her little trellis once more. I love her deep purple flowers.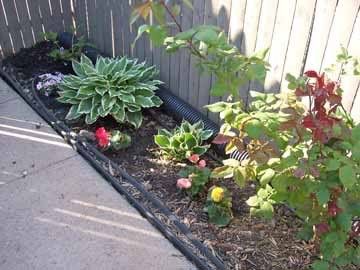 Here you see the new and improved "back of the garden". The hostas were there last year along with the rose. I added the Astible, Impatients and Tubuler Begonias this week. I am on a quest to find a
Dutchman's Pipevine
to put in that corner to climb up the fence and hang over to the driveway in the back alley. The vine is home to the
Pipevine Swallowtail
and I am dying to have some of them in my garden. Aren't they beautiful?
And there are my new Cottage Garden flowers. I found a garden center close to my house that carries all my favorites. (no longer will I shop for plants at Home Depot) I planted a Hollyhock (because I am having a little trouble getting my seeds to sprout and I HAD to have a hollyhock), columbine and lupine. These all attract butterflies. I am praying I have flocks and loads and just tons of butterflies this year. Possibly even some birds, but more on that another day.
One thing I did find at Home Depot was this little beauty. She will want to climb up a little something but probably not higher than 4'. She will have beautiful pink flowers when she blooms. I found her in the very back of the store on clearance from $15.95 to $6.49. I felt the instant need to rescue the poor thing. She doesn't look that well, but I figure I can save her. Now, I need to research her species a bit because I don't know what she is. (the name is on the tag but I have forgotten what it says)
You see those planter boxes? That was a "date day" project for James and I a few weeks ago. Moss Rose seeds are sprouting in the littlest one. I have big plans for the other two. Morning Glories in the second one and Lavender in the first. The morning glory seeds have soaked all night so they should be ready to plant today.
I gotta have a new rose every year...right? A little treat for myself? You can never have too many roses. I found this one at a Farmer's Stand close to my house. I paid a pretty penny for it (unlike the cheap ones at Home Depot) but I think it will be worth it. Totally. This one is Tropicana and will have beautiful peachy orange blossoms. The reason I chose this one (aside from the fantastic color) was because it is highly frangrant. I am trying to cover up that city stench that surrounds us. Espcially with a back alleyway where all the neighborhood's garbage cans reside. (which gives off quite an oder during the summer months)
You can see last years ornamental grass there. I added some irish moss and trailing verbana to sort of cover the ground around the new rose. The nice thing with an Engish Cottage garden is the lack of weeds. All those plants let little sunshine hit the actual dirt so there are substantially less weeds. Hooray! There are also two new lavender plants there next to my barrel of mint. I decided to move that barrel into the garden. My only fear is that it will spread into the garden from the barrel. Is that possible with mint? Do they seed like that?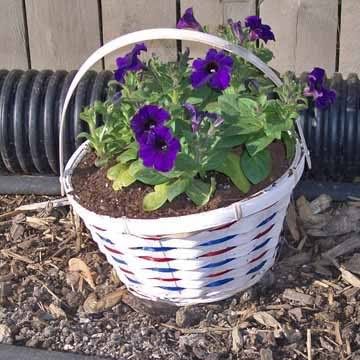 I found a wonderful website for cottage gardening ideas.
Little Country Village
. I got the idea for the basket of flowers from that website. Why pay a ton of money for things that you can get for cheap or even free? I paid $1 for the above basket from the dollar store. It makes a wonderful planter. Once I get a couple of shepherd's hooks, I will have a beautiful hanging basket. And for much cheaper than the $20 ones from the garden center. I will be showing you another project idea I got from that website in the next couple of days. I am still working on it, but once its done I will show you.
And now my favorite!!!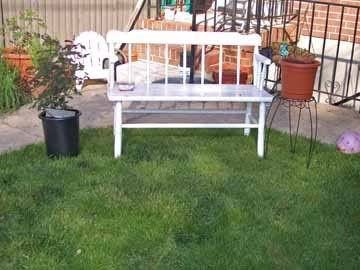 For two years we have had no seating in our garden. Not any more. I found that gorgeous bench at a yard sale this last weekend for $10. I asked if they would take $5 for it and they said yes. STEAL!!! Its sturdy and doesn't need any work done on it. (unless I want to throw a coat of paint on it, but I kind of like it as it is) The little black plant stand I got at another yard sale two weeks ago. There were two of them and I paid $3 for both. What a perfect addition. That rose is a climbing rose called America. Fragrant too. Highly frangrant. Oh I can't wait for it to climb away and start blooming profusely. I plan to find some small logs and branches and build myself a pergola over that bench there. Isn't it going to be stunning?
I am well on my way to an english cottage garden. I can't wait for all these plants to grow to full size and for the wildlife to come. Its going to be my little bit of paradise in the city. Ahhh...I can't wait.
Now I must go. Duties don't vanish when gardening time comes. I think its time to work on some crochet too. I have a dress almost finished for Chloe. I can't seem to get that last round done. After the last round, all that is left is the sleeves. Have a gorgeous day everyone. And don't forget to smell those roses while you are planting them.