We've had a wonderful weekend "hanging out" together, including Chloe's doll. James has been gone since Friday morning and he is due back home this evening sometime. Its actually been good practice for us since he leaves for the war in less than a month. Chloe asked after her daddy a few times and seemed to be okay with the fact that I didn't reply "at work" which is my typical answer to such a question. This time I replied, "in New York with Uncle Warren" and she repeated the answer and walked away. Good sign. I just don't know if saying "at war" would be a good answer for four MONTHS!!
Anyways, back to our weekend hanging out. As you may recall, I mentioned in my previous post that we were heading out the door yard saleing. Well, we did just that. I think I had better quit taking money with me when I hit the yard sales. I have a little obsession with them, it would seem. I have to buy at least one thing at each. Okay...so its not really
that
bad, but it sure felt like it. I scored so many cool things. I had been eyeing those
Disney Art puzzles
at Walmart for the past couple of months (and even more so the past few weeks due to my little puzzle kick I am currently on) and I just can't bring myself to pay $9 for a puzzle on myself when its not a holiday. Its okay at holiday time because that's a tradition. (more of these gorgeous puzzles include
Cinderella
,
Pooh Bear
and
Mary Poppins
...which I may just have to splurge and buy that one.) Anyways...I found one at a yard sale for $1. Sure beats $9. I also found some cake pans for 25 cents each, some clothes, a toy for Chloe, tons of Little Golden Books (since we collect those...all but the Disney ones) and many other things I can't recall off the top of my head.
But that's not all we did this weekend of hanging out together. What does any girl do with a weekend to herself? (aside from watching the edited version of Pretty Woman and eating ice cream late into the night?) I sewed pajamas. Yup. But I didn't just sew any pajamas...no...these are special. I first made a nightgown for Chloe, but then I HAD to sew some matching pajamas for her baby doll.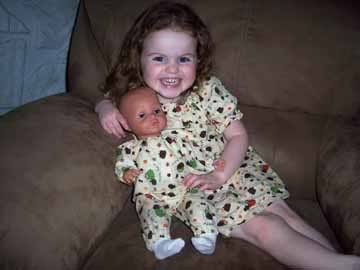 I got that fabric at the Red Tag clearance sale at Joanns a few weeks ago. Wanna know how much I paid for it? Total was $1.50. Yup. That's it. So I got a nightgown for Chloe and her dolly for $1.50. I can't even find stained up pajamas with tears and holes at the thrift store for $1.50. I scored big time with this one. Chloe now favors these pajamas and wants to wear them all day as well as all night. I made the mistake of letting her do it once so now she asks everyday. Maybe I'll let her today since its out last day of "hanging out with the girls".
For our last day without daddy I think I will do a bit of sewing. I don't know what yet. Maybe more pajamas or a dress for myself. I'll see what speaks to me when I browse through my patterns and fabric.
You may be wondering why I am not crocheting and finishing up that dress I showed you all the other day. Well, the truth of the matter is my carpel tunnel is getting much worse the past year. I simply cannot crochet all day like I used to do. This has slowed me down considerably. I can only crochet for an hour or two at a time now and then I have to take a break and sometimes that break means for a few days. My wrists just cannot handle it any more. Every once in a while I can do an all day crochet session but then I can't crochet for a few days again. That is what happened when I finished off that dress. I am now on my mutli-day break. But I do hope to finish it off this week. I still would like to make that hat to match. Ohhh....its going to be a sweet set once I get it done.
So, now I leave you with a couple of pictures. This is the cutest kid in the entire world. Every day she does something funny that makes me laugh. Sometimes its one purpose (she does have a sense of humor) and sometimes its just Chloe being Chloe. I love being a mother. I love this kid.
at the hotel in New York City after our jumping on the bed session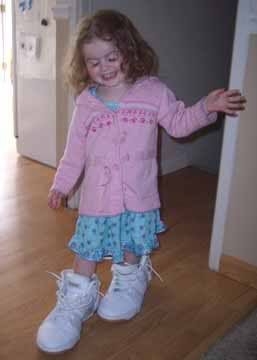 Now I really must be going. Little fingers have found my Gummi Worm stash and I must rescue them.