Not food, although I don't mind leftover food either...it beats cooking when "just one more round" of crochet finds myself 200 rounds later and 46 minutes past dinnertime with nothing in the oven. No, the leftovers I am loving today come in the form of fabric scraps.
A couple of days ago I felt a bit bored, or restless, or something along those lines so I browsed around on
Etsy
. If you ever need any inspiration for anything creative I advise you to check out
Etsy
. My mood that day seemed to be skirts. Why, oh why can I not sew cute things like I see on Etsy?
The bug bit. I saw tons (and I do mean TONS) of cute, vintage style skirts. Random. Eclectic. Feminine. I had to have one of my own. So I got out my fabric bin and went to work.
I found leftover fabric from the
mawmaw dress
which I refuse to wear. I decided I had to redeem that gorgeous fabric, not from the dress but from the leftover scraps. (that dress may be redeemable yet although that particular bug has yet to bite) I used some fabric sent to me by my dear friend
Melanie
. I found some nice, cream colored fabric given to me by my mother when she was clearing out her fabric stash before she moved. (I received a great bunch of lovely, silky type fabric from her at that time) What does all this make? A skirt with no rhyme or reason.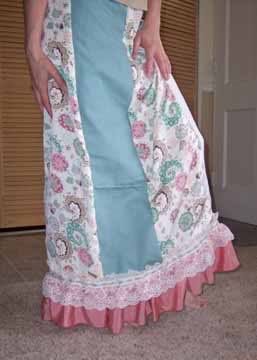 So, my first attempt at sewing something patternless didn't turn out half bad. In fact, I do believe this adventure boosted my self-confidence at least two notches today. What fun I did have. Do you see that little pink ruffle on the bottom? That pink ruffle brings a huge grin to my face. Why? Because clever little me used a vintage bedspread ruffle, that's why. I think it came from an old bedspread of my grandmothers. Don't quote me on that as I am a little unsure whether or not it was actually my grandmothers. I do know that it came from a vintage beadspread though. I have kept that fabric all these years, knowing that someday I would have cause to use it. And its pink. Who can rid themselves of something as delicious as pink silk? (or anything pink for that matter)
I bought the lace as a second option for the bottom of one of Chloe's dresses but I opted for option number 1. So, I possessed this lace with no purpose or project for which to use it. Ahhh...the perfect match to this skirt. The green in the lace matches the green panel of the skirt perfectly. The pink flowers match the pink ruffle to a "T".
I cut the fabric into long strips that gradually increased in size to the bottom. Then I sewed these strips together to form the skirt. After I cut the bottom of the skirt evenly, I gathered up on edge of the pink bedspread ruffle and attached it to the hem. I added the lace over the seam of the ruffle and skirt hem. For the waist I simply used elastic. I am not near experience enough to add a zipper without a 5 step instruction manual.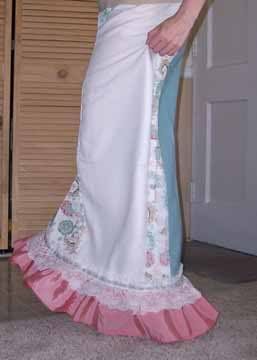 Now that I have layer upon layer of leftover fabric covering the floor of my sewing room, I think I need to make a few more scrap skirts. Maybe even a little something for Chloe too. That would be too cute and she would love it. I could even get it done tonight...that is, unless James decides to continue with our closet drywall project, in which case I would help him with that. I mean, the shelves are for me after all. Well, I had better get dinner in the oven. Today cannot be one of those days spent sewing "just one more seam" all night. The pork chops are thawed already.