The start to every pizza party should begin with a dip in the swimming pool. Of course, if you don't own a pool you might have to splurge and buy one per your child's request. Seeing as how it was hot as blazes outside yesterday and I couldn't stand it one more minute, Chloe's request to "go fweeming" went quite a ways with me. Daddy said we could buy the pool and so buy the pool we did. Chloe picked it out.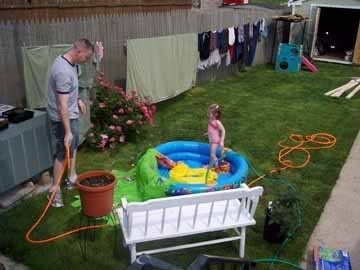 Notice the jungle theme? She loved the animals and the fact that she was "fweeming" in a "twee".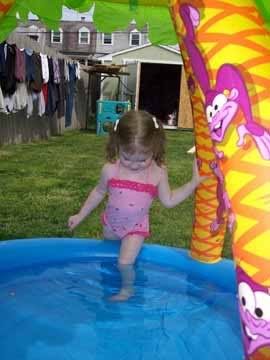 Okay. Swim time over. Now its time to make some pizza. James brother came into town on Wednesday (and they are heading to New York as I type - NO...I was NOT invited along) and he wanted to make us pizza using his miracle tiles. (OUR tiles, since we are the ones who bought them)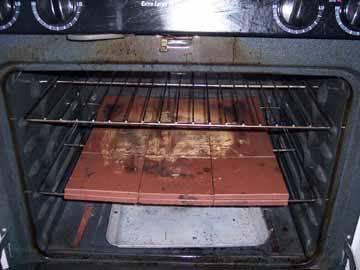 They aren't actually miracle tiles, but I bet you could have figured that out yourself. These tiles are nothing else than Quarry tiles. UN-GLAZED. Very important!!! They must be raw, untreated...you name it, they can't be it. Anyways, place 18 of these tiles in your oven and heat the oven to 400 degrees and you have the perfect setting for a lovely pizza. It takes about an hour to heat the oven (and the tiles) up properly. You want this sucker hot as blazes. (probably not a good idea to make these pizzas in the dead heat of summer) These tiles are like pizza stones but better. They don't cost anywhere near the price of a pizza stone and if one breaks, you replace just that one.
Warren taught me the "proper" way to make dough. Who knew you weren't supposed to use a rolling pin? He returned my previous favor of teaching him how to knead the dough.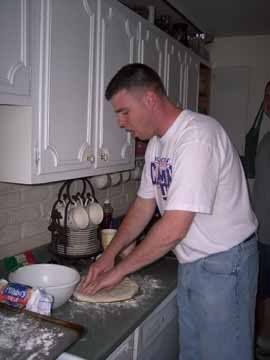 Put the circle of dough onto a floured cookie sheet (or other completely flat surface that can go in the oven) and put your toppings on. Quick, quick, quick. You gotta work quick here because you don't want that yeast to start working. It causes the dough to grab onto surfaces and then you will have a time trying to get it off the pan and into the oven. (and that oven is
extremely
hot so you want this process to go as easily and smoothly as possible) If the dough happens to get a little sticky, simply pick up the edge of it and blow underneath it. The dough will get a bubble underneath it and flutter through so it no longer sticks to your surface. This only works for a little bit though. Work QUICK!!
Once the pizza is in the oven it only takes about 7 minutes to cook. SEVEN minutes. Can you believe that? Its a miracle. Take your pizza out of the oven.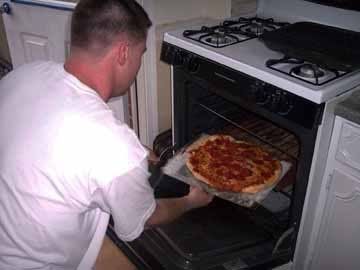 Marvel at the amazing crust on that thing.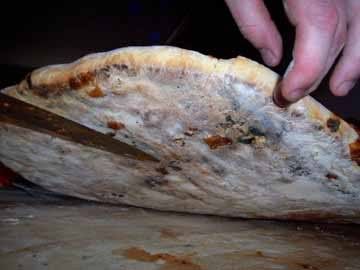 You have a beautiful pizza that Pizza Hut cannot compare with.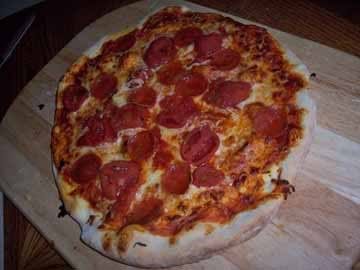 Its gorgeous. Its delicious. Even James found himself stuffed.
Speaking of stuffed, we made three pizzas. I made my pizza a stuffed crust pizza. Real Mozerella cheese cut into strips then placed on the edges of the dough with the dough rolled over and pressed shut. YUM. So good.
I always get a little spice kick and herb crazy when I make my pizzas though. I add a bit of parmesean cheese to my dough...maybe throw in a bit of Italian seasoning, some basil and/or oregeno. I love to sprinkle crushed red pepper flakes on my pizza after I ladle the sauce on before baking. Yummy!!! The sky is the limit in regards to the possiblities when making pizza. And now that we have these miracle stones we will NEVER pay $20 for a pizza again.
It is raining today and the fairies are out so I had better run along. I love lying on the bed and listening to the fairies dancing on our roof. Have a glorious day everyone.