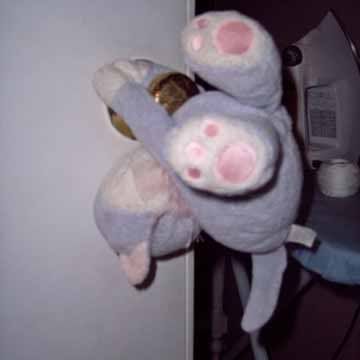 I am beginning to see a pattern here. Do I need to worry? I keep finding things "hanging" in various places around my house. I wonder what instigated this little delight of my three year old.
Anyways, I decided that today I would take a holiday, a vacation, a rest from the regularly scheduled "Monday" duties. James came home this evening and took me out to dinner, but I was still home alone with a three year old all day. I mentioned in my previous post that I didn't know how I was going to fill up my day. Well, I filled it up. With what, you ask? Not alot, I'm afraid. Not very much at all.
Let's see. I felt the need to sew snaps on all the doll clothes I made for Chloe last year. The poor child. Can you imagine a mother who sews their child loads of doll clothes but fails to include a closing mechanism, rendering the article useless to the child? I thought maybe by getting rid of something on my "to-do" list it would help me decide which new project I wanted to start. No problem, right? Just whip on those snaps in a jiffy and I would have the rest of the day to sew projects to my hearts content.
Have you ever sewn teensy tiny snaps on about 10 doll dresses? (3 snaps per dress, 2 sides per snap for a total of 60 - SIXTY - little buggers to sew onto miniature clothes) Let me tell you something. It takes longer than 10 minutes. After about 2 hours I realized I wouldn't be sewing multiple items today. I was lucky to get one item completed after those snaps.
That little doll you see before you was one of my dolls when I was a girl. She came with shorts, a t-shirt and roller skates. I gave her to Chloe when she was 2 and Chloe received her naked. Completely naked. I found a vintage pattern on Ebay and was tickled to find that it fits this doll. Yay! Now she has three outfits. Two that I made last year while I was having my doll clothes obessession (which got some snaps this morning) and the one you see above.
The outfit is much cuter in person. I just can't seem to take good pictures of things. I also fudged up the ensemble. I started cutting out the pattern in blue and after I cut two of the pieces out I realized that I didn't have enough scraps to make the whole shirt blue. So I made the main part of the shirt white. I am not thrilled with the end product. It doesn't satisfy me for some odd reason.
So, James arrived home this evening, took me out to a nice dinner and is now sitting down in the basement watching the Hornets/Spurs basketball game on television. What on earth am I doing writing on this silly computer? I gotta go be with my honey. Have a wonderful evening everyone. GO HORNETS!!!! (only because I can't stand the Spurs!)