This place is out of control! This place referring to my sewing/craft room. With James leaving in three weeks for his deployment to war, my mind is filling up with ideas for things I would like to accomplish while he is gone. Not that I will have loads of extra time, mind you, but because I would like to have a peaceful atmosphere when he comes home. Most of our house is peaceful. The kitchen, living room, bedroom, Chloe's room, bathroom...but when we get to my craft/sewing room, choas reigns.
Part of the issue is the WIP pile. (or
piles
I should say) Another part of the issue are WIM (Works in Mind) that I purchased supplies for but have yet to begin. The size of the WIP pile prevents me from beginning much more projects than I already do.
Check this out!
This is the closet. My goal for this space is to rid myself of at least three of those shoeboxes up on that top shelf. One is filled with size 3 thread that I bought to make a dress to sell on the website. Another is filled with negatives of pictures from when we were first married ten years ago. (and some from before that) After I clear out some of this and sew some items with that fabric hanging there, I would like to build some shelves in the bottom of this closet (because it is currently at an angle so I can't put much on the floor of it) and then install some closet doors. A nice and lofty goal.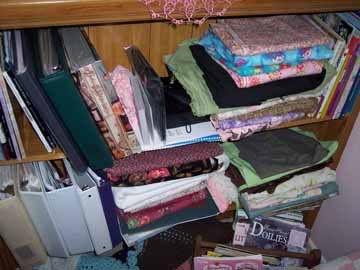 Next, this bookshelf has to go. The room is too small. I have absolutely NO wallspace on the bottom half of the wall. This room is entirely too small so the oversized bookshelf has to go. You see a bunch of 3-ring binders on this bookshelf. Those are filled to the brim with patterns printed from the internet; most of which I do not use nor will ever use. I aim to declutter those and have only one or two binders with patterns in them. Also, that fabric all needs to go. All of that stash was recently bought and I have plans for ALL of it. I just need to get around to sewing them up. That would get rid of my need for these shelves. Then I would like to build some small, box-like shelves for the wall to put my craft books on.
Something like these
.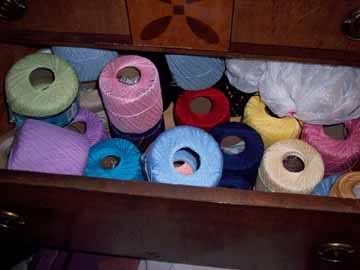 Moving on. I have a tall dresser that was my grandparents and I would like to empty it out. One drawer is devoted to thread. One goal for this summer is to use most of this thread. Stashbust it. I am thinking doilies here. (gotta complete my
Doily Challenge
this year)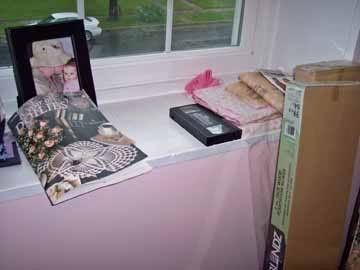 Speaking of doilies, I need to finish the one in the book on this windowsill. Maybe this week??? And then I also need to sew up those pajamas you see cut out on that sill. (two pairs)
Here is my workbasket. On top is the quilt I started 6 years ago that needs to be quilted. Hopefully I can finish it this summer. Its not high on my goal list for the summer although I would like to see it finished.
And here is the workbasket without the quilt on top. I would like to finish at least one of the WIPs in here this summer. (the
tablecloth
is in this basket)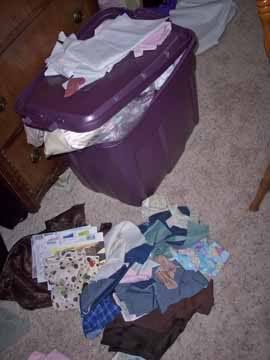 This is my scrap tote. As you can see, its overflowing with scraps from various sewing projects, scraps my mother gave me when she moved and scraps I have collected from old clothes and whatnot. Its too much. (since some scraps have now taken over part of my floor...and you all know me and floors) My goal is to get this scrap stash down to half the tote. Then I would have room for more scraps from future projects.
So, I started small today. I made a dress and bonnet set for my Mother's vintage baby. The fabric was left over from a dress for Chloe and an old sheet.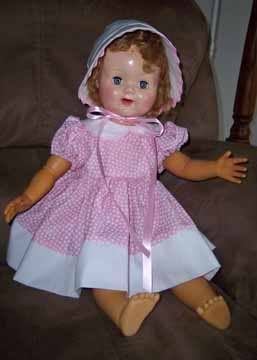 And I made a Barbie dress with a small scrap from the tote.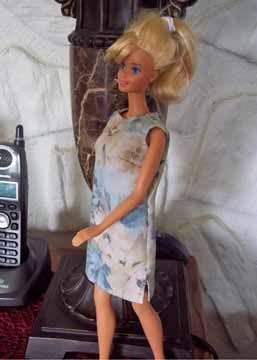 So, be prepared to see a bunch of projects finished this summer! I am off now to have tea with Chloe. Have a great afternoon.