Sometimes, I run out of ideas to keep Chloe entertained. Granted, I am not her personal "entertainer", but there are moments when it becomes incredibly easy to say "You wanna watch Mary Poppins?" because I just need a little break. Well, when teatime with Mickey Mouse or sticking stickers on our legs doesn't cut it any more, I found a
website with loads of ideas
to help me out.
I took one of the simple ideas from that website and Chloe had a ball with it. I cut a piece of scrap paper in half, drew a curvy (or straight) line on it, placed a sticker on one side of the line and let her cut away down the line. She practiced her fine motor skill of snipping and didn't quite realize that she was "learning" something. She had a blast.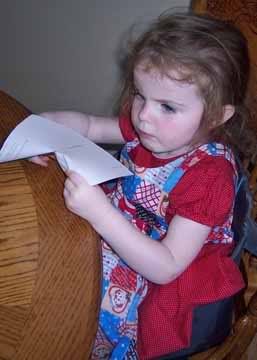 We have to work on it a bit but she did very well for her first time. And the good news??? It occupied her for all of 10 minutes!!! Hooray!!!
I will be incorporating more of these ideas into our days. Its always good to mix things up and get ideas from someone else. Chloe sure enjoys it.
Well, I am off to bed now. I am dreadfully tired. Have a good evening everyone. (P.S. the dress is DONE!!! Just need to attach the flowers and weave in ends)