The wheels of change have been set in motion. I am speaking in regards to my
Summertime Goal post
and
the Plan
for carrying out said goal which I wrote about last week.
So, you saw what I accomplished on my sewing day last Thursday already. Now for my Boutique crocheting day on Friday. I started a new dress to sell in the Boutique. (or at the craft fair; wherever it will sell)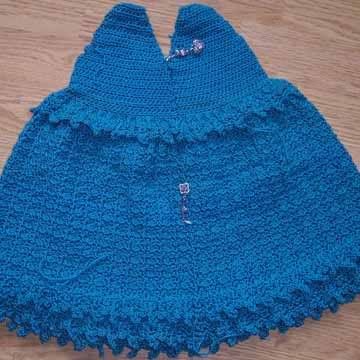 This is my
Spring Blossom dress
in a six month size. Gosh, I wish Chloe were this small again. I got most of this dress crocheted in less than a day. I would say I have put about 5 hours into it and all of its done except the neckline and arm edges. Wow! Now it takes me much longer to crochet a dress for her. My how the time flies by.
Anyways, this dress will be much cuter than the picture above dictates once its complete. Its a lovely blue color and I plan to add some brown ribbon embellishments to it. I will be making the matching hat and bloomers this next Friday to match.
Saturday is Home Improvement day so I painted the back door which we installed over a year ago. Slackers that we are never got around to painting the thing. Well, slacker no more. I slathered 4 coats of paint on it this weekend and its done. Finished. Complete. Another item marked off my extensive "to-do list" and I am quite excited about that.
Before...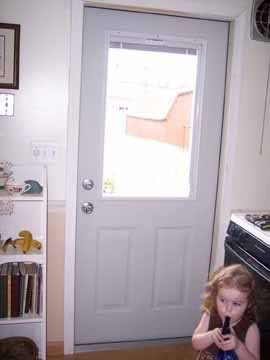 And After...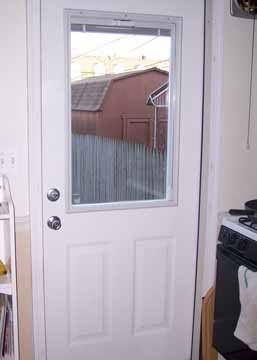 And the outside after...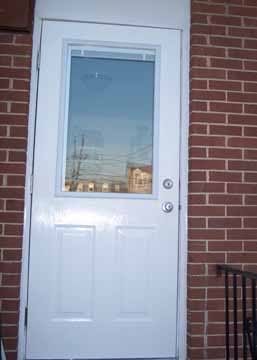 Beautiful. Beautiful. As my reward for doing such a task out in the heat this weekend, I picked some roses and made myself a beautiful bouquet in a glass bowl.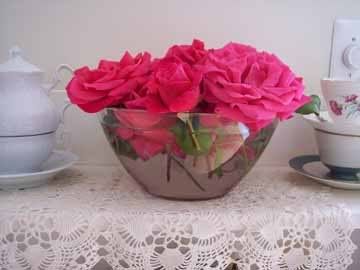 Ahhhh...I love roses. Especially when I grew them myself. They make me smile each time I walk past because I know of the hard work that went into them. And guess what...they last much longer than store bought roses.
Well, I am off to do some sewing. My goal for the day is to finish a dress I started a few weeks ago for Chloe and then sew 2 winter nightgowns I cut out for her last fall. Lofty goal but I like to reach for stars. Anyways, I hope to have something to show you later on today. Have a wonderful and blessed day everyone.