Shame on me. Shame, shame, shame. I can't believe what I just did. Nope. I didn't just do it. I did NOT go to Joanns today for elastic and snaps and come back with 5 yards of gorgeous fabric for a new dress. Not after yesterday's post regarding the choas in my sewing room and my need to finish all the projects in there and sew all the clothes for which I already have fabric and patterns. Did I? Did I really do it?
Well, maybe I did. But hey. You didn't have to see this gorgeous fabric and walk past it.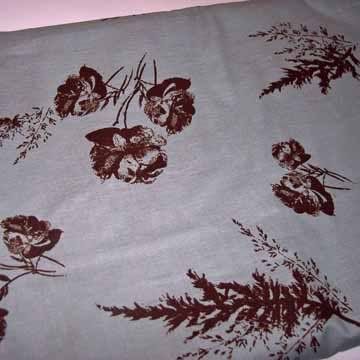 Now you tell me that you could have walked past that. Go ahead. I dare you. It was only $3.99 a yard and then it was on sale as well making it $2.49 a yard. How could I say no???
But in an effort to redeem myself, I sewed up two baby doll dresses that I cut out last summer.
Finally
, right? These things have been sitting on my windowsill in the sewing room for almost a year. Its ridiculous really.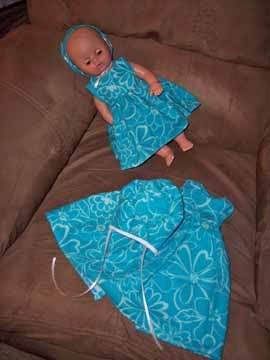 This was leftover fabric from a winter nightgown I made Chloe last year. The dress on the baby doll is for Chloe and the second dress will be given to Chloe's cousin when we go visit this summer. She doesn't have many doll clothes so I thought since I am trying to stashbust my fabric scraps I would make her some doll clothes as well.
I have made a sort of a schedule for this summer to help me with my
lofty goal
. I have been struggling with the issue lately that I cannot keep up with everything. I keep my house clean and play with Chloe and sew clothes and wash toilets and feed the fish and there just isn't enough time in the day to do everything. (makes me wish for heaven where I will have eternity to sip a cup of tea and STILL have time for everything else) The issue bothering me lately is that I just don't seem to be putting forth enough effort towards my business. (because, after all, my crocheting is my business which means I should be crocheting, right?) But its being neglected. (better that than Chloe though) Anyways, I came up with an idea or a plan of sorts that will help me make time for everything I would like to accomplish this summer. I don't know if all my goals for this summer will be entirely finished, but at least I will be working towards that.
Here is my plan.
MONDAY ~ New Designs
(when I crochet on new designs)
TUESDAY ~ Sewing
(to tackle that mound...er...mounds of fabric in the room)
WEDNESDAY ~ WIP day
(work in progress - to tackle something like that quilt or the tablecloth)
THURSDAY ~ Sewing
(because I need more than one day for sewing...its my BIG thing right now)
FRIDAY ~ Boutique Crocheting
(because my girlfriend and I are going to start doing craft shows together in a few months and I need to build up some inventory)
SATURDAY ~ Home Remodeling
(yes...I aim to tackle some projects by myself while James is gone. I want to install some closet doors and some organizers upstairs and maybe even some tile flooring in the basement and such. Who knows.)
SUNDAY ~ Day of Rest
(self-explanatory)
So there you have it. You can't reach for your dreams if you don't have goals and ideas of where the dreams are and how to get there. This is my tool to reach my dream of having a peaceful room.
I am off now to have a piece of cheesecake and then go to bed. Have a quiet night everyone. Go hug your kids. Give them a kiss. Dance with them. Hold their hand when they ask you to. They leave us all to quickly.