About 55-60 years ago, a little girl awoke on Christmas morning and entered the room where the family Christmas tree stood. Underneath this tree she spotted a large baby doll with her name on it.
The dress you see on the doll was the very dress that this little girl saw that Christmas morning, so long ago. The little girl fell in love with her new baby doll instantly. She spent many hours playing with the doll, dressing her up and combing her hair.
The beautiful friendship between girl and doll lasted many years. That friendship is about to be passed onto another little girl. My little girl. On Christmas morning of 2008, Chloe will walk down the stairs and behold this little face, smiling at her from underneath the family tree.
This doll belonged to my mother. She was the little girl of five who found her beneath the Christmas tree so long ago. Now she has passed that doll onto our family for Chloe to play with. What a priceless treasure. (thank you Mama)
Well, the other night I, in the midst of one of my restless spells, perused through my vintage doll patterns and found the perfect one to make for this doll. My plan for Christmas is to set this doll up under the tree with the original dress and then to have a little hat box next to the doll full of handmade clothes. Chloe will be almost four years old and I am hoping she will be old enough to enjoy the baby doll by then. If not, I can wait til next year to give it to her.
Anyways, I made this little pajama set for the baby doll as my first item for her wardrobe.
Now to give you an idea regarding the size of this doll (and the pajamas) I believe this ensemble would fit a one year old. This doll measures about 29" from head to foot. A little large for a 3 year old to carry around.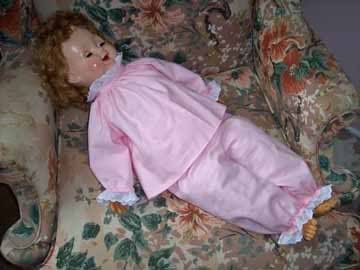 I can't wait to make her some cute little dresses and bloomers. This is going to be a fun Christmas!!